Toscotec's TT Hydrogen Burner is an in-line burner which has precisely controlled combustion and two safe operation modes.
October 14, 2022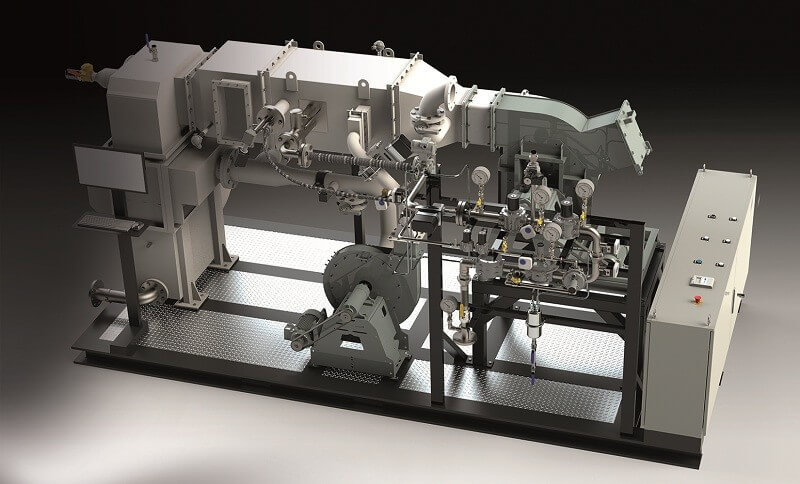 Toscotec has launched TT Hydrogen Burner, a new generation of 100 percent hydrogen-fueled burners designed and tested for Yankee hoods. Within the context of the energy transition from fossil-based to zero-carbon industrial operations, the Company developed this patented innovation to drive the conversion of paper manufacturing to clean energy.
TT Hydrogen Burner is an in-line burner featuring precisely controlled combustion and two safe operation modes. In carbon-free mode it runs on 100 percent hydrogen; in carbon-reduction mode, it is fueled by a mixture of natural gas and hydrogen, where the percentage of hydrogen is accepted across a wide range.
Watch: IVAX Paper Chemicals Interview
The performance of the burner is alike the high performance of gas-fired burners, using a carbon-free fuel. In fact, hydrogen combustion does not emit carbon dioxide into the atmosphere. The key factor in the overall energy balance is that hydrogen fuel is produced from renewable energy sources. If this is the case, in the future hydrogen may possibly replace fossil fuels in all thermal processes associated with tissuemaking, including steam production and air system burners. In terms of its infrastructure, hydrogen can be stored in pressure vessels, or injected into the existing natural gas grid.
In the words of Mr. Stefano Pecchia, Energy Technology Director at Toscotec, "Tissue producers are asking for technological innovations that will allow them to work in full hydrogen mode. Whether they choose to replace their existing burners or install new tissue lines, tissue producers aim to be ready for when this fuel will be widely available, cost competitive and green. In response to this demand, Toscotec has invested in building a dedicated air system test bench to ensure guaranteed results according to the specific operating requirements of paper mills."
Since the TT Hydrogen Burner has been successfully tested to operate under the same conditions of airspeed, temperature, and humidity of the actual air system of a tissue machine, it is ready for industrial-scale production.
Also Read: Vajda-Papír starts AHEAD Tissue Production Line by Toscotec
TT Hydrogen Burner is suitable for immediate installation. Currently, hydrogen availability for tissue mills is limited, so the burner can be set to operate by burning hydrogen mixed with natural gas in carbon-reduction mode, or even only natural gas if necessary. When hydrogen becomes readily available, in order to switch to full hydrogen mode, TT Hydrogen Burner simply requires a nozzles replacement, which is a one-day easy procedure. This will guarantee the highest possible combustion efficiency based on 100 percent hydrogen gas.