The new AHEAD 2.2L machine by Toscotec has a production capacity of more than 80,000 TPA.
July 25, 2022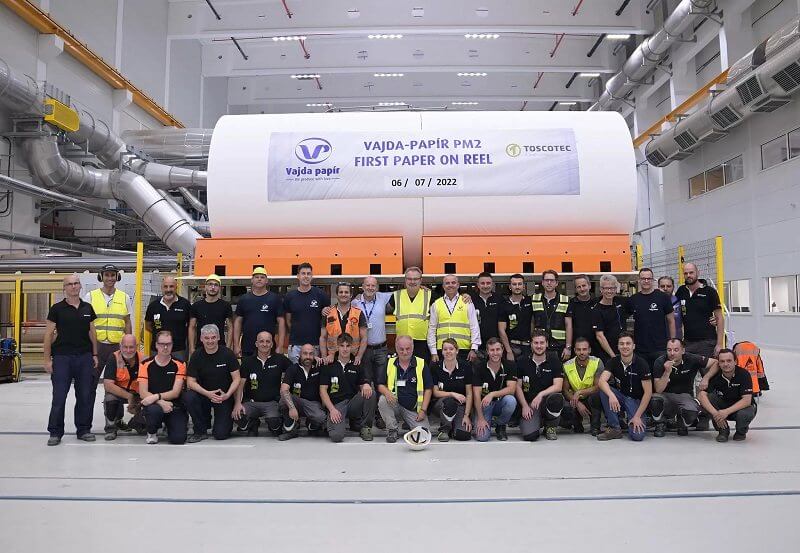 Vajda-Papír has started up the double-width AHEAD 2.2L tissue machine, which was supplied by Toscotec (PM2), at its Dunaföldvár facility in Hungary. The supply was completely turnkey, including the entire tissue production line and all erection operations at the mill.
Watch: IVAX Paper Chemicals Interview
The scope of the supply included the entire stock preparation system and Toscotec's patented TT SAF® (Short Approach Flow) fitted with a double dilution system to maximise energy savings. It comprised the electrification and controls, dust and mist removal systems, boiler plant, bridge cranes, air compressor station, roll handling and wrapping systems, and hall ventilation with a conditioning system. For the PM1, the technology supplier had delivered an OPTIMA 2600 slitter rewinder equipped with an automatic shaft puller and dust removal system that came online in February 2022.
The AHEAD 2.2L machine has a net sheet width of 5,600 mm, a maximum operating speed of 2,200 m/min, and a production capacity of over 80,000 TPA. It is equipped with state-of-the-art technology, a fully hydraulic TT Headbox-MLT, a shoe press of the upgraded TT NextPress, a third-generation TT SYD Steel Yankee Dryer, and a TT Hood system designed for maximum energy recovery.
Mr. Attila Vajda, Managing Director of Vajda-Papír, remarks, "This new Toscotec line constitutes our flagship investment at Dunaföldvár site. We have a vision for Vajda-Papír's expansion to be in harmony with the environment, and that is why we chose the most energy-efficient technology available on the market."
Also Read: Italy-Based Cartonificio Sandreschi Orders a Wet-End Rebuild from Toscotec
Mr. Gabriele Barattini, Project Manager, Toscotec, says, "Successfully completing a turnkey project of this magnitude is a great satisfaction indeed. The cooperation with Vajda-Papír's team has been excellent all along and has allowed us to manage every phase in the best possible way. Toscotec's flexibility is crucial for the success of any project, even more so for turnkey projects."