With a net sales of EUR 2.5 billion in 2014, a huge global footprint and its strong environmental commitments, Valmet and its technology is surely growing stronger every day.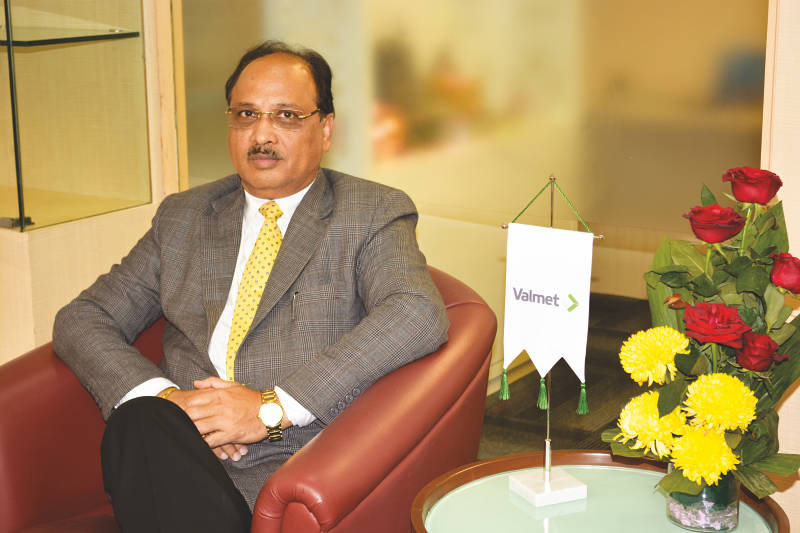 Valmet, with head office in Espoo (Finland), hardly needs any prelude to its achievement as one of the leading supplier of technology, automation and services for the pulp and paper industry. Reborn through the demerger of the pulp, paper and power businesses from Metso Group in December 2013, the company has over 200 years of industrial history. The company over a period of time has become indispensable for industries using bio-based raw material. The appreciation Valmet's technology enjoys may be corroborated by its size of operations globally with around 12,000 professionals and a net sales of EUR 2.5 billion in 2014.

Present in India since mid of 1980s, Valmet has been providing services and technologies to the pulp, paper and energy industries. Valmet is also credited for supplying India's biggest board machine in terms of capacity in 1996, the first Oxygen Delignification plant in 1997, Elemental Chorine Free Fiberline in 2001, world's largest Press Based Bagasse ECF Fiberlinein 2005, the biggest single fiberline in 2006, etc. With a defined Sustainability agenda, Valmet's Way Forward, encapsulates its entire line of strategies pertaining to environment conservation, product excellence and customer service.

Paper Mart recently had an opportunity to interview Mr. N. K. Jain, Director (Sales), Valmet India wherein he reciprocated on a range of questions concerning Valmet in particular, and the pulp and paper industry in general. Excerpts:

Paper Mart: To start with, tell us something about Valmet's Indian business, from the day it delivered its first machine to the present.

N. K. Jain: Valmet has been present in India since mid of 1980's and been providing services and technologies to the pulp, paper and energy industries and to certain other process industries since then. Operations started with the delivery of largest CTMP plant in 1982.

Valmet has contributed a lot to the Indian paper industry with its advanced technology and the installed base in India is getting larger every year. Now there are eight complete fiber lines, and also Board Machine, state-of-the-art Tissue Machine delivered by Valmet. We are continuing to strengthen our operations in Gurgaon, Chennai and Mumbai with almost 300 professionals working close to our customers and are committed to moving our customer's performance forward-everyday.

Our Chennai office offers the complete engineering services to the pulp, paper & energy industries. Automation is managed from Mumbai office and Gurgaon caters to the business of pulp and paper industry.

Overall, Valmet has a strong footing in India, with good references. The expanding demand for Valmet's products and services, coupled with the country's exceptional potential, form a good basis for future growth.

PM: Valmet Corporation has a sterling and diverse technology portfolio for the pulp and paper industry. Would you tell us the nature and range of your supplies to the said industry, from the smallest component to the largest assembly?

NKJ: Valmet has full scope offering in pulp and paper industry, including process technologies, automation solutions and supporting services.

Valmet's service offering includes outsourcing mill maintenance agreements, roll service, mill improvements, and spare parts. We offer for example consumables like fabrics, limited not only to pulp and paper industry rather offered to complimentary process based industries like mineral and mining.


The strong technology offering includes boilers for power plants, pulp mills, tissue, board and paper machines, as well as new technologies like LignoBoostTM, pyrolysis under bioenergy. We are also delivering environmental system products like CNCG, DNCG. We can supply both full paper machines from stock preparation to roll handling, or alternatively only a part of the machine. Recently we have also delivered several paper machine rebuild and grade conversion e.g. from fine paper to board production.

Valmet's advanced automation solutions range from single measurements, advanced process controls (APC) to mill wide turnkey automation projects. Evolution of industrial internet development gives more opportunities e.g. in offering remote site services.

PM: You are a key technology and machine provider to the pulp and paper industry globally. Is this true for India too? Who are your rivals and what kind of competition do you feel from them?

NKJ: Valmet has reached a leading position in its key market segments. We have delivered thousands of technology solutions to our customers across the globe as well as for Indian papermakers. Our footprint development in India includes India's biggest Board Machine in terms of capacity was supplied in 1996, the first Oxygen Delignification Plant in 1997, Elemental Chorine Free Fiberline in 2001, world's largest Press Based Bagasse ECF Fiberlinein 2005, the biggest Single Fiberline in 2006, the world's largest Fiberline using wheat straw as a raw material and the biggest state-of-the-art Tissue Machine and many more.

If we talk about the rivals, on paper side, our main competitor remains Voith; while on pulp side, it is Andritz. In automation business, we are competing with ABB, Honeywell, BTG and many others. All in all, we can say that the competition is tough and the key to keep ahead of the competition is to provide competitive solutions that best respond to our customer's needs.

PM: As a crucial technology explorer and machine builder, where do you find the Indian pulp and paper industry in terms of technology adoption? Do you find the Indian paper industry futuristic enough in technology application, or is it just moved by present compulsions to embrace just adequate technology?

NKJ: The growth of paper industry and its mission to attain global standards in terms of economy of scale, quality, cost competitiveness and environmental norms has been challenged due to shortage/ non-availability of raw materials and its input cost like fibrerous raw material, energy, chemicals etc and the adaptation of technology.

Most of the smaller and medium sized mills are still using the obsolete technology resulting in higher production cost and poor quality of paper. Most of smaller Agro based mills are not having the Black Liquor Recovery System which is an environmental red flag. So definitely, with the stricter environmental norms, the demand for world class technology would arise, as seen in China 20 years ago and how the industry underwent and still going through a technology makeover, India is just about at the cusp of such an industrial revolution.

Now, the Central Pollution Control Board in India has also issued the revised charter where the Indian paper industry has to opt for Zero Liquid Discharge without discharging a drop of effluent into any river. Policies like this are game-changers!

As a global company, we carefully monitor the changes in regulations and provide solutions accordingly to enable our customers to comply with the respective regulations. We have developed advanced measurements and controls for improving water handling processes in municipal and industrial environment. With Valmet's solutions, customers are able to increase the operational efficiency resulting in savings in chemicals and energy consumption.

PM: Any new development on product or process front?

NKJ: At Valmet, we invest extensively in R&D, on paper side supplies – board, tissue and paper machinery and equipment, and machine rebuilds for the board, tissue and paper industries. We deliver fit-for-purpose, high-efficiency machines paying particular attention to flexibility. This allows customers to alter production quickly and focus on producing the products with the highest demand and prices.

For example, Valmet has developed and launched modular paper and board making line, called OptiConcept M, which is compact machine and require up to 40 percent less paper machine hall space and ensure minimal operating costs. We have also developed new low-consistency refining concept with the OptiFiner Pro refiner which feeds the stock evenly across the bars directly into therefining zone where fiber treatment occurs. Valmet belt technology enables manufacturing of paper and board with better surface properties at a desired level of stiffness and bulk, but with 3-10 percent less fiber raw material; in addition it decreases energy consumption and yields higher production efficiency.

Valmet has a long history of technical innovations and it works closely with its customers to meet their needs; while on pulp and energy side we have comprehensive offerings systems for energy producers and new innovative biotechnology solutions.

On services business, we are delivering tailor-made services round the clock that best meet our customers' needs. This requires that we succeed in constantly coming up with new service solutions. This year's new business addition, under automation, has a separate R&D unit that is responsible for product technology research, product development and maintenance of their product families.

PM: Your comments on the present state of the Indian pulp and paper industry? How much time do you think the industry will take to fully recover its natural growth?

NKJ: Currently the India's paper industry is passing through a challenging phase, but it is expected to grow at 5 to 6 percent year over year, with the packaging industry growing by more than 15 percent annually. Advances in education, a fast-growing middle class, strong growth in sectors like fast-moving consumer goods (FMCG)—pharmaceuticals, liquor, cosmetics, and the like – and organized retailing are the main drivers of demand for paper and packaging products. These developments are expected to give a significant boost to the growth of the industry.

Indian pulp and paper industry will certainly flourish in future, if it is able to solve the problems in front of it. The usage of paper cannot be ignored and this aware-ness is bound to bring about changes in the paper industry for the better.

PM: Your thoughts on 'Make in India' and how will it assist India in reviving its manufacturing sector?

NKJ: Make in India is a calling card for investors to come and invest in Indian growth story. It is not just the influx of capital being targeted here, but the impetus to further improve the Indian manufacturing capabilities.

The manufacturing section in India is in the centre of this initiative; recently we noticed our customers showcase roadmap towards future capacity building under Make in India program.

Investing in new technology is imperative in today's world to be able to compete in global markets. The entire product value chain needs consideration and focus.

We are confident that Indian pulp and paper industry would play a pivotal role in ensuring Make in India a big success in coming years with the skill labour force and willingness to deliver on its goals.