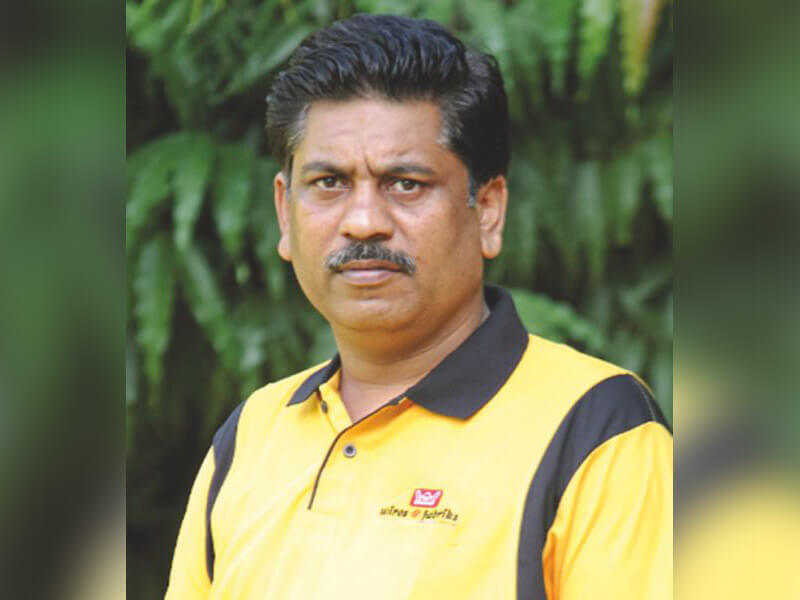 Paper machine clothing (PMC) plays an important role in paper-making. To gather the latest information about PMC products and value-added services, the Paper Mart team spoke with Mr. Alok Maheshwari, Senior Manager –Technical Services, Wires & Fabriks (S.A.) Limited – a knowledgeable paper-maker with more than 20 years of experience in paper-machine operations, maintenance and implementation of new projects in India and abroad.
Question: Please share with us your company's business scope for products and services?

Headquartered at Jaipur, Wires & Fabriks (S.A) Limited is a leading manufacturer and supplier of PMC in India. We manufacture a wide range of forming fabrics and spiral and dryer screens for sophisticated and high-speed paper machines. We also manufacture pulp fabrics, press belts – ETP and stainless steel mesh such as mould cover and dandy cover. We have an efficient technical services team that helps our customers in paper-making and in running their machines efficiently. This year we are celebrating 50 years of our manufacturing excellence and contribution to the paper industry in India and abroad.

Question: How have you used technology for adding value to your products?

Typically, PMC is merely 3-4 per cent of the total spending on a paper machine. Our company can make innovative designs with the latest technology and equipment and offers excellent sales service to support machine dynamics and deliver tangible results. Our sophisticated fourth-generation products, such as the STL (SSB) range of forming fabrics and Unotier dryer screens, are meant mainly for Uniruns and high-speed machines. The potential advantages of STL include improved retention, improved formation, less two-sidedness, better productivity, cleaner run, no wire marking, less drag load and higher life potential. Our new dryer screens product – Unotier – offers higher surface contact area to increase heat transfer with better sheet support, higher life and lower energy consumption.

Question: What are your key service areas for the forming side of machine and the dryer section?

On the forming side, the value chain starts with the correct study of the machine. Known as papermaker survey, it involves table survey and stroboscopic study, review of wire tension shower and guides. We conduct our peek service, Cadscan Drainage Study, which is known as drainEdge, for drainage optimisation (chargeable to our customers). Our on-site and off-site analyses include wear-rate prediction and return fabric analysis, respectively. Training is also imparted in PMC, etc.

On the dryer side, we conduct down-day survey involving fabric/seam inspection, guide checking, fabric wear, alignment and permeability and roll-condition checks. The dryer section survey covers head, sheet, shell, pocket humidity and hood balancing. We also train our customers of dryer clothing and participate in joint programmes to address energy savings and machine economics.

Because of our local presence, we can support paper mills with our technical service even at a very short notice. We strive for a situation where quality, equipment condition and our service capabilities work harmoniously. While we add value through consulting based on global best practices and our knowledge, we help our customers in using mechanical dewatering equipment through our sister company, Kingsley Industries Limited.

Question: How do you strike the right balance to serve your customers in the best possible manner?

We closely work with the customer more as a partner than a vendor to develop solutions while focusing on paper machine efficiency. This consultative approach calls for a healthy participation of our customers as well. Our products and technical service helps our customers in finding better quality products at the right place. The right balance between paper quality and the natural life of the fabric is achieved. We run many programmes with various corporate organisations in India on a partnership model and set the right expectations for companies from the beginning with a road map and inter-company training programmes. At the company level, we continue to build on innovative ideas and convert them into new improved products and services.

Question: What challenges do you face in the area of expertise?

In today's competitive environment, it is important to constantly improve productivity. Customers expect us to help them with better and efficient use of fibre measured in terms of formation and retention and with energy efficiency. As we know, 25 per cent of the total paper production cost is incurred due to energy consumption. This becomes difficult if there is insufficient transparency and non-sharing of facts while addressing problem areas.

In terms of service delivery, we need to continuously improvise in the area of application engineering and tune our products' performance based upon the customer's process and machine, thus involving a high level of customisation. It takes a while for the customer to understand and use new technology. Whenever we get an opportunity, we demonstrate our competence and capabilities and emerge as clear winners.

There are industry challenges as well. There will be a shortage of skilled resources in times to come, as many old stalwarts would be retiring soon and not many young professionals opt for paper industry. The industry also needs continued contributions from all stakeholders to improve its areas of energy management, water and environment.