With assistance from Dr. Benno Bader, Technical Director, Zenith Rubber and Founder, Skapa e.U., the company has introduced indigenously manufactured PU covering rollers into the Indian paper industry.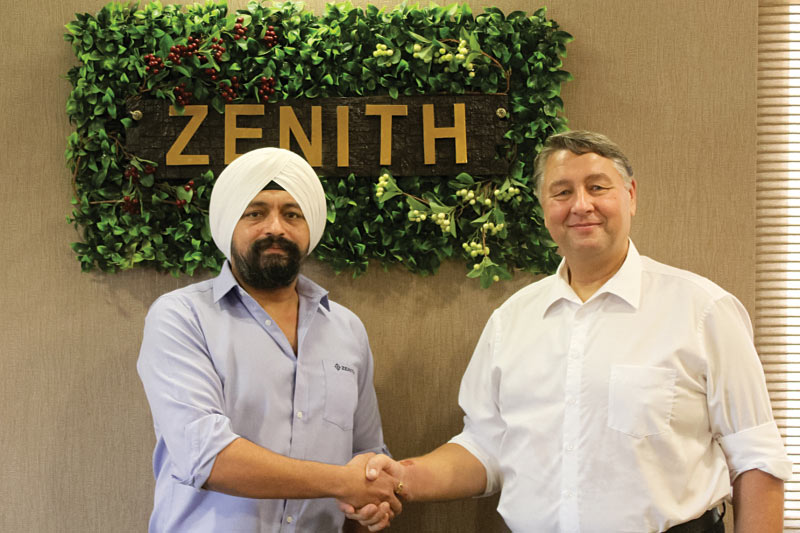 Dr. Benno Bader talks about his association with Zenith and PU covering roller technology in an exclusive interview given to Paper Mart.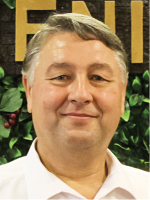 Here are a few excerpts from the interview.
Paper Mart: Could you tell us about yourself and your association with Zenith Rubber?
Benno Bader: I have been serving the paper industry for the last 30 years. I have worked with companies like Scapa-Kern and Voith. My areas of expertise include technology, production, and R&D. A year ago, I came in contact with Zenith Rubber, which was at that time looking for someone with expertise in PU covering roller technology for its ongoing roller projects. Currently, I am working with Zenith as Technical Director. I help the Company with machine design, setup, production techniques and training. I also give it appropriate technical support.
PM: Could you tell us a little bit about PU covering roller technology?
BB: Polyurethane (PU) cover is a special material made from the most sought-after polymers – polymers that are especially designed for high-speed and high-demanding paper machines. The PU covers that we produce at Zenith are suitable for different types of press and size rollers. Zenith is capable of manufacturing PU rollers up to 8.5 meters, with a 2-meter maximum diameter and weight up to 40 tonnes.
Polyurethane outperforms rubber in applications that are either submerged in or exposed to wet environments for a long period of time. Rubber rots over time. PU covers also offer better strength, excellent wear resistance, special hydrolytic stability, high elasticity and resilience and resistance against high dynamic load. They are especially known for their generation of extremely low heat in operation. Polyurethane counterweighs other materials because of its outstanding physical properties, high performance, and easy installation. Today, polyurethane roller covers are fast replacing rubber roller covers.
One of the main advantages of PU roller cover is low-energy consumption because of better resilience of the PU used. Polyurethane has good electrical insulation properties. The other major reason for replacing rubber with polyurethane is high tear resistance along with high tensile properties. Moreover, PU coverings are resistant to extreme temperatures. This means that harsh environmental conditions and chemicals can rarely cause material degradation. A PU roll cover lasts longer and helps in decreasing downtime. Because of the durability and longer lifespan of PU rollers, paper mills don't have to worry about frequent replacements. This advantage increases their productivity and improves the quality of their products. At times, rubber roll covers are not suitable for a high-demanding paper machine profile. With PU roll covers, there is improved dewatering, optimized abrasion resistance, elimination of internal cooling and a longer lifetime. Improved dewatering may lead to a big reduction in steam consumption. Depending on the situation, the payback for higher PU cover costs can be between six months and one-and-half years.
Most of the customers want a longer grinding interval period. The maintenance department has to stop the paper machines every two to six months depending on the condition of the rollers; and to change the re-grinder rollers, the machine needs to be stopped. This period can be much longer with the use of PU rollers; and that helps in reducing downtime. PU rollers reduce maintenance cost and loss of production due to downtime. Because the machine does not need to be stopped frequently, its efficiency is much better than that of machines with rubber rollers.
Zenith adopted this technology after sourcing a highly sophisticated machine (PLC Controlled Roto Cast PU Dispensing Machine) from Europe. The machine is capable of manufacturing high-quality and high-performance PU coating rollers. The raw material has been imported from the global market.
PM: Rubber roll covers are generally cheaper than PU roll covers. How have you handled the cost factor?
BB: To calculate and analyze the cost, we need to have some advantages in operating PU rollers. The advantage of using PU rollers is that mills can save downtime on the machine and, as mentioned earlier, the payback for a higher cost is earned between six months and two years.
PM: Has Zenith lived up to your expectations?
BB: The technical staff at Zenith has been quite cooperative. So far, it has responded well to the training I have given. It is all about making them see the advantages of PU roll covers. A deep understanding of PU rollers and their advantages is necessary for both the roller manufacturer and the customer. PU covering technology is new to Indian manufacturers, but it is a well-established technology in Europe and USA.
PM: Do you think the Indian paper industry has a lot to gain from this technology?
BB: Yes. PU rollers should be added to paper machines – especially, when the machines are of higher speed and getting renewed. Inclusion of PU rollers is mandatory for the efficiency of the production process. Also, after a certain period, rubber covers are not suitable for high-demanding fast machines. The advancement of paper-manufacturing technologies is leading to high-speed, large-scale, high-quality paper production.
"Paper companies in India are quite familiar with PU technology, but they have been importing PU rollers. The same kind of rollers will be manufactured in India now. This would reduce the import of rollers. The transit time and price would be less, and paper companies would get prompt service," says Prabhleen Singh Paintal, Managing Director, Zenith Rubber Private Limited.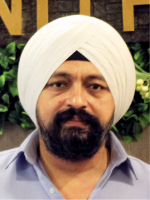 Paper Mart: Could you tell us a little bit about Dr. Benno's contribution to your latest project?
Prabhleen Singh Paintal: The last five years saw us focusing on polyurethane rollers. I visited Europe several times to have a deep understanding of this technology. Not all European companies are willing to talk about PU technology with Indian and Chinese manufacturers, as they don't want to go into competition with Asian roller manufacturers.
We met Dr. Benno through someone we knew, and within one year, we got the machine and raw material and started working on PU rollers. As you already know, Dr. Benno is a specialist in roller coating with PU technology. It was under his guidance that we could bring PU coating technology to India. He has worked as Senior R&D Manager for Voith Paper Fabrics and Rolls. We have already manufactured three rollers under Dr. Benno's guidance. He has been with us right from the beginning – from purchasing the machine and procuring the raw material to getting the rollers prepared to train people at Zenith. Dr. Benno will not only oversee the production process, but also train the marketing team.
Of course, polyurethane is not a new technology. Paper companies in India are quite familiar with PU technology, but they have been importing rollers. The same kind of rollers will now be manufactured in India. This would lead to lesser import of rollers. The transit time and price would be less and paper companies would get prompt service.
PM: Do you think you will find takers for this technology in India?
PSP: We feel this technology will be well received in India. We have already received orders for four rollers. Production of new rollers is in the pipeline. Orders have already been confirmed, and shells are being imported from China. We haven't gone for aggressive marketing yet because we want to have a detailed insight into this technology. We intend to start full-fledged production before the Paperex 2019 trade show. We have received enquiries about PU covering rollers from Vapi and Muzaffarnagar. Prominent paper companies like Century Pulp & Paper, JK Paper, and Emami Paper Mill have been using imported polyurethane rollers in their high-speed machines. So, we expect to receive a good number of orders in near future. Indian paper companies are quite aware of PU technology. When these paper companies get to know about our rolls, they will surely approach us.
We have already 20 quotations from different customers, and around 90 percent of them will be finalized soon. However, we are running short of raw material, so we are currently on the back foot. But we are looking forward to meeting the demand soon. The raw material isn't available so easily even from distributors in India. We have to procure it from suppliers outside the country. So, it is a time-consuming process. Dr. Benno has played an important role in facilitating raw material import and the production process.
PM: What kind of service and maintenance would be required for PU covering rollers?
PSP: The best part about polyurethane coating roller is that it does not require much maintenance and service. However, we would be instructing and providing guidelines for the precautions to be taken. We will tell our customers about the benefits of these rollers and guide them whenever necessary. Moreover, Dr. Benno will provide technical assistance from time to time. Even after our people come to grips with this technology, we will continue to associate with Dr. Benno to handle new requirements. We import raw material only after holding a consultation with Dr. Benno.
PM: What are your future targets?
PSP: We are working hard to move to the next level with this technology. We want to exclusively manufacture products that are beneficial to the industry. We are also looking forward to manufacturing products that other companies are not producing. But we don't want to be in a rat race. Instead, we want to go for indigenous production of things. Imports should be reduced as far as possible. Even in Bangladesh, 30 percent of paper companies are using polyurethane covering rollers sourced from Indonesia and Thailand – exclusively from Valmet and Voith. So, we are looking forward to targeting the paper industry in other Asian countries as well. We have already commissioned a Roller covering Plant at Vapi. It has been running since one-and-a-half months. We will soon start production at the Ahmedabad plant. Also, we want to be close to our customers so that we could deliver prompt service.