Axchem® Group is a distinguished provider of chemicals for all segments across pulp, paper, tissue, converting & packaging. With tailor-made solutions which are approved by BfR, FDA, and Nordic Swan, Axchem®'s solutions ensure high productivity, quality, safety as well as environmental acceptance.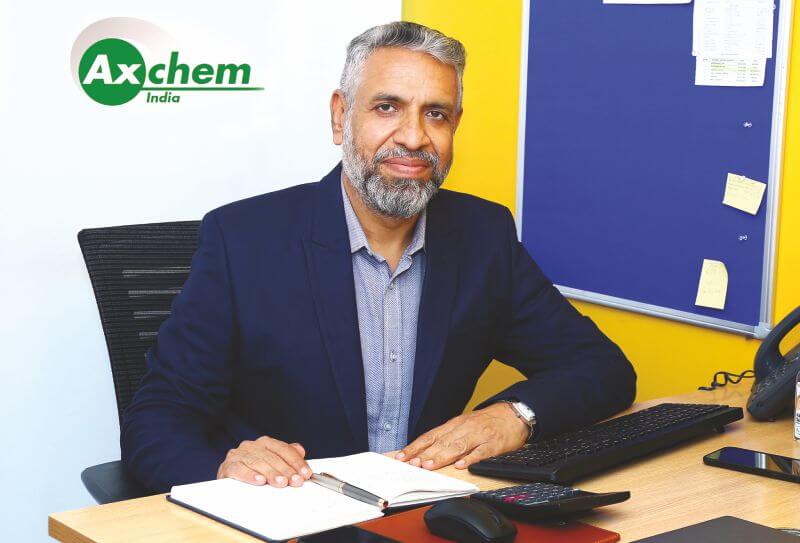 In an insightful conversation with Paper Mart magazine, Mr. Rajesh Chhabra, General Manager (India), Axchem® Solutions India Pvt. Ltd., takes us through the portfolio of the company, the solutions for the pulp and paper industry, the R&D processes, and the market potential of papermaking chemicals.
Paper Mart: Please walk us through the journey of Axchem® Group as one of the leading manufacturers of chemicals for the pulp & paper industry.

Rajesh Chhabra: Axchem® Group offers the broadest and most comprehensive portfolio of water-soluble polymers in the market and has sales offices in sixteen countries and production sites in Europe, America, and Asia.

PM: Could you shed some light on the product portfolio of the company along with the USPs? Also, tell us the applications where your products are used extensively.

RC: Axchem® has proven its capability to help customers increase their profitability and efficiency, serving paper solution product range for the past 17 years, now we are developing new technologies to address papermaking challenges on sustainability, improved runnability, and overall cost reduction on applications like retention, contaminant control, strength, plybond, sizing, and defoaming. Also, our portfolio includes polymers for inlet and effluent water treatment which are industry-wide references in many benefits (Color, COD, TSS, BOD, Odor, etc.).
Watch: IVAX Paper Chemicals Interview

PM: The product lines provide innovative solutions for the paper, tissue, packaging, and converting industries. Can you tell us the share of chemicals targeted at these processes?

RC: Axchem® Group caters for all segments across the global paper industry. Combining specialized technicians, a vast product portfolio, and a unique collaboration enables us to exceed the customers' expectations. The pulp and paper industry is facing many challenges including –

Environmental regulations

Competition

New technologies

This is where we can provide an advantage. With innovative solutions and specialized applications, we can support the industry in developing successful and sustainable products that will improve and sharpen the competitive edge.

PM: In what way do your offerings assist the paper industry in addressing crucial parameters like cost reduction, better quality, and enhanced efficiency?

RC: Axchem® takes care of all pulp & paper plants' chemistry requirements. We supply everything the industry needs, from products to know-how and process management. This allows us to improve industry operational efficiency, sharpen our customers' competitive edge, and reduce costs.

"We believe that our knowledge and experience should be used as a driving force… Our expertise is founded on several core competencies and technologies through our continuous R&D practice"
PM: Kindly elaborate on the R&D efforts of the company along with its technological advancements.

RC: We are committed to spending a portion of the margin on R&D and we are building a paper testing lab within Axchem® countries. We believe that our knowledge and experience should be used as a driving force in the continuous development of the pulp and paper industry. Our expertise is founded on several core competencies and technologies through our continuous R&D practice, some of which include surface and colloid chemistry, dispersion technologies, sizing together with formulation & polymer application skills. Our core competencies lead to the development of specialty chemical-based concepts, technologies, and services for the pulp & paper industry's products as well as processes.

PM: The Company is committed to preventing and minimizing environmental impacts along the entire life cycle of its activities. Tell us more about your sustainability policy.

RC: Our strategy to further improve the environmental performance of our business is simple but also challenging. To create business benefits and prevent pollution we must manage resources – in terms of hazardous substances, waste, energy, and raw materials for products – in a more efficient and responsible way than ever before. To succeed, we also must improve communication throughout the value chain.

Axchem® Group arises as the centre of its activities the environmental issues with the goal of paying increasing attention to the protection of the environment. The Group is wholly committed to minimizing the impact on the environment.

We consider environmental performance across our business, from raw material sourcing, manufacturing, and supply chain through to our on-site applications.

PM: Please outline the current market presence of the company.

RC: We have established a wide market presence in regions including the Americas, Europe, and Asia through our partners and subsidiaries. In Europe, Axchem® Group has distinct subsidiaries, namely, Axchem® France; Axchem® Italia; Axchem® South Est Europe; Axchem® Italia (Spain); Axchem® UK; Axhem Deutschland; and Axchem® Nordic. For the Americas (both North America & South America), there are four distinct divisions – Axchem® Canada, Axchem® USA, and Axchem® Brasil. Furthermore, in the Asian market, the Group has set up different subdivisions, including, Axchem® India, Axchem® China, Axchem® Korea, and Papyrus Polykemindo in Indonesia.
Also Read: People, Planet & Profit: Key to a Sustainable Future for Paper Manufacturing

PM: How do you view the Indian paper industry and the market potential of papermaking chemicals?

RC: The paper industry holds immense potential for growth in India as the per capita consumption globally is one of the lowest. The Indian paper industry is growing, and this growth will continue for the next few years. We are expecting a total production of 50 million tonne per annum in the next decade. The process chemical demand will increase accordingly.

The Indian paper industry is committed towards sustainability and each mill is working towards the best output from machines with respect to paper quality and performance, at the same time focusing to control water consumption per ton on paper production. We, at Axchem®, have a wide experience in on-machine wet-end applications (retention, drainage, fixative, stickies treatment, plybond, dry & wet strength improvement, defoamer) Other backend process applications (Dryness improvement in Sludge, Lime mud, etc.) and wastewater treatment applications (Color, COD, TSS BOD, Odor, etc.). Moreover, we also see huge challenges for chemicals related to this growth in the different categories of pulp and grades of papers (tissue, packaging, writing & printing, specialty paper, etc.).