FELUDA, the world's first paper-based test strip for COVID-19, has been approved for commercial launch by the Drugs Controller General of India, India's drug authority.
October 9, 2020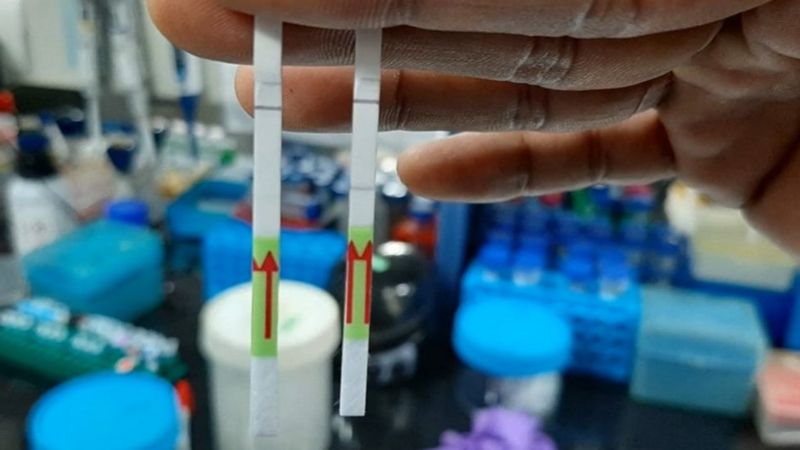 A team of scientists in India has developed an inexpensive paper-based test for COVID-19 that could give fast results similar to a pregnancy test – as reported in a leading daily.
The test, named after a famous Indian fictional detective, is based on a gene-editing technology called Crispr. Scientists estimate that the kit – called Feluda – would give results in less than an hour and cost INR 500 (around $ 6.75; £ 5.25). Feluda will be manufactured by a leading Indian conglomerate, Tata, and could be the world's first paper-based COVID-19 test available in the market.
ALSO READ: Paper-based Device to Detect Coronavirus in Wastewater of Local Communities.
Researchers at the Delhi-based CSIR-Institute of Genomics and Integrative Biology (IGIB), where Feluda was developed, as well as private labs, tried out the test on samples from about 2,000 patients, including ones who had already tested positive for the coronavirus.
When used as a diagnostic tool, like Feluda, the Crispr technology latches on to a set of letters of a gene carrying the signature of the novel coronavirus, highlights it, and gives a read-out on a piece of paper.
In the US and the UK, several companies and research labs are developing similar paper strip tests which can be cheap and mass produced. One of the most talked-about has been a paper-based strip developed by Sherlock Bioscience which has been cleared for emergency use by the US Food and Drug Administration (FDA).