The new paper machine is part of Mondi's extensive EUR 370 million modernization programme at the Ružomberok mill over the past two years.
May 11, 2021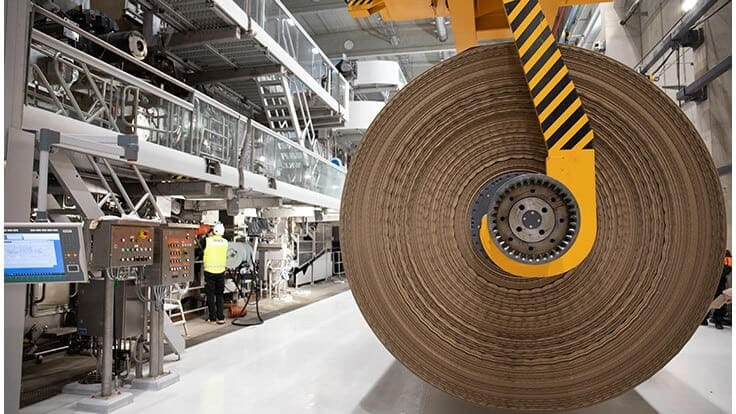 Mondi is supplying customers with its innovative and sustainable containerboard grade made in Slovakia from renewable materials. Kraft Top White combines the strength, printability and appearance benefits of a white fresh fibre top layer with the advantages of a recycled fibre bottom layer.
Watch: Paper Mart Fortnightly News Roundup.
State-of-the-art paper technology increases strength while reducing weight, making Kraft Top White a compelling solution for the growing European white top liner market for use in shelf-ready packaging, point-of-sale displays, trays, e-commerce packaging, consumer durables and other customised packaging applications. The Ružomberok mill enjoys a central location in the growing European containerboard market and can therefore offer reduced delivery lead times to customers across Europe for these new paper solutions.
Mondi's annual 300,000 tonnes Kraft Top White capacity is unmatched in Europe. Production of the two Kraft Top White grades – ProVantage Smartwhite and ProVantage Topwhite – has been ramping up since PM19 started-up in January. At full capacity, the machine will use more than 200,000 tonnes of paper for recycling per year (mainly from Slovakia), opening new processing capacities and supporting the circular economy by keeping materials in circulation and preventing waste.
Also Read: ANDRITZ to Supply Two Semi-Chemical Fiberlines to Lee & Man Paper in China.
The fully integrated pulp and paper mill has undergone major upgrades including an automatic warehouse storage area for end products, a recycled paper line, a recycled storage area. Work was also undertaken to improve the wastewater treatment plant. It now produces biogas as a by-product which is used at the plant's boilers, consequently reducing the mill's use of fossil fuels. Avoiding waste, keeping materials in circulation and reducing its own greenhouse gas emissions in line with science-based targets are a key focus of MAP2030, Mondi's 10-year Action Plan on sustainability.
Technical details:
Two Kraft Top White containerboard grades are produced on the PM19: ProVantage Smartwhite and ProVantage Topwhite
Available with FSC® or PEFC® certification to meet demand for responsibly sourced materials
Machine width: 5.30 metres
Production capacity: 300,000 tonnes per year
Recycled paper consumption: more than 200,000 tonnes per year