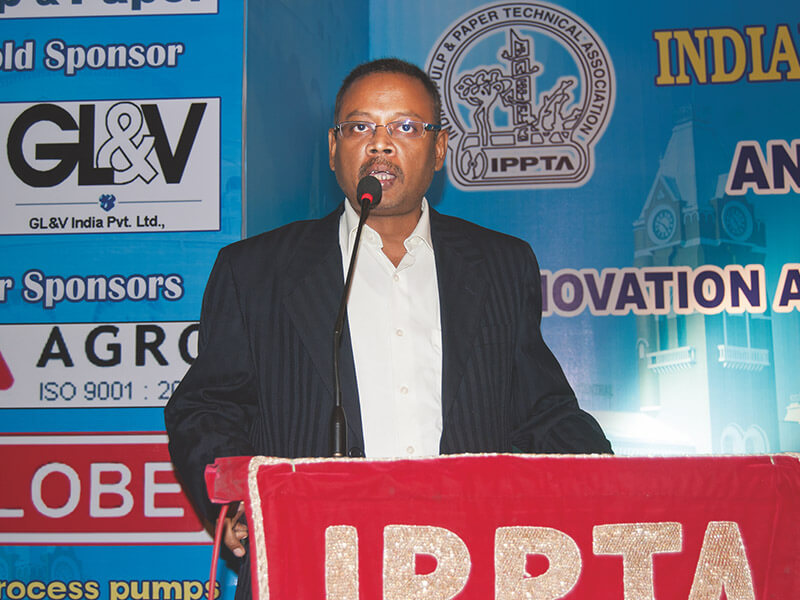 During the recently held IPPTA conference in Chennai, Mr. K. Selvakumar, Director, Lovely Offset Printers Pvt Ltd, Sivakasi addressed the paper industry as a consumer. Lovely Offset established in 1961, employs over 600 people having factory in a 30 acre plot with 300,000 sq. ft. built up area and consumes about 12,000 tons of paper annually. In his keynote speech he emulated to the audience about the Indian printing industry, and most importantly as a converter he shared the printers perspective of what they expect from the paper manufactures.
The growth rate of printing industry is generally just over the GDP growth while in recent times the publishing industry is growing at about 15% and print-packaging about 20%. As the Indian printing industry is making strides with the new technologies the requirement in terms of different grades of paper has increased. Today Indian print industry is the 12th largest manufacturing industry in terms of output in India and 8th largest print industry in the world. The size of Indian printing industry is about USD 24.3 billion and print & publishing contributes about USD 3 billion. There are about 3,000 registered factories and 250,000 printing presses that provide employment to 600,000 people out of which 500,000 are in unorganized sector. In fact about 100 printing firms have crossed the mark of Rs. 100 crore. But still there is a long way to go for us. The growth journey of the print industry is hindered by many challenges that need to be addressed. Some of them are huge investment, poor returns, availability of quality labor, changes in consumption pattern (electronic media) and lack of professionalism.

He insisted that "major challenge for us is to deal with both customers and suppliers (paper mills) who are larger than us and possess the power of negotiation." Though Indian industry is small but it has tremendous scope for growth. Due to the onslaught of electronic media the paper consumption has declined in the western world but that is not the case in India. In every budget the Government deploys huge thrust on education. And with the recent emergence of FDI in retail demand for packaging will be indispensible. With respect to the global scenario China is the most dominant player having huge scale of operations. Europe and US are struggling as the jobs have shifted out of their countries and in between that Africa came out as a potential market.

Putting forward the expectations from paper mills he said, "right characteristic of paper plays a very important role for printer and there are certain areas where mills need to be attentive. The pallet packing is very essential to achieve faster turnaround time with no wastage and accurate size, which saves time, cost and labor involvement. Also the reel core has to be stronger to withstand the transit and in-house handling. What happens once the core bends it cannot be loaded on reel cutter, which creates mess making a huge loss of productivity and time. Shade variation in batches and within the batches creates huge difference at the time of printing. As a result our customer gets disheartened. Other is wrinkles and waviness that causes lot of stoppages, which means bad quality printing, poor productivity. The static eccentricity of reels sometimes causes trouble when cutting on high quality reels cutters. The GSM variation is another major issue where printers gets hurt as he buys 60 GSM reel and when finishes the reel he realizes that about 5% of reel is missing because of GSM variation. The other issues where mills need to be considerate are moisture content, climate reaction grain direction marking, stiffness etc. In a nutshell I can say that the understanding of fundamentals of printing is very important for the paper manufacturers in order to produce the required products."

Taking the things further he said, "paper is king and it can really make or break any printer because when you do the costing, paper is at least 60% of the cost. It doesn't mean that just cost of paper plays an important role its quality also that matters as it influences various aspects. Usually printers require high bulk LWC paper, which is unfortunately not manufactured by single mill here. Moreover, the demand of premium printing is growing in India and we printers have to depend mostly on imported paper to comply with the requirements of the customers, which makes cost of delivery very high. The Indian manufactures should consider producing fine papers here, which will make its availability consistent and cost effective. I believe that future of printing lies in exports rather in domestic market and to fight in international market you need to provide quality with consistency. The rising of retail sector presents a huge opportunity where the demand for metallic paper is on rise. The early mover will surely have the advantage in this segment. Besides this environmental constraints are on rise, which has increased the demand for FSC certified papers. This is another area where paper mills have to focus on the arrangement of the same."