"India can be a global leader in paper sector"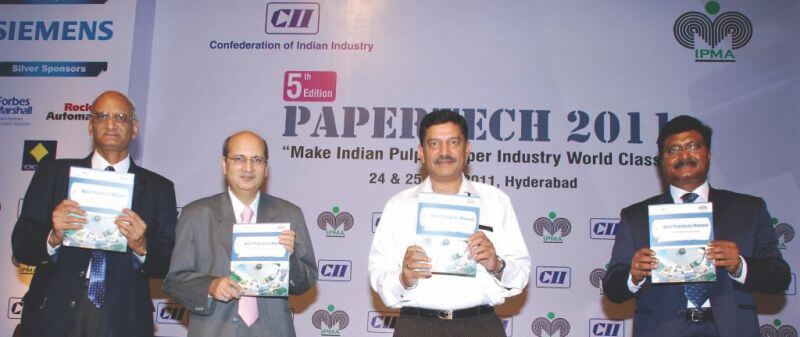 25 June, 2011

Speaking at the inaugural session of CII's 5th edition of PaperTech 2011, Mr T S Appa Rao, IAS, Principal Secretary to Govt & CIP, Industries & Commerce Department, Government of Andhra Pradesh expressed the optimism that, with India emerging as a knowledge capital and with huge market potential, Indian paper sector has the potential to become the global leader.

Adding further, Mr T S Appa Rao, IAS underlined the need and importance of addressing issues of energy, water and environment, which will go a long way in achieving this objective. He also briefed on the incentives provided to the industry by the Government of Andhra Pradesh.

Mr Madhukar Mishra, President, Indian Paper Manufacturers Association & Managing Director, Star Paper Mills Ltd, in his keynote address said, according to some projections, India's consumption of paper and paperboard would increase to 20 million tons by 2020 and 40 million tons by 2030 with an annual rate of 8 %.

In light of this, Mr Madhukar Mishra said, there is plenty of scope and need for capacity build-up to meet the emerging demand and he called on the need for a more organised industry wide endeavor to achieve better and quick results. He said there is an excellent opportunity to achieve this growth in a green way.

Mr K S Kasi Viswanathan, Chairman, PaperTech 2011 & Deputy Managing Director, Seshasayee Paper & Boards Ltd, in his theme address said the focus areas of PaperTech 2011 will be on energy, environment and water and he underlined the need for knowledge sharing and learning about the technologies adopted by different mills. He also called upon the need for participation by all plants.

Mr D V Manohar, Past Chairman, CII – Andhra Pradesh & Chairman, Shri Shakti Group, in his welcome address briefed the participants on the activities and initiatives of CII-Godrej GBC.

The inaugural session was also marked by the release of Best Practices Manual- Pulp & Paper industry -Volume 4, a compilation of over 35 best practices implemented by the sector.