April 25, 2012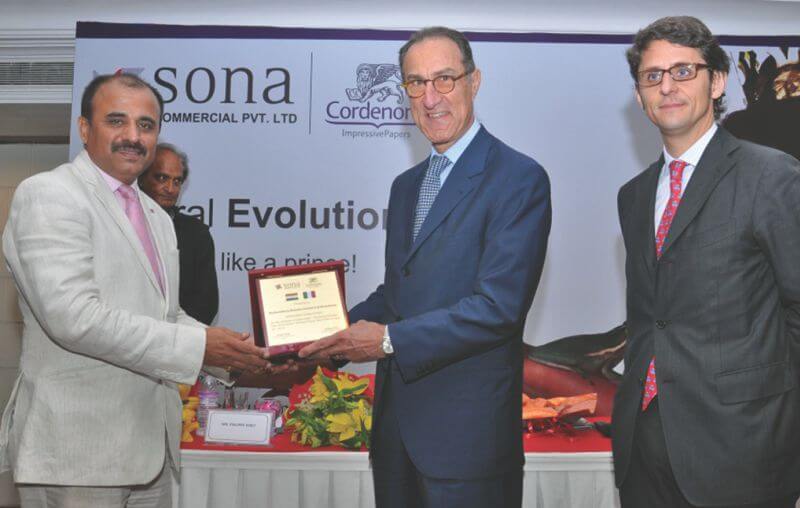 Sona Commercial Pvt. Ltd. (SCPL), unveiled the new "Natural Evolution", swatch book by H.E. Giacomo Sanfelice di Monteforte, Ambassador of Italy to India, and eminent photographer & photo journalist, Padamshri Mr. Raghu Rai, at an event organized in New Delhi.

Natural Evolution is a premium superfine paper produced by Gruppo Cordenons, SpA, Italy. In India, this paper is solely distributed and marketed by Sona Commercial Pvt Ltd, India's first multisite FSC certified paper company.

On this occasion Mr. Sanjay Suneja, Managing Director, SCPL, said: "It is a matter of great pride for us to bring this quality paper to India. We are proud of our association with Cordenons, a brand of great repute and synonymous with quality and luxury in paper all across the globe." Further he shares "Natural Evolution is one of the flagship brand and most sold items from the house of sona."

Also present on the occasion, Mr. Philippe Virey of Gruppo Cordenons SpA, Italy, commented "At Cordenons, we believe in innovation and quality, and that is what distinguishes us from the others. Today world over, we are proud to list some of the most prestigious luxury brands as regular users of this paper for their brochures, packaging or corporate communications, such as Dolce & Gabbana, Cartier, Louis Vuitton, Hermes, Salvatore Ferragamo, L'occitane en Provence, Burberry's, Rolex." He continues "Gruppo Cordenons is proud of the collaboration with Sona for Indian sub-continent market."

In India, Natural Evolution is behind several prestigious jobs done on paper, like, Kingfisher's Annual Calendar, Mercedes Corporate Brochure, Save the Tigers Campaign Calendar, ICC Word Cup Brochure, M F Hussain Coffee Table book, World famous Nobel prize winner Rabindra Nath Tagore's Chitravali, and many other prominent jobs of Designer JJ Valaya, Citi Bank, Cairn India, DLF, Unitech to name a few.

The new Natural Evolution is now available in India in wider variety and with enhanced coating, which is a result of years of innovation and R&D by Cordenons. Natural Evolution has been geared up for the next generation, reinforcing its top values, such as tremendous bulk, best printability, outcasting texture, top creasing perfomance.