The company launched a new packaging product that comes with a temperature control to maintain a temperature between 2 and 8°C in the shipping unit.

October 17, 2016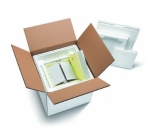 A specialist in protective packaging, Storopack adds a system solution to its extensive product portfolio to facilitate temperature-controlled shipping. Depending on the required temperature profile, this new prequalified box maintains a temperature of 2 to 8°C in the shipping unit for nearly 96 hours. Also, Storopack has prequalified it in accordance with the European standard AFNOR NF S99-700.

The protective packaging is suitable for international shipments, particularly for products in the pharmaceutical or biotechnology sector. Both PCM (phase change material) and water-based cooling elements are used in the box to stabilize the temperature. Storopack supplies the 96-hour system solution in four sizes with a useable volume of 5, 10, 18, or 37 liters.

The temperature-controlled protective packaging is available off the shelf and is delivered with all the necessary components incorporating insulating box, coolant, shipping box, inner box, packaging instructions, and qualification report. Customers can rely on the efficiency of the new system solution as the cold chain can be reliably maintained even during longer transport times and with fluctuating external temperatures.