In spite of the Covid-19 pandemic and the challenges it posed, Toscotec and Sofidel went the extra mile and managed to successfully complete the project in record time.
October 7, 2020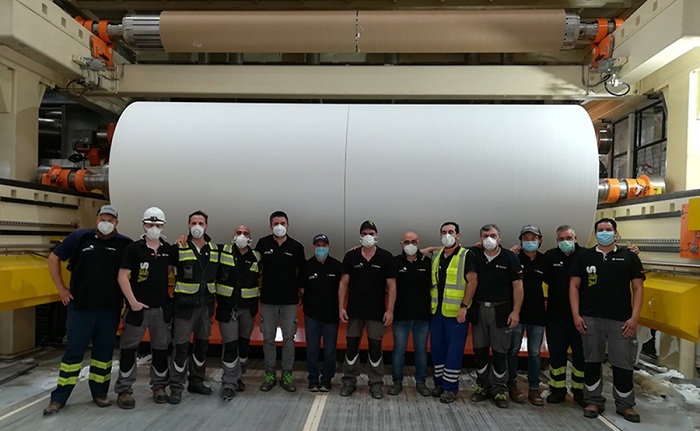 Two Toscotec-supplied AHEAD 2.0L tissue machines came online at Sofidel America's mill in Inola, Oklahoma. Shortly after start-up, the two lines met Sofidel's quality standards, and have been running at high operation efficiency, producing premium quality tissue.
Toscotec delivered a turnkey plant including two AHEAD 2.0L machines of 5500 mm sheet trim width, 2000 m/min operating speed, each producing 60,000 tons/year. These machines are equipped with TT SYD Steel Yankee Dryer and high-efficiency TT Hoods, designed for a high level of energy recovery.
The supply also included the stock preparation system, Toscotec's patented TT SAF (Short Approach Flow), the DCS and QCS, as well as the dust and mist removal systems. Toscotec also supplied the boiler plant, the compressed air station, the bridge crane, the shaft puller, the roll handling and wrapping systems, the chemical preparation system, the hall ventilation system, and the water treatment plants.
Sofidel was provided with a comprehensive service package including the detailed mill engineering according to US codes and standards, the construction management, the plant and the machines erection, training, commissioning, and start-up supervision.
Luigi Lazzareschi, CEO of Sofidel, says, "Today's achievement steps up Sofidel's strategic coverage in the U.S. market. Technological innovation is key to our Group. It allows us to deliver the product quality and safety that build consumer trust, and it makes us honor our long-term commitment to sustainability. I applaud the hard work and strong cooperation of Sofidel and Toscotec that made today's success possible."
Alessandro Mennucci, CEO of Toscotec, says, "It is a great satisfaction to see that two top-of-the-line Toscotec machines achieved great performances at Sofidel America. This excellent result rewards us for all the efforts that our teams made together over the past three years. We look forward to continuing this important partnership with Sofidel in the coming years."