The PrimeLineCOMPACT tissue production line has been delivered to Xuan Mai Paper Co. Ltd. for its mill in Ho Chi Minh City.
December 09, 2020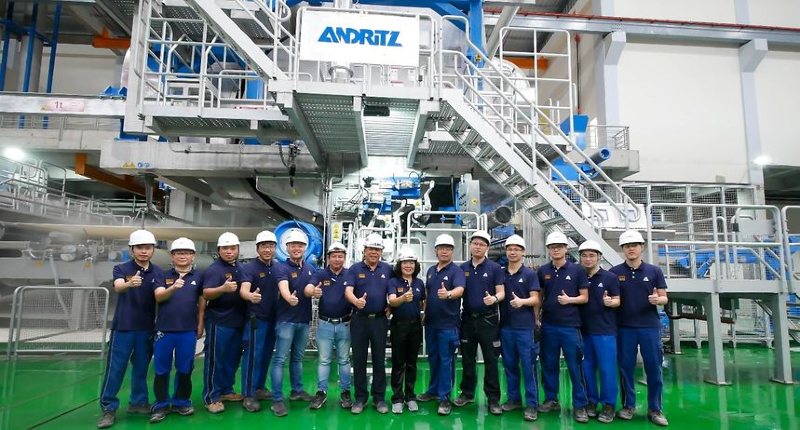 The new energy-efficient tissue machine at Xuan Mai Paper, which is supplied by ANDRITZ Group, has a design speed of 1,300 m/min and a paper width of 2.85 m. It produces high-quality tissue grades made of either 100% virgin or 100% deinked pulp (DIP). Also, the PrimeLineCOMPACT tissue line is equipped with a 15 ft. steel Yankee with a PrimeDry Hood COMBO from ANDRITZ Novimpianti. The innovative hood design – a pressurized wet chamber heated with steam and a special dry chamber – enables highly efficient drying while saving energy.
The scope of supply included – a separate DIP line (to be started up this month), a stock preparation system for LBKP/NBKP market pulp, an approach flow system, fiber recovery and broke handling system, machine clothing by ANDRITZ Fabrics and Rolls, basic and detailed engineering, as well as process pumps for water and pulp. The entire line is equipped with an ANDRITZ PrimeControl automation package and an advanced multi-motor drive system.
Thanks to the excellent cooperation between Xuan Mai Paper and ANDRITZ China, the tissue production line went into operation smoothly in spite of the very challenging times relating to COVID-19.
Mr. Phạm Văn Dũng, Director of Xuan Mai Paper Co., Ltd., said: "We had a tight and demanding time schedule. From the very beginning, ANDRITZ put excellent people on this project and they managed all aspects of their work very well. Their support day and night right up to the start-up of the machine was excellent. All the members of our Board and I too are very pleased that we succeeded in completing this project together in these difficult times."