The roll covers are optimally designed for use in all common pulp machines and twin-wire presses. The high chemical and temperature resistance of the covers ensures problem-free use.
March 15, 2021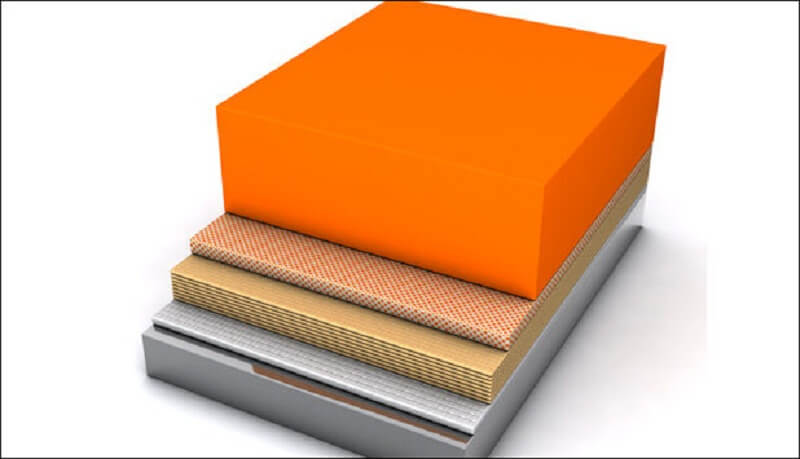 Problems are often encountered with conventional rolls when processing pulp. The rolls cause high specific pressures as well as a short nip. To prevent this, Voith is now offering new polyurethane (PU) roll cover that has been developed for press rolls: the IntensePress. This has been specifically designed for use in the demanding applications of pulp machines and twin-wire presses.
The decisive advantage of IntensePress is its high chemical resistance. Furthermore, it is characterized by a high level of temperature resistance. Both features increase the running time of the roll, simplify work processes, and thus increase the machine's productivity. The high chemical and temperature resistance are made possible by a new type of polyurethane.
To provide customers with the best possible output when using IntensePress, Voith is investing in individually tailored advice. The roll cover's PU surface is modified according to individual requirements, for example, to achieve a greater open surface and thus increased dewatering performance and a higher dry content. IntensePress can also ensure a wider nip and, in doing so, minimize the specific pressure. Voith determines what the optimal nip load will look like for each customer, taking into account the individual operating conditions.
IntensePress can be used on all current machines on the market. The Chinese pulp and paper manufacturer Asia Symbol Rizhao has already used the roll cover for a test run. "Unlike conventional PU covers, IntensePress has demonstrated a reliable performance level in the critical chemical environment of pulp machines," reports Guangcai Xiao, Pulp Line Director at Asia Symbol Rizhao. She adds: "The project is very successful, as it is generating considerable energy savings for us."
But that is not all: IntensePress has also increased the productivity of the machine, and the service life of the forming fabric has been increased from one month to two, resulting in less downtime and reduced costs.
IntensePress has also been used successfully in Sweden, where the roll cover was tested in the Södra Cell Mösterås pulp mill and scored particularly well in terms of abrasion and temperature resistance. With IntensePress, the machines can now reportedly be left to run uninterrupted between annual mill shutdowns. Previously, this was impossible on account of the high wear to the wire drive roll. As IntensePress can handle the high temperature in this position, interim shutdowns are no longer necessary. In addition, IntensePress maintains its strength and thus prevents polygonization of the roll. The test run reportedly showed that the service life of the roll could be increased from between eight and 10 months up to 12 to 18 months.
Voith not only offers the new type of polyurethane for press rolls but also for suction press rolls. The PU cover IntenseFlow, for example, has the same properties as IntensePress but differs in its surface geometry, which has been adapted to suction press rolls. IntensePress is available in the following four versions: smooth, blind-drilled, grooved, and blind-drilled and grooved. In addition to the suction holes, IntenseFlow is available with the following surface finishes: blind-drilled, grooved, and blind-drilled and grooved.