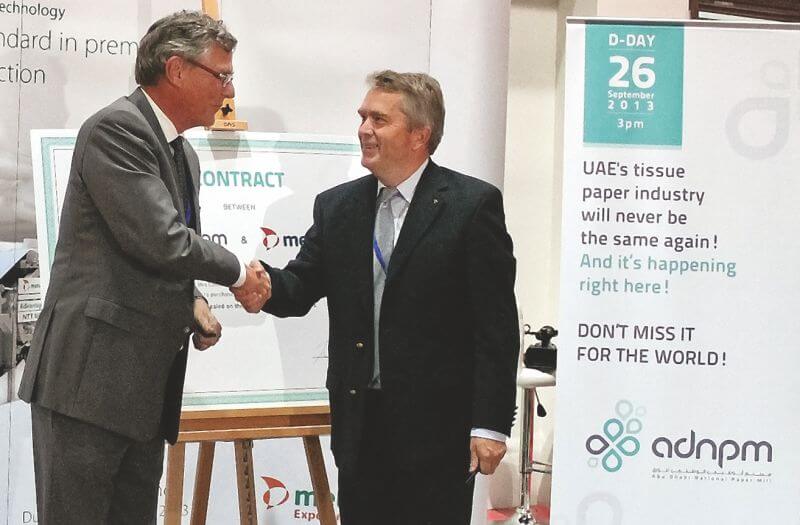 September 29, 2013

Abu Dhabi National Paper Mill (ADNPM), a member of Abu Dhabi Industrial Projects Company, has placed a Dh200 million order with Metso to buy the UAE's first NTT tissue paper manufacturing machine and the third in the world. ADNPM made the announcement on the third day of Paper Arabia 2013.

This will boost ADNPM's current production capacity of 63,000 to 90,000 tons of tissue paper per annum.

The NTT concept Metso machine is only available in Mexico during 2013 and in Chile by 2014. They will be available in the UAE by the second quarter of 2015.

Helmut Berger, the general manager of ADNPM, said: "Forty-five per cent of our products go to the UAE, part of the 80 per cent of that goes to the GCC region. The remaining 20 per cent is shipped to Australia, Africa, Europe and the rest of the world. We anticipate one-third of our production capacity to be produced by this machine by the second quarter of 2015, achieving an increase of 30,000 tons annually."

He further added, "The flexibility of the Advantage NTT technology provides us the means we need to develop new products with unique qualities with either conventional or texture tissue, in order to meet the constantly changing market needs. The tailored automation solutions will enhance total performance and keep production in peak condition. This is a significant milestone for local tissue production in the UAE."

Set up in 2000, ADNPM is the largest and most advanced manufacturer of jumbo tissue paper rolls in the United Arab Emirates. Spread over 60,000 sq m, the plant houses state-of-the-art Crescent Former machines that produce world-class tissue paper from the highest grade virgin pulp. The facility also has a de-inking plant – among the most sophisticated in the region – which converts waste paper into commercial tissue fiber of superior quality. The company currently produces over 60,000 tons of tissue paper every year.