The plant installed at UPM's Kymi mill in Kouvola, Finland, achieved a new record production capacity of 2,452 tonnes per day on May 31, 2018.
July 6, 2018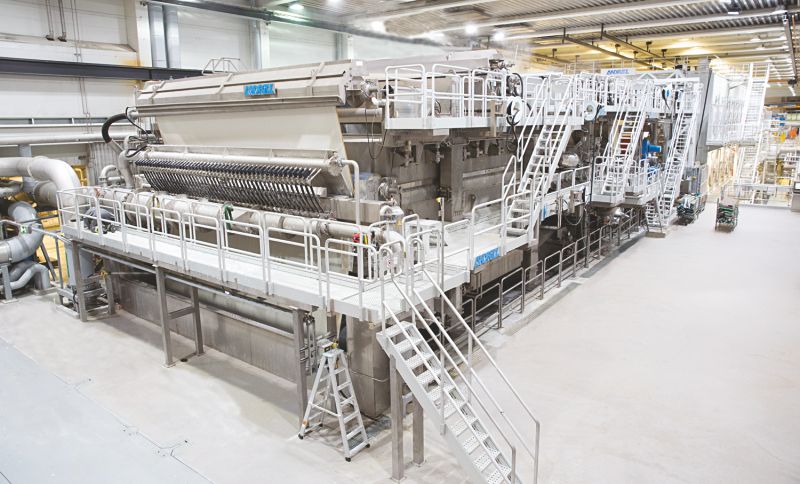 In terms of specific drying capacity, this equals 389.2 tonnes per day and meter of working width on the 6.3 meter wide sheet drying machine, which is a new world record for drying of bleached birch and pine kraft. The mill was started up successfully in 2015 and has achieved several production records since then.

The ANDRITZ high-capacity pulp drying line enables efficient and very quick switches between birch and pine pulp production within less than 23 minutes and handles the wide production range of 1,550 to 2,452 tonnes per day perfectly.

ANDRITZ high-capacity pulp drying lines feature include the ighest capacities at highest operational reliability for any pulp grade thanks to proven pulp drying technology, including the ANDRITZ Twin Wire Former and shoe press equipment. There is maximum production flexibility and adaptability for large production windows and short grade changing times. Also, the drying line has stable operation and low maintenance due to high degree of automation.

This impressive production record is the result of ANDRITZ's leading and proven pulp drying technology and of the excellent cooperation and partnership with UPM. UPM Kymi is one of the world's most efficient producers of softwood and birch pulp and is recognized worldwide for its high-quality products and excellent customer service, which makes the company a benchmark producer in Europe.