It is now the sixth P-RC APMP line to be delivered to the Sun Paper Group by ANDRITZ.
November 16, 2021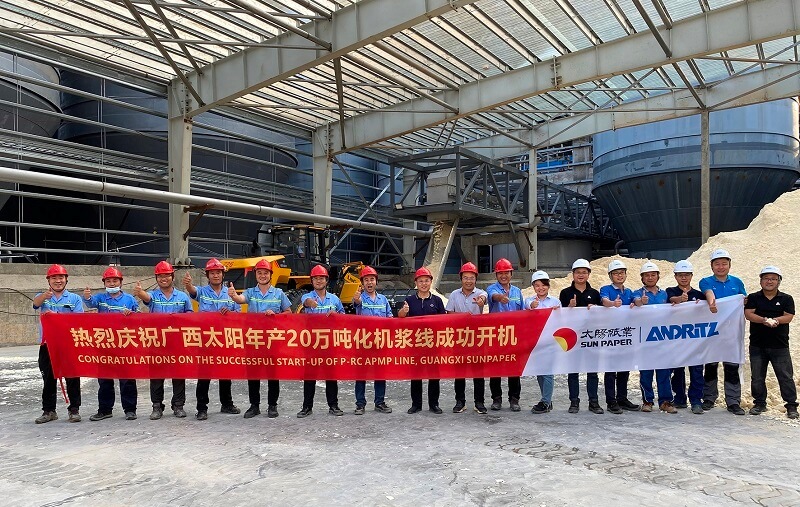 ANDRITZ has successfully started up a chemi-thermomechanical pulping system delivered to Sun Paper for its mill in the city of Beihai, Guangxi, China.
The proven ANDRITZ P-RC APMP (Pre-Conditioning Refiner Chemical Alkaline Peroxide Mechanical Pulp) line features a capacity of 600 admt/d and processes eucalyptus wood chips as raw material to produce high-quality pulp for the production of printing and writing paper.
The scope of supply comprises all key equipment for the fiberline, including the following technological highlights:
Two-stage impregnation system with outstanding MSD Impressafiners for efficient pre-treatment and optimum chemical impregnation of wood chips prior to refining
High-consistency (HC) refining stage with two parallel ANDRITZ S2070 single-disc refiners for superior fiber properties and highest production flexibility
Low-consistency (LC) refining stage with ANDRITZ TwinFlo refiners to develop optimal pulp strength at lowest shive content
Also Read: ANDRITZ Starts Up New Primereel System at Knauf Petroboard in Russia.
Guangxi Sun Paper was established in 2019 to build an integrated pulp and paper mill in Beihai. The mill will be constructed in two phases over approximately five years. When completed, it will have a total annual pulp and paper capacity of 3.5 million tonnes.