APP's (Asia Pulp & Paper) corporate vision is to become the 21st century's number one Pulp and Paper Company with the highest international standards in world, and with the strongest commitment to providing superior value to customers, shareholders, employees and the community. We present here the synopsis of APP Group, its sustainable operations, presence in India and various manufacturing facilities.

APP

Today, APP is a fully integrated pulp and paper company producing Bleached Hardwood Kraft Pulp (BHK) and a wide range of paper and packaging products, from commodity-grade base paper to value-added art paper, cast coated paper, tissue, speciality papers, carbonless, stationery and office products including cut size photocopy papers.

The company has also developed digital coated and pre-print papers that are gaining fast recognition and are widely accepted in the printing industry.

From a very humble beginning, APP has now evolved into an industry leader with a combined pulp, paper and packaging grades capacity of over 19 million MT/annum in Indonesia/China. As APP expands its interests and outreach, the company is continuously building from its base of core competencies. The company has taken steps to reinforce and build on its regional market position through the introduction of higher quality products and enhancements, marketing initiatives, process and productivity improvements as well as investments in new technology.

APP's future depends on expanding economies worldwide and hence has strengthened its efforts to protect and preserve the environment. Through its exclusive fiber suppliers, the company reforestation programs have to date, seen approximately 440,000 hectares replanted with more than 550 million fast maturing Acacia trees. All the group pulp and paper mills in Indonesia have already started using environmentally friendly manufacturing procedures that are in line with APP's high internal standards of pollution control and environmental safety.

The company has launched a group-wide performance improvement effort dubbed 'Reaching the Sky' which is driven by high performance vision and 'Olympic' performance targets set by the management, internally termed 'Management By Olympic Standards' (MBOS). These systems set clear measurable targets at various operating subsidiaries for areas such as service and efficiency improvements and cost reductions. These include competitions held at its exclusive fiber supply companies to further improve cost saving and increase quality and quantity yields at both plantation and harvesting operations. The management is committed to increasing long-term value rather than focusing on short-term gains at the expense of future growth. The company will continue to focus on expanding its profitable businesses, improving profit margins and effectively managing its asset base.

Sustainability in all Operations & Action Plan

APP, in line with its commitment to sustainability – is stepping up and further improving the effective and long standing programs it has in environmental protection, conservation, and community relations & development. To achieve this, the company is developing strategic partnerships, improving raw material chain-of-custody and conservation management under the management of Sinar Mas Group (SMG) Forestry Division.

APP sources its raw material for pulp from sustainable plantations and residues of plantation development in degraded forest / wasteland. APP is committed to be socially, environmentally and economically sustainable in all its operations. For the purposes of implementation, the company utilizes the World Bank definition of sustainability, which consists of three pillars – social, environmental and economic. Following improvements to, and expansion of, its programs, the Company has achieved several significant milestones.

APP has since released its Sustainability Action Plan (SAP) which is a stepped, time-bound plan for achieving sustainability in all operations. The key initiatives included creating a contiguous conservation park in Riau Province, Sumatra, and establishing new operating procedures. The SAP also provides a blueprint for the company's fiber procurement and explains how the company will meet its market commitment to source all wood supplies from plantation-grownforests.

APP's Fiber Supply

To fulfill APP's commitment to use plantation-grown fiber, APP established additional renewable sources of fiber supply in 2004. Those new sources, totaling 222,425 ha of plantation forests, will increase the total planted area of APP's exclusive fiber suppliers (as of December, 2008) to 705,000 ha.


PT. Indah Kiat Pulp & Paper Tbk. (Indah Kiat) is one of the largest pulp and paper manufacturers in Asia outside Japan with a very long operating history. The company has three plants located in Tangerang, Serang and Perawang, producing pulp, woodfree writing and printing paper, industrial packaging boards, brown grades, corrugated boxes and speciality.

INDAH KIAT – Perawang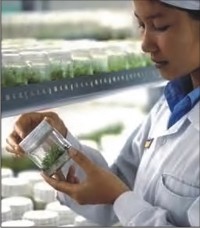 All of Indah Kiat's pulp production capacity is located at its facility in Perawang, Riau Province, Sumatra. The mill commenced pulp production in 1984 with an annual production capacity of approximately 100,000 MT and today has four pulp lines, all capable of producing ECF pulp. Series of de-bottlenecking and expansion projects have increased the annual production capacity to approximately 2 million MT. In line with the group's commitment to environmental protection, the mill produces Elemental Chlorine Free pulp and is also using plantation fiber. Part of the pulp production is converted into paper at the same facility and the rest is supplied to the group paper mills. Paper production started in 1989 with an annual capacity of approx 254,000 MT and has since grown to approximately 600,000 MT with a capacity to convert approximately 400,000 MT into cut-size photocopy paper. State-of-the-art technology is used for all production processes including the continuous digester for pulp production. Strict measures ensure that the wood fiber entering the log yard are from certified sources with proper chain of custody protocols. Environmental and quality management system certifications have been in place and have become the norm in day to day operations of mill.

INDAH KIAT – Serang

Indah Kiat's container board and folding box board facility is located in Serang, Banten Province. The mill commenced production in 1993 with an annual production capacity of approximately 3,00,000 MT of liner board and approximately 2,80,000 MT of corrugating medium. Additional capacities to produce ivory and duplex boards were added later to bring the capacity to approx 1 million MT. Converting facilities to make corrugated boxes and paper tubes were also added. In the line with its commitment to preserving the environment, waste paper is used extensively in the production of its major grades. The mill has achieved the ISO 9001:2000 and ISO 14001 for quality and environmental management systems respectively.

INDAH KIAT – Tangerang


The production facility at Indah Kiat Tangerang started commercial production in 1979 producing photocopy paper and a wide range of coloured speciality papers. The Tanerang Mill has also achieved the ISO 14001, BS7720 and the Swiss Certification from SGS International Certification, becoming the first paper mill in the world to be awarded such certifications at the same time. These awards certify the mill's commitment to comply with the highest standards of environmental management systems and user guidance.


.
PT. Pabrik Kertas Tjiwi Kimia Tbk. (Tjiwi Kimia) manufacturing facilities are located in Sidoarjo, near Surabaya in East Java, Indonesia. The mill started with a caustic soda plant and now boasts many state-of-the-art paper and converting machines making it the world's largest stationery manufacturer, under one roof. The annual paper and board production capacity is approximately 1 million MT with an additional stationery converting capacity of approximately 2,50,000 MT.
The product range includes value-added products such as coated art paper, cast coated paper, carbonless and a wide range of school and office stationery. Exercise books, pads, spirals, hard back books, drawing books, shopping bags, fancy stationery, envelops, continuous forms, file folders and others make up the range of converting stationery products.
.
.
.
Gold East Paper is a Greenfield Mill and currently the single largest-scale Art-Paper-Mill in the world.
Located on a 5.33km2 site in Dagang, Zhenjiang city, Jiangsu province. Gold East Paper is at the vicinity of modern Shanghai at the east and the ancient capital city Nanjing at the west.
Incorporated on May 18, 1997, the total investment is USD 2.123 billion, and the annual production capacity is over 2 million MT.
It has three coated woodfree paper production lines from Voith and Metso.
Possess power station, GCC (Ground Calcium Carbonate) plant, PCC (Precipitated Calcium Carbonate) plant as well as dock, which can handle two 20,000DWT vessels at the same time.
Major product ranges cover C1S Art Paper, C2S Art Paper/Gloss, C2S Art Paper/Matt, C2S Art Paper (HSWO Heat Set Web Offset).
Brand: NEVIA/Art Tech

.

.
.
The PT. Lontar Papyrus Pulp & Paper Industry (Lontar Papyrus) mill in Jambi is located in South Sumatra and was built with modern equipment manufactured by Scandinavian, North American and Taiwanese equipment suppliers. The mill has a continuous production output, lowers energy requirements and reduces production costs.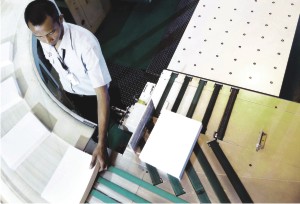 The mill commenced commercial production in 1994 with an annual production capacity of 4,10,000 MT. Additional dryers were installed to increase the production capacity to 6,80,000 MT of Elemental Chlorine Pulp. Lontar's paper mill in Aceh Province, North Sumatra, commenced production in 1977 and currently has an annual production capacity of approx 7,500 MT of uncoated freesheet. Lontar has since added tissue production at its facility with an annual production capacity of 60,000 MT.



PT. Pindo Deli Pulp & Paper Mills (Pindo Deli) is situated at two locations in Karawang, West Java, Indonesia. The combined annual capacity of the two facilities is approx 8,50,000 MT of uncoated woodfree, coated art paper and board, carbonless paper, tissue paper and other specialty grades including embossed boards.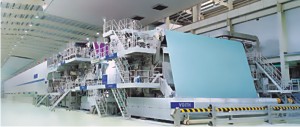 Pindo Deli's products are very well accepted in the printing and packaging industry for their superior and consistent quality. The converted tissue product range of facial, toilet, handkerchief, kitchen towel, napkin etc. enjoy very good acceptance by the end consumers, domestically and in the overseas market.



Ningbo Zhonghua Paper Co. Ltd. and Ningbo Asia Pulp and Paper Co. Ltd are located in the Ningbo city which is near the Beilun port. Beilun is one of the largest ports in China. The total production capacity of these two mills is more than 1.25 million tons.

Established in July 1992, it is located at Haishu Industrial Zone, Ningbo, Zhejiang Province, covering a land area of 0.63 square kilometers. With more than 1300 employees, it has total assets of USD 700 million and annual output of a variety of high quality coated white board amounting to 500,000 tons. Ningbo Zhonghua Paper invested over USD 21 million for environmental protection. It became the first paper making enterprise to achieve the 14001 environment Management System Certification by SGS International certification Institute in March, 1999. It was awarded honors such as Top 10 Environmental Protection Enterprise of Ningbo, Environmental Protection Model Enterprise, Garden Enterprise, Enterprise of Quality and Contribution and Green Enterprise of Zhejiang Province, etc.
Brands such as NB Star (Art board), Nevia (Art board), and Zenith (GC1 Hi bulk Ivory baord) are produced in this mill.



.
Ningbo Asia Pulp & Paper Co., Ltd. is located in Qingzhi industrial Park of Beilun District Ningbo, Zhejiang. The company is an extension of Ningbo Zhonghua Paper with over 1,000 employees and total investment of USD 1.5 billion, wherein about USD 800 million was invested on the completed phase-I project. This mill was started building in Oct, 2002 and commence production in Dec, 2004. The company occupies an area of 1.7 square kilometers and produces top-grade coated white board with an annual capacity of 750,000 tons. Ningbo Asia Pulp & Paper Co., Ltd has adopted cutting-edge technology and equipment together with the most advanced QCS and DCS quality control systems internationally where the breath of paper-making machines is 8.1 meters and the designed machine speed is 900m/minute. This machine has made a world record of producing 2823 MT/day.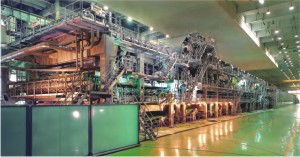 While developing its production capabilities, the company placed emphasis on environment protection. Ningbo Asia Pulp & Paper Co., Ltd. has designed and built a waste water treatment plant with a daily capacity of 40,000 tons and introduced the deep-sea discharging approach of 10 meters below sea level to ensure that the discharge of treated waste water reach the national grade A standard. The company has invested USD 5.5 million to put up a circular coal stock that provides closed-up operation of coal barging and transportation so as to avoid negative influence on the environment. In addition, the company set up a power plant equipped with 2 sets of 300T/H CFB boilers and two 62.4 MW i.e. total of 125 MW steamer generators to provide steam and power needed by the mill. The cutting-edge dust proof and desulfurization technologies of its CFB cycling sulfur boiler have resulted in discharged gas of containing sulfur and nitrogen oxides that are much lower than the national standard.

Brands like as Chieftain Green art board, Ningbo Fold Ivory board also know as Chieftain Ivory board and Blue centered playing card board are produced in this mill.
.
.
.
Jinhai Pulp & Paper Co. Ltd. is located in Yangpu Economic Development Zone of Hainan Province, covering an area of 8,000 acres. It is the thirteenth large scale pulp and paper enterprise invested by APP group in mainland China, orientated with the business strategy of forestry-pulp-paper integration. The first phase of the project is to build up a bleached Eucalyptus Kraft pulp production line with an annual capacity of 1 million tons and the total investment was 10.5 billion RMB. The production started on March 28, 2005. The second phase of the project is to install a paper machine, with an annual capacity of 1.6 million tons of fine paper. The total investment was RMB 13.6 billion at phase two. The paper machine operation started in September, 2010.


JHPP pulping process is of super large scale, running single fiber production line only. The core equipment of operation units are all supplied by world-class machine manufacturers, along with most advanced pulping technology.

The 1.6 million ton fine paper project is in line with the national development strategy of forest-pulp-paper integration. The integrated pulp and paper process brings along not only improved overall efficiency for the company but also a striking social effect to the local economy. The launch of this new project creates more than 2000 jobs, also promotes the development of other industries such as paper converting, printing, transportation, and service industry as well.

All the fiber materials used for pulp production, self forested or purchased, are from plantations or commodity forestry. We commit to "Green Production with Environment Friendly Practice". Ever since the beginning of the project, the company has invested accumulatively RMB 2.7 billion for environmental management to achieve the goals of cleaning production, energy conservation and pollution control. All the discharge levels reach as low as or even lower than government regulatory limits.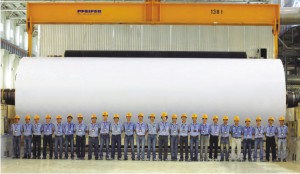 The no. 2 machine of JHPP is fabricated by VOITH, Germany. The paper machine with inline coaters is of 428.18 meters long. The width of web on reel is 10.96 meters. The operation speed is 1800m/min with the designed speed up to 2000m/min. The second phase of JHPP project, makes coated grades including coated matte, the basis weight ranging from 150 gsm to 250 gsm, depending on customer's satisfactions.



.
OKI Pulp & Paper is one of the largest pulp mills of the world with the installed capacity of 2.8 Million Mt/annum.
.



The mill was established in 2003 and started production of pulp in 2011 with annual capacity of 0.9 million tonnes. The paper production began in 2013 with an annual installed capacity of 1.2 million tonnes. The mill was erected by Andritz for chemi-mechanical pulp production.