MERA plans to restore 500ha of mangroves in three areas around Jakarta Bay; Muara Angke in North Jakarta, Muara Gembong in Bekasi, and Muasa Cisadane in Tangerang.
August 13, 2018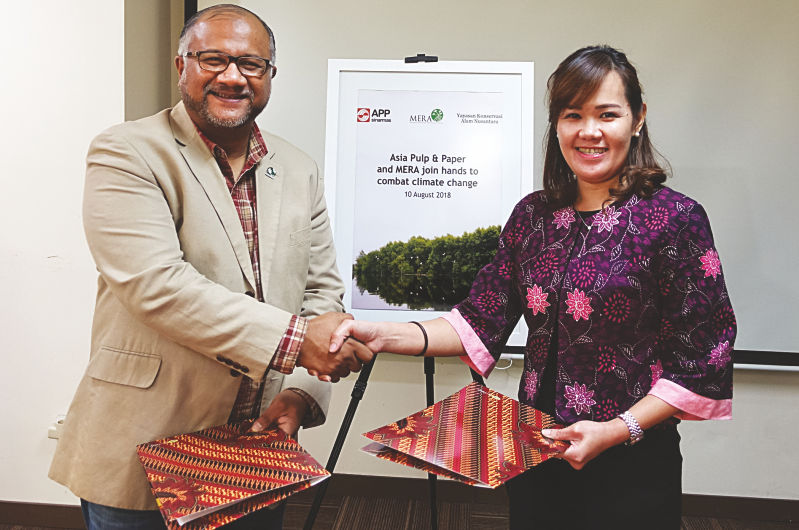 The Mangrove Ecosystem Restoration Alliance (MERA) is a national platform for stakeholders to ensure the sustainability of the protection and restoration of mangrove ecosystems across the archipelago. Launched by Yayasan Konservasi Alam Nusantara (YKAN) and the Jakarta Natural Resources Conservation Agency of the Ministry of Environment and Forestry in 26 July 2018, the goal of MERA is to reduce the vulnerability of coastal communities, natural resources and vital assets by 2022, by promoting effective management and implementing strategies to conserve and restore mangrove landscapes. In the first phase, MERA plans to restore 500ha of mangroves in three areas around Jakarta Bay; Muara Angke in North Jakarta, Muara Gembong in Bekasi, and Muasa Cisadane in Tangerang.

Asia Pulp & Paper (APP) signed an agreement to join MERA to support the conservation and restoration of Indonesia's mangrove ecosystems. As part of the agreement, APP will commit IDR 4.2 billion (USD 300,000) to the MERA programme over five years. Mangrove forests are an important part of the Indonesian landscape, playing a vital role in combating climate change, protecting shorelines from erosion and maintaining wildlife diversity. Mangrove forests also provide socio-economic benefits, supporting fisheries, tourism and other economic activity. Across Indonesia, mangroves are estimated to store more than 3.1 billion tonnes of carbon. According to CIFOR, halting mangrove degradation and destruction in Indonesia could contribute substantially to Indonesia's emissions reduction targets by 2020, equivalent to eliminating 40 million cars on the road.

Ms. Elim Sritaba, Director for Sustainability & Stakeholder Engagement at APP said, "As a forestry business, APP understands the long-term value of protecting and conserving critical natural landscapes. By joining the Mangrove Ecosystem Restoration Alliance, we are contributing not only to the preservation of valuable ecosystems, but also this is important as this initiative is closely aligned with our sustainability vision."

APP's Sustainability Roadmap Vision 2020 lays out specific commitments in support of reforestation, conservation and biodiversity, as well as climate change. Since 2013, it has invested heavily in these areas and has worked to identify and protect more than 600,000ha of natural forest across its supplier concessions. By supporting projects like MERA, APP is able to extend its sustainability efforts beyond its concession borders.

"Indonesia has almost a quarter of world's mangrove forests. These mangrove forests are especially important to protect because they provide services for coastal protection, nursery and spawning ground for marine biota, migratory bird sanctuary, carbon sequestration and community livelihood. Now they are threatened by unintegrated coastal development and aquaculture. It is a monumental task, but through MERA, we are able to bring together support from national stakeholders, including the private sector, to protect and restore these ecosystems," said Rizal Algamar, the Chairman of the Board of Management of YKAN.