Mr. Nagendra Krishna Bhat, Vice President & Unit Head, BILT Graphic Paper Products Ltd., Unit – Bhigwan, delves into the water treatment process, effluent treatment plant at their production unit, and the measures undertaken to minimise water usage.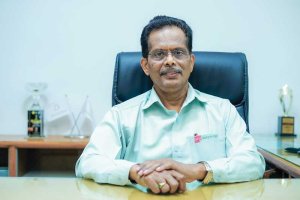 Our water treatment process and wastewater treatment strategies…
Our quest for sustainable development has guided us to implement various water conservation projects with the principle of 'Take less from nature to protect our mother earth for future generations.' Accordingly, in every stage of decision-making process, environmental protection is given priority. To achieve this goal, a separate Environment & Pollution Control Department is operational since the establishment of the mill.
In addition, BILT has focused on installing the best available technology for recycling water within the production process. Some of the important equipment which is aiding in water conservation are as follows.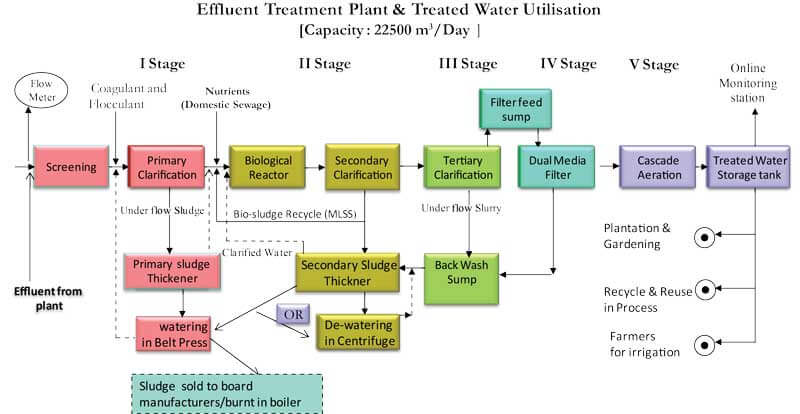 Advanced fiber recovery systems viz disc filter are used to recycle the process white water for showers, chemicals preparation, consistency controls, etc.
TURBAIR vacuum blowers are installed instead of traditionally used liquid ring vacuum pumps (which require a huge amount of sealing water).
Indirect condenser for deculator system – We have adopted the latest design of a tube heat exchanger as an indirect condenser in the deculator vacuum system.
Avoided direct water injection enabling its outlet cooling water to be reused in the shower water system, thereby saving freshwater to the tune of approximately 400 m³/day.
A partial quantity of ETP-treated water is processed through an RO system (60 m3/hr) and reused in place of freshwater during water scarcity situations.
Effluent water treatment process at ETP
We, at BILT, have a 5-Stage state-of-the-art Effluent Treatment Plant – primary clarifier, aeration tank, secondary clarifier, tertiary clarifier, pressure sand filter, aeration cascade.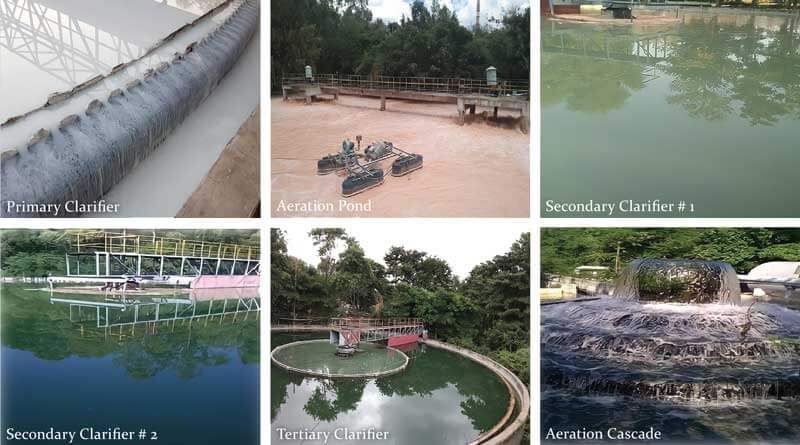 Watch: Evolution of Paper Based Packaging
Our investment into water treatment infrastructure…
More than INR 27 crore has been progressively invested in the effluent water treatment so that effluent water quality is maintained for reuse and for irrigation.
Water consumed per tonne of paper produced…
Through our continuous efforts in reducing freshwater consumption at BILT, we have been able to achieve a specific water consumption of 12 m³/MT of paper.
Measures undertaken to minimise the consumption…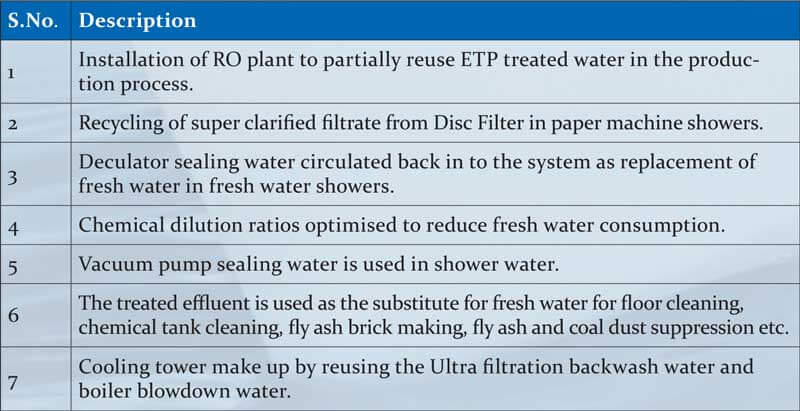 Also Read: Paper Boat Needs WATER to Float… Save it!
Path-breaking steps taken…
It has been our endeavour at BILT, to maximise the use of treated effluent back in the process, in tree plantation, and for agriculture. Accordingly, most of our treated effluent is currently being utilised for the following applications:
Green belt development and gardening (company and colony premises)
Treated effluent utilisation for Green belt development
Total Number of plants: 1.96 lakhs
Total area covered by plantation: 106 hectares
Total capital expenditure: INR 108 lakhs
Paper and power plant process/coal plant & ash plant
Farming by nearby farmers (with bilateral agreement)
Awards Related to Water Conservation & Environment.
Water Efficiency Award – 2014 – 2015 from PPI International
Environmental Award – 2013 – 14 from PPI International
Paryavaran Gaurav Puraskar – 2012 – 2013 from RO , MPCB Pune
Water Efficiency Award – 2012 – 2013 from PPI International
Excellent Water Efficient Unit Award – 2012 – 2013 from CII
Earth Care Award for GHG Mitigation Large Enterprises – 2011 – 2012 by Govt. of India
Excellent Water Management Award – 2011 – 2012 from CII
Good Green Governance (G3) Award by – 2011 – 2012 by Srishti Publication Ltd., New Delhi.