Korindo's PT Aspex Kumbong is a 1,200 t/d newsprint producer in Cileungsi, Jawa Barat, Indonesia (on the outskirts of Jakarta). In order to move from standard newsprint to higher value-added grades, the mill installed a new deinked pulp (DIP) line, selecting all key equipment from Andritz.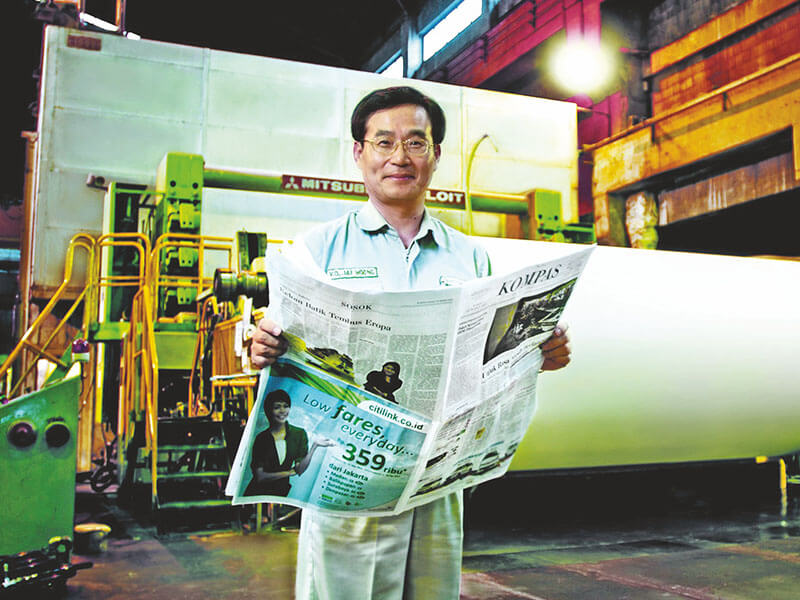 What do you do when the markets for your traditional products are shrinking, and raw material prices continue to soar? On this, Ko Jae Woong, PT Aspex Kumbong's Mill Director, says, "The wise business strategy is to develop new markets and new products externally, and focus on reducing costs while achieving continuous improvement internally."

In pursuit of these objectives, PT Aspex Kumbong, Indonesia's largest newsprint producer, recently modernized its DIP #1 line with the help of Andritz technology. With three paper machines in operation and utilizing 100% recycled fiber, the goal was to provide a higher quality, lower cost furnish for PM1 so it could move from standard newsprint to improved news and other value-added grades.

Prior to this modernization, DIP #1 was a one-loop system with a batch pulper. This was acceptable for standard news, but cleaner, brighter pulp would be needed for the higher value grades. In addition, the batch pulper was not ideal for continuous, clean production.

PT Aspex Kumbong already knew the advantages of Andritz's FibreFlow drum pulper, having purchased one for each of their other two stock prep lines in the past. So, it was decided to not only modernize the deinking and cleaning processes in DIP #1, but also to replace the batch operation with a FibreFlow drum.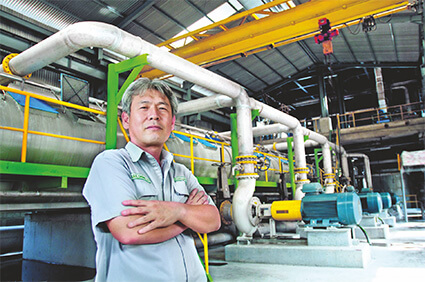 Drumming away contaminants

The FibreFlow drum pulper has two zones inside it: one to gently slush and defiberize wastepaper and one to remove trash and major contaminants from the pulp. Over 200 drums are operating worldwide.

The drum defiberizes by gently dropping and rolling the wastepaper mixed with water on a slight incline. There are no moving parts inside the drum and nothing to cut the fiber, so fiber strength properties are retained and the contaminants come out intact. Debris is rejected continuously and automatically.

"FibreFlow drums are an ideal way for us to get good fiber from cheaper ONP, OMG, and office waste grades," Chang Su Park, DIP Manager, says. "Traditional batch pulping systems can't take the abuse associated with highly contaminated materials." PT Aspex Kumbong sources its wastepaper from the U.S., Asia, Australia, and even Saudi Arabia.

Park is impressed with the FibreFlow drum's performance. "We lower our overall operating cost and we conserve energy," he says. "Equally important, we deliver quality fiber to our paper machines without the worries of unscheduled downtime. Maintenance is at an absolute minimum."

As mentioned by Park, the relationship with Andritz goes back several years. The first FibreFlow drum was installed on DIP #3 in 1995. In 2006, a SelectaFlot flotation unit and a CompaDis dispersing system were added to DIP #2, along with a sludge treatment system (Andritz screw press and gravity table).


The new DIP line

The PT Aspex Kumbong team wanted to add a second loop to DIP #1 for improved stickies handling and very clean pulp. The existing deinking cell could not deliver the required cleanliness for the value-added grades, so a SelectaFlot deinking process for pre-flotation was added and the existing unit is used as a post-flotation stage.

The new DIP line has a total capacity of 300 t/d. Andritz's scope added the FibreFlow drum pulper, two-stage HD-cleaning, the SelectaFlot pre-flotation deinking, a cleaner plant (AhlCleaners), a disc filter, CompaDis dispersing, and a bleaching tower discharge system to existing equipment at the mill.

According to Linus Pandapatan H., Regional Product Manager with Andritz, the mill also took this opportunity to upgrade its screens with engineered wear components from Andritz such as BarTec W screen baskets and Dolphin rotors. Andritz provided the equipment, advanced basic engineering, site installation supervision, start-up, and training.

As Park says, "The modernized DIP line opens the way for new grades, helping us produce a cleaner, smoother, brighter, and lighter sheet."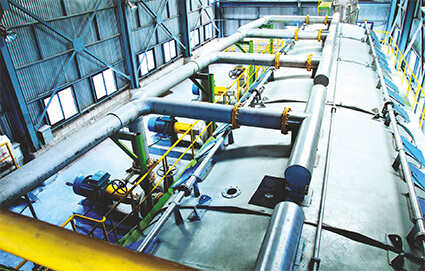 Fewer screens, better results

Since the screening process has such an important effect on downstream processes, it is a critical focus area. An effort was made to reduce the number of screens – not only decreasing energy and maintenance costs, but also producing cleaner furnish for PM1.

Screen room efficiency was raised by upgrading the screen baskets and rotors. Notes Pandapatan of Andritz, "The screening system is the place to keep stickies from passing through. We know from experience that it is not enough to just have the right slots and profile in the basket. You have to select the right combination of basket and rotor – working as a team."

Andritz replaced the existing basket/rotor combinations in the three-stage coarse screening and the three-stage fine screening systems. Andritz introduced the Bar-Tec Rejector screen basket to the PT Aspex Kumbong mill. Thanks to its special profile wire and a diagonal slot geometry, it puts less demand on the downstream screening stages.

To optimize the performance of the new basket, Andritz combined it with a Ro-Tec Dolphin rotor – a unique rotor with foils that resemble the nose of a dolphin. This rotor is proving itself successful in nearly 100 installations around the world – improving screening capacity and dramatically reducing energy consumption.

Cleaners remove small debris

Following the screening stage, Andritz installed a new four-stage AhlCleaner cleaner plant to remove even small contaminants in the stock prior to deinking. Little power is required due to the low-pressure drop design. A four-stage AhlCleaner SC133VC (40/12/4/1) unit was added as well.

Pressurized rejection of impurities prevents air from entering the accept and reject flows. The AhlCleaners are equipped with two types of cones to enhance the separation of debris and heavies to maximize cleaning efficiency and minimize fiber loss.

According to Mohamad Yahya, Service Manager for Andritz in Indonesia, "Our high density cleaners after the FibreFlow drum remove glass, sand, and rough contaminants. Employing stainless steel cones with ceramic liners ensures trouble-free operation. Then, the low consistency cleaners use a vortex control device for dilution to reduce plugging. Fiber loss is kept to a minimum."

Floating away ink and dirt

With the start-up of DIP #1 in mid-2011, the papermakers at PT Aspex Kumbong instantly noticed a reduction in spots or specks, and a brighter sheet. Critical to this accomplishment is the SelectaFlot unit.

Comments Yahya, "The brightness boost begins with effective ink removal in SelectaFlot. The combination of Andritz flotation deinking and single-stage bleaching has helped this mill move from 55% to as high as 72% ISO brightness. This enables PT Aspex Kumbong to meet quality targets for their improved news and notebook grades."

Yahya notes that SelectFlot also supports a high fiber yield. "The unit is simple, requires low energy consumption, and needs little maintenance," he says. "Even with higher reject levels, yield is much better than before."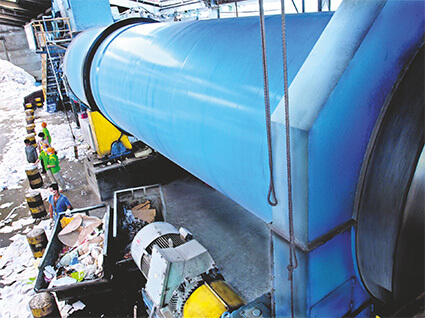 Dispersing and bleaching

Yet another vehicle to assure dirt speck size reduction is the CompaDis disperser. Due to high-intensity shear forces applied, any remaining ink particles are detached from the fibers and efficiently reduced beyond visibility.

The simple peroxide stage bleaching gives PT Aspex Kumbong the brightness boost needed for improved news, without negatively affecting fiber quality. Since efficient washing is part of this process, yet another step is in place to ensure cleaner pulp and minimization of COD generation.

Best online measurement tool

"Our cost of chemicals for stock preparation has gone down," says Sung Gu Kang, DIP Production Manager for PM 1 & 2.

On the paper machine side, downtime for cleaning the wet end and for paper breaks caused by stickies has been reduced by 10-15%. "At the end of the day, the paper machine is our best online measurement tool to determine the efficiency of our stock preparation," says Woong with a smile. "The improved runnability of the paper machine is our best proof of success."

Says Kang, "We run a much cleaner sheet and paper machine downtime due to stickies has diminished. The whole system is easy and simple to operate."

Adds Park, "We now have the technology in place to continue to raise the quality of our grades, and that will make a big difference in the long-term."