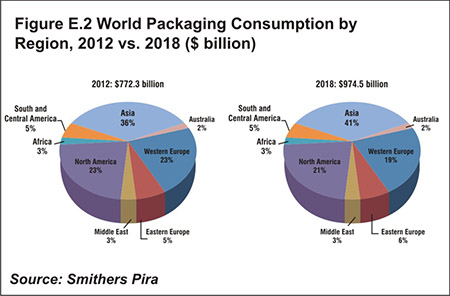 December 19, 2013

Global packaging sales are projected to rise by 3 per cent in real terms to $797 billion in 2013 and grow at an annual rate of 4 per cent to 2018, according to a new market report by Smithers Pira.

According to this report, sales of packaging are concentrated in Asia, which accounted for 36 per cent of the total in value terms in 2012. North America and Western Europe totaled shares of 23 per cent and 22 per cent respectively. In 2012, Eastern Europe was the fourth largest consumer of packaging with a global share of 6 per cent, closely followed by South and Central America with 5 per cent. The Middle East represents 3 per cent of the global demand for packaging, while Africa and Australasia each have a 2 per cent share.

According to the study, this segmentation of the market is expected to change significantly by 2018. Asia is predicted to represent over 40 per cent of global demand, while North America and Western Europe lose out noticeably. Further all end-use sectors registered growth in value terms during 2012. Medium-term forecasts for food packaging demand indicate a potential growth rate of 3.4 per cent on average to 2018, by which stage it will be valued at about $284 billion. Consumption of drinks packaging over the period is projected to increase at a rate of 3.3 per cent on average per annum until 2018, reaching a value of $102 billion.