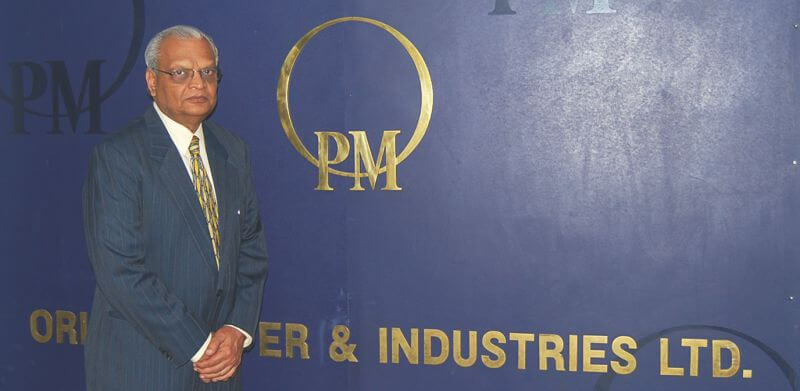 Everybody must have seen, heard, or read some brilliant success stories in their life. These success stories make you think how they did it. Carrying the gadgets and the questionnaire, boarding the lift to 13th floor we were discussing the modus operandi of the interview. We entered the room of Mr. M.L. Pachisia (M.D., Orient Paper & Industries Ltd) sitting calm & composed. With exchange of greetings, we started the interviewand in a short time we learnt of a story which no one has touched upon till date and that's when we decided to call it an another success story of the Paper Industry andwecontinued the interaction………

Sharing his overall experience including his initial starting, period of struggle, learnings, and the future prospects he spoke…

My beginnings were very humble and I have come up through the ranks. Out of the 50 years of my association with

Birla group, I was in Nigeria for 22 years (1966 to 1988). After coming back to India, I initially got associated with Hindustan Motors and for the last 12 years I have been looking after Orient Paper & Industries Ltd.

I initially started as a dispatch clerk in Calcutta office of one of the Birla group companies in 1960, immediately after my higher secondary exams. Slowly I involved myself with additional jobs and things just started rolling. I would attribute most of it to luck.

In 1963, I was transferred to Hyderabad Allwyn, which was then managed by our group and gradually rose to the position of Chief cost accountant.

Then one fine morning I was called by the CEO of Hyderabad Allwyn and asked  "Nigeria jaoge". Frankly, I did not know where Nigeria was. I later learnt that our group was in the process of setting up an engineering outfit in Nigeria. My father was totally against this proposal. I almost said no but my uncle intervened and said it's a life time opportunity and I should go. That is how I landed in Nigeria in 1966 at the age of 21 and took up the assignment as Chief accountant of the company..

My career span in Nigeria from 1966-88 posed some of the biggest challenges I have faced and also some of my humble achievements. Shortly after commencement of our operations, a civil war broke out in Nigeria. Our company was located right in the middle of the war zone. While all other expatriates left

Nigeria, I decided to stay back in our Lagos office and carried on with some trading to survive till the end of the civil war, which last for over 2 years. After, the war ended I went back to the place where our plant was and found that it was totally vandalized and finished. "Starting from scratch with the very little left behind" we rebuilt the company gradually. I also grew with the Company and became its managing director in 1979. By the time I left Nigeria it was a thriving business of virtually 50 million dollars producing a wide range of products such as electrical products like deep freezers, air conditioners, refrigerators, fans etc and steel furniture for offices, libraries, educational institutions, hospitals etc. So, that I think was the biggest challenge where nothing was available and we did all kind of crazy things to achieve it. Mr. G.P.Birla used to directly look after the Nigerian operations and it was his constant encouragement and inspiration, which was responsible for whatever we could achieve in Nigeria.

When I came back to India in 1988, I was asked to look after the Hindustan Motors plant in Kolkata. This was another tough assignment, which I could somehow manage with the support and guidance of Mr G.P. Birla..

Then one fine morning Mr G.P.Birla asked me to look after Orient Paper & Industries Ltd. I mentioned to Mr Birla that that I had no experience of running a paper or a cement plant and may not be able to do justice to his trust.

Mr. G.P. Birla then said something that was remarkable. He asked me "did you know everything from your childhood about what you did in Nigeria or in Hindustan Motors. Just as you learnt there you will also learn here". I had no answer to this and took up this new assignment with a sense of fortitude in response to Shri Birla's trust. Mr C.K.Birla, looks after the Group is equally kind and compassionate.

Thanks to the encouragement and support of Mr C.K. Birla, Orient has grown considerably in the last few years from a turnover of around Rs. 750 crores in 2003-04 to nearly Rs. 2000 crores now. We have just completed further expansions in all our 3 businesses i.e. Cement, Paper&Electricals. In cement, our capacity stands enhanced to 5 million tons per year from 3 million tons. Our new Tissue paper plant has been commissioned recently, bringing our tissue paper capacity to 25000 tons. In electricals division, apart from expanding our capacity for Fans, we have started manufacture of CFLs. These recent expansions will see substantial further growth in our turnover and profitability hereafter.

Working in Birla Group,"it feels great and I amgrateful to god forgiving me this opportunity to associate with the G.P./ C.K. Birla group. It has been a very long and a happy association and I have learnt a lot"

Birla group has always believes in the philosophy of making people take full ownership. I almost consider myself as a part of the family and when I work – I treat it is my own company. The group has people who have spent their life time here. This sense of belongingness, created by the group, is the binding factor.

Our group follows very strict business ethics. Whether a particular unit is doing well or not we have to follow the laws of the land strictly. This is the guideline we have set for ourselves that we should do nothing that may be detrimental either to our nation or the community. I remember Mr. G.P. Birla telling me once that "Tumhari company bhale kaisi hi chalepar koi kaam illegal nahi hona chahiye". That's a very strong guiding factor for us. One has to be fair to his employees, customers, suppliers, vendors and to everybody. While profitability is the ultimate objective but we should earn it in the most ethical way.

Our group also undertakes a lot of philanthropic work like setting up hospitals, universities, schools etc where we provide services to the needy people at the subsidized rates.

The idea of communication has to be 360 degrees, he explained: I have to be accessible to the people they shouldn't feel odd to come and talk to me and vice versa. We may not solve all their problems but at least give them a good hearing. So, this is how we continue to operate and grow.

Integrity, commitment and team work are the 3 things important for the success of the organization. Nobody can achieve anything individually. It is a matter of team work. Everybody has to come together and work. We believe have to perform best internally side lining the things beyond our control he explained when talked about learning's.

Commenting about the tissue paper market he said, "When we first set up a tissue plant with the capacity of 10,000 tons, the Indian market demand was 3000 tons but within 4- 5 years we came to a situation that we could not meet the market demand as demand was growing fast because of the change in lifestyle. Use of toilet rolls, paper napkins, paper towels which was fairly rare earlier have become common gradually.

Ofcourse large new capacities have been added recently. It is unlikely that these new capacities will be fully absorbed by the current domestic demand but I am convinced that the demand will slowly catch up in the coming years. In the meantime solution lies in exports. There is good demand outside and the Orient products are accepted worldwide. The strategy is to be globally competitive so that in the short run we can export until the domestic market grows adequately.

According to him the things that could bring a positive change in the paper industry were:

• Availability of land for plantation for increasing our raw material base for the increasing demand of paper as education and economy grows.
• Increase in export of Paper & paper products
• Increase in availability of technically qualified young people in paper technology.

At last replying on our question about challenges in handling a diversified portfolio he said: "Whether I handle a diversified or a single portfolio, a there will be challenges. Even my plant people who handle a single plant face challenges. There are challenges in everyday life but we have to deal with them to the best of our ability and continue to drive growth. That is where fun and excitement lie! he concluded.