Mr. Naynesh Pasari, Director, Shree Krishna Paper Mills, shed some light on the new developments at the company, their efforts to bring environmentally friendly solutions, and the new innovations at the company.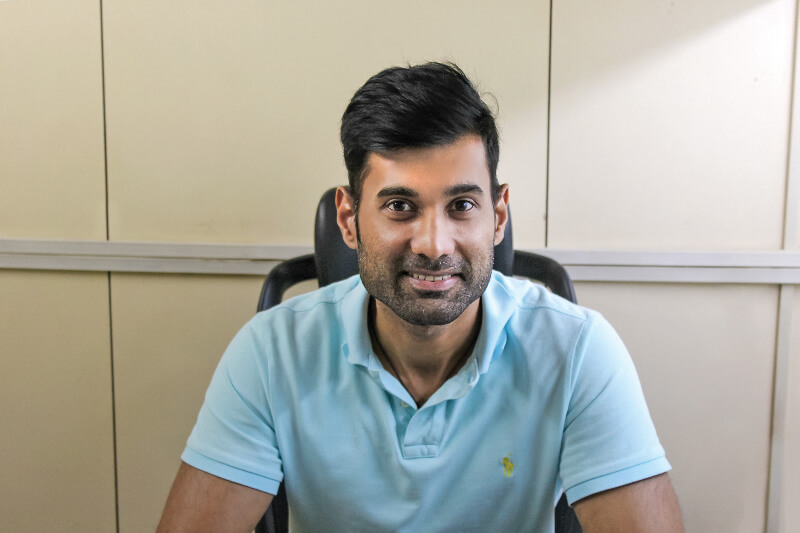 "After a lot of trials, Shree Krishna Paper Mills & Industries launched brown A4 PackMate copier paper that uses almost 10 litres per tonne of paper less water as compared to white A4 copier paper. So when you use brown PackMate copier paper, you save almost 0.5 litres of water per ream!"
The global paper market is around 450 million MT of paper of which close to 260 million MT is from brown papers, which includes containerboard, packaging and high-strength kraft papers. The need for high-strength kraft papers is on the rise when companies like Amazon and Flipkart want to develop alternate suppliers in India. Currently, all high BF papers come from Europe and India is unable to consistently provide good quality paper. Owing to the developments in India, mills have undertaken to be a long-term supplier for high BF papers.
Recently, Shree Krishna Paper Mills & Industries Ltd. (SKPMIL) developed 45 BF paper. The paper we managed to produce is 4 times consistently achieving the same BF and results. We do realise without good quality pulp, we cannot manufacture this quality of the paper. The real key is to manufacture again and again getting the same results. We are happy that we were able to do that.
A few years ago, CSR only meant that companies would provide donations from the profits to less privileged areas. Today, CSR has taken on a larger meaning. A lot of CEOs are now taking recycled paper and sustainability as their CSR. The reliance on recycled fiber is increasing simply due to the fact the government of all the nations has taken the plastic ban very seriously. The shift from plastic to paper is not just based on the material change; it is based on the cost change as well. Plastic is the cheapest product out there and the most durable. Paper on the other hand is an expensive alternative and is always going to play a part in decision-making, especially for smaller companies.
We all have been hearing about the ban on plastic not only in India but in various countries worldwide. India has always been a follower, not a leader when it comes to policies, particularly regarding sustainability and the environment. Various countries have already banned single-use plastic across the globe, following which India too took the final step in 2022. However, due to the size of the population, no policy is easy to execute. Even when the single-use plastic ban is being implemented – customers have moved to the closest cheaper alternative – non-woven bags.
We at, Shree Krishna Paper Mills & Industries, have always thought to innovate and bring forth solutions that help the environment. Paper is made using water and a lot of water is used to manufacture paper. If paper makers are one of the consumers of water, then we should be the ones to work on solutions to save water too. It was at the Paperex 2022 when we launched recycled brown notepads as souvenirs for our customers coming to visit the stall, which got great feedback – we started working on the idea of B2C products.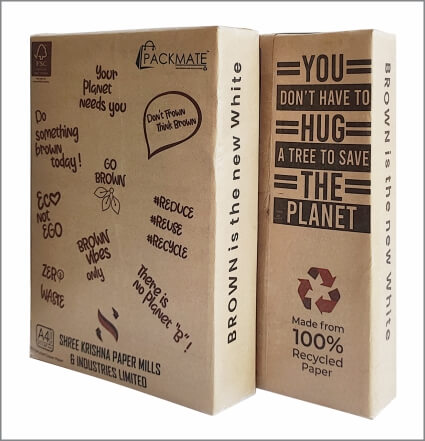 After a lot of trials, we launched our brown A4 copier paper that uses almost 10 litres per tonne of paper less water as compared to white A4 copier paper. So when you use brown PackMate copier paper, you save almost 0.5 litres of water per ream. It has got amazing feedback from the market and we are already getting repeat orders. Also, when you use PackMate copier paper, you save yourself almost 15-20 percent cost as compared to white A4 copier paper.
Our product range is based on the vision that brown is the new white! Brown denotes eco-friendliness; brown denotes sustainability and brown denotes our mother nature – the colour of mitti.
We hope to make PackMate notebooks, notepads, envelopes, and gift wrapping papers a household name and make a real connection with the mindset that every person can save the planet – not by hugging a tree but by using PackMate products which save water.
Watch: IVAX Paper Chemicals Interview
PackMate is already listed on Flipkart and Amazon and is gaining popularity. When you print your invoice & letterhead on PackMate brown A4 copier paper, it's a reminder to yourself and the clients who see it that – you care about the environment and are doing something to make a difference.
Also Read: Shree Krishna Paper Mills: Innovating Quality Products to Meet the Growing Demand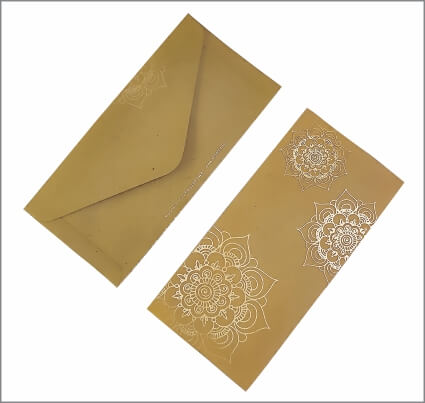 SKPMIL has fully shifted to PackMate for all its internal needs. A lot of companies, our friends and family have also moved to PackMate brown.
Small things make a big difference and this Rakhi everyone who used PackMate recycled Shagun envelope was extremely happy and gave us great feedback on the same.
Shree Krishna Paper Mills has launched a direct-to-consumer e-commerce website as well.
Let's together bring the brown revolution! Go Green, Go Brown.