Sripathi Paper & Boards Pvt Ltd incepted in the year 2003 with a 30 TPD kraft paper machine has a history of starting machines in a short span of time. The kraft paper machine was ramped up to 90 TPD in 2007 and in the same year Sripathi ventured in to production of duplex board with a 140`TPD machine. The duplex board capacity was further enhanced to 170 TPD in 2010. The rise in the financial turnover from mere 14 crores in 2003 to 200 crores shows the quality mark of their product which has helped them to get the clients like Nestle, Dabur, Britannia, ITC etc. In 2010 they planned to enter into the writing&printing (W&P) segment to have all the paper varieties under one roof. At the sidelines of Paper+ we had a brief interaction with Mr. R. Krishnaswamy, CMD about their expansion & diversification plans. Here are the dialects of the interaction.

Focus on Quality & Technology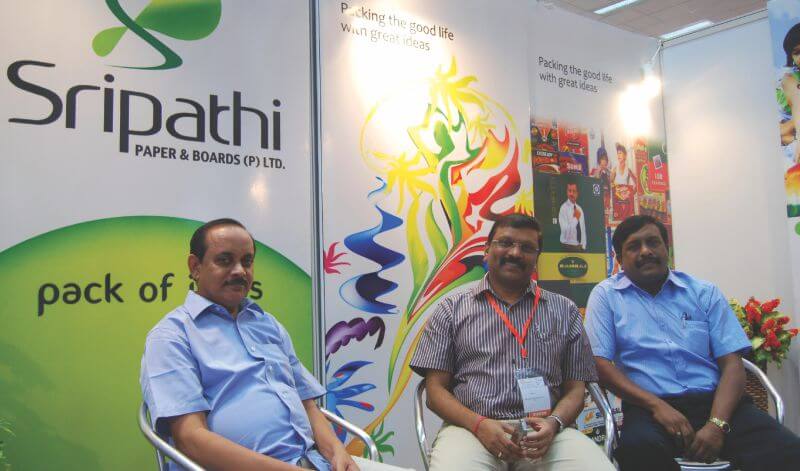 Sripathi focuses more on quality product for which they forayed in to Multilayer Kraft producing lower GSM and high BF kraft paper to serve the premium segment. Considering duplex, their expansion program is somewhere around 20 crores for technological upgradation like Blade Coaters (Andritz), Formers (Black Clawson), earlier in 2007 they installed Paper IQ Plus QCS (Metso) which was first in India comprising of intelligent digital scanning platforms, basis weight and microwave moisture measurements & related process controls. Probably next year onwards they would be able to roll out new product with blade coating. A 6 MW multi fuel power plant with biomass and coal as fuel has been installed considering the power crisis in the state.

Commenting on the importance of investment in technology he said: "We have been consistently investing in the state-of-art infrastructure, to ensure that our quality, production and delivery standards are world class. Whilst increased automation has helped us increase production capacity, it has also raised our spectrum of capabilities. Today, the finished quality, finish and class that our products exhibit are a direct result of these investments in the past. We are in the process of further adding to our capacities to meet a pan-India rise in demand for our products".

Expansion Plans

Sripathi acquired a sick mill having 30 TPD W&P paper capacity near Coimbatore, which they plan to modernize, by scraping the old machine and putting up a 100 TPS new W&P paper machine with the state-of-art technology. The reason behind the takeover was that it has got the government permission to draw 45 lakh liters of water per day from the river. The negotiations with the vendors for new machines and other ancillaries are on and the machine is expected to come on stream in a year's time.

Importance to the branding

Sripathi gives high importance to branding the product. Therefore, at the time of commencing duplex board production they thought innovatively to brand their boards as Nano Star, Nano Super & Nano Gloss based on the quality. Nano means latest technology and Gloss means it will be very good and Super means heavy weight coating i.e. super coated. Focus on quality & branding has helped them to achieve 25% exports of their production. Their approach is to offer new products with innovative thinking by analyzing the markets.

Achievements

With 20 crores they went for the technological upgradation and not for the capacity expansion. Recently they have been selected on all India basis for excellence in water management along with TNPL which shows their concern for water conservation. And, being a B grade mill they have obtained ISO 9001, 14001 and 18001. Now the company is proceeding towards getting FSC certification.