One of the largest producers globally of agro-based W&P paper, Trident has made its eco-sustainable product also economically sustainable.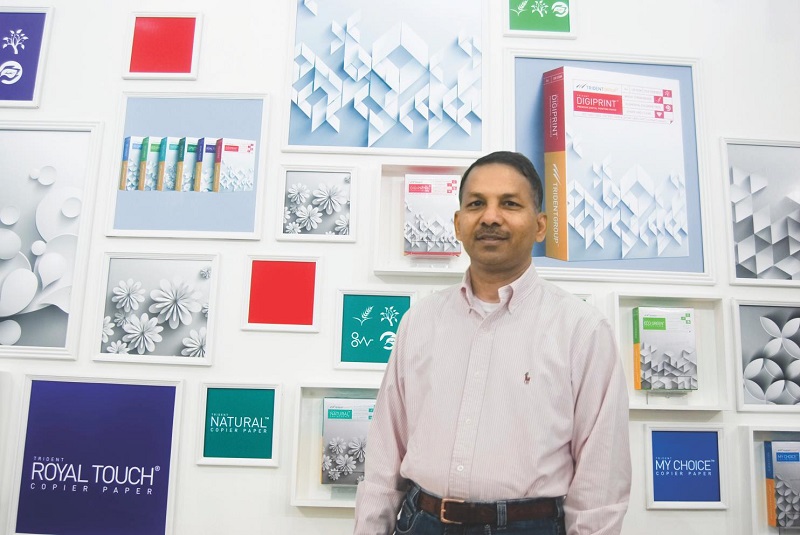 Trident Paper is one of the distinguished manufacturers and suppliers of high quality paper for multi-color high speed printing and publishing and high quality branded copier paper. With a clearly defined customer centric approach, the paper manufacturer has emerged as a preferred choice for paper suppliers in the domestic and international markets.

The company is ISO 9001:2008, OHSAS 18001:2007, ISO 14001:2004 and FSC Certified mill with an integrated pulp and paper mill using Wheat Straw (agricultural residue) as the primary raw material to produce high quality W&P paper varieties.

Trident Paper brings out a range of copier paper that is environment friendly – Spectra, My Choice, Eco-Green, Royal Touch and Trident Natural are proven products for high speed photocopying, print-outs, project reports, presentations and multipurpose office use.

Trident recently launched Digiprint, a new brand of premium digital printing paper. The new brand is touted as cost-effective and a potential import substitution. Paper Mart had a brief exchange with Mr. Rajinder Gupta, Chairman of Trident Group to know his views on the new product, and the paper industry in general. Here is the verbatim transcript:

Paper Mart: Tell us about some new developments at Trident.

Rajinder Gupta: We have already launched a new brand of premium digital printing paper, Digiprint which gives excellent performance in color printing. Targeted at the tech-savvy population in the Metros and tier-one cities, the paper would be a cost-effective and quality alternative to imported papers.

PM: What properties make it better than the available competition in the market?

RG: We are in very different league; we are not a wood-based paper. This is practically a paper which is absolutely agro-based. The A4 and W&P paper are made of wheat straw and paddy straw. It is an eco-sustainable product and nobody is matching to that. I don't want to compare the qualities of wood-based paper to that of agro-based. Obviously, this is a paper with which you work with better conscience.

PM: Still, how do you make sure that qualities of agro-based paper match to that of wood-based?

RG: I think the market share and appreciation by customers are clear indicators of our quality. Customers liking the product, sale of over 7000 tonnes of copier paper in retail market with a good brand, and selling at a competitive price confirm that quality is matchless and uncompromised.

PM: How do you look forward to the market of copier/office paper in future?

RG: We are gradually growing by 12-15 percent annually and I am very sure that with a new product added in our basket, we will be able to maintain the growth of 15 percent.

PM: Your advertisements appear different from the rest. Does it form a conscious part of marketing strategy?

RG: Well, I don't think so. It's not a marketing strategy. See, marketing is all about value to money, quality, competition and availability. The product will sell only when it's available to the shelf; they are economical; and they are repeat for that. These advertisements are only an awareness kind of a thing – more of a corporate awareness than the product awareness.

PM: Your views on the paper industry, in general?

RG: Well, it's tough. It is high capital industry; and the first two-three years for every capital investment is challenging. I think these initial years are going to be tougher for the paper industry.

PM: Are you foreseeing any better times?

RG: We all are optimistic by nature! Everybody is confident that by next two-three years, things will get better.

PM: Any special plan for next couple of years?

RG: We have certain expansion plans. We are intending to expand the capacity of our existing line for specialized paper. Things will be clearer to you by next six months.