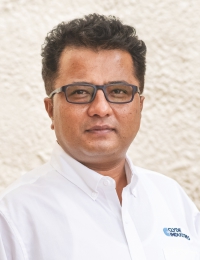 Clyde Industries is the leading provider of boiler efficiency solutions like heavy-duty soot blowers, high power low-pressure soot-blowing technology, and SMART Clean™ Intelligent Sootblowing Systems, for the most demanding applications in the market. Their state-of-the-art workshop at Atlanta, USA has been producing 500+ soot blowers per year. They have a presence in over 15 countries including pulp mills from Sweden, Canada, Brazil, India, Germany, China, Finland, and many other countries. In a recent interaction with Paper Mart, Mr. Samir Patil, Managing Director, Clyde Industries Private Limited, shared about the company's journey, product portfolio, and market presence. He also talked about the vision of the company for the future.
Paper Mart: Please tell us about Clyde Industries' journey, major milestones, and crucial achievements.
Samir Patil: In 1924, Clyde Blowers was established as a family firm producing boiler cleaning devices (soot blowers). Clyde Industries is the number 1 supplier in the world for heavy-duty soot blowers, high power low-pressure soot-blowing technology, and SMART Clean™ Intelligent Sootblowing Systems. In 2019, Clyde Industries formed after Clyde Bergemann Power Group, carved out the pulp and paper business and sold it to Wynnchurch Capital. Companies included in the sale were Clyde Bergemann Power Group Americas, Clyde Bergemann Scandinavia, and Clyde Bergemann Indonesia. In 2020, Clyde Industries acquired MidSouth Power and Equipment Company (the company that serviced Copes Vulcan soot blowers) in Greensboro, NC, and founded Clyde Industries India Private Limited. Clyde Industries designs, supplies, and services innovative products, systems, and services to safely and effectively provide online cleaning for recovery and power boilers throughout the worldwide pulp and paper industry.
PM: Kindly elaborate on your product portfolio for the pulp and paper industry and its applications.
SP: Clyde Industries is a company specializing in boiler efficiency solutions and services. Their product portfolio typically includes a range of products and services related to improving the efficiency and performance of industrial boilers. While specific offerings may have evolved or expanded since then, here is a general overview of the types of products and services you might find in our portfolio. Clyde Industries may offer various technologies and systems for cleaning boiler surfaces to remove ash, soot, and other deposits that can reduce boiler efficiency. This could include soot blowers and online cleaning systems. We might provide technologies and solutions aimed at enhancing the overall efficiency of industrial boilers. This could include advanced combustion control systems, heat recovery solutions, and more.
We also provide products and services related to emissions reduction and compliance with environmental regulations. This may involve technologies for controlling the release of pollutants such as NOx, SOx, and particulate matter. Additionally, we provide services for optimizing the performance of existing boilers, including engineering assessments, retrofits, and upgrades. Maintenance and inspection services are provided to ensure the safe and efficient operation of boilers, including inspections, repairs, and preventive maintenance programs. Clyde Industries might offer digital solutions for monitoring and controlling boiler operations remotely, which can help improve efficiency and reliability. We also provide replacement parts and support services for their products and systems to ensure ongoing performance and reliability.
Watch: JMC Paper Tech Launches New Subsidiary JMC Papers
PM: What does your customer service contract and maintenance contracts include apart from the supply of machinery? How do you ensure the quality of your supplies?
SP: Clyde Industries provides various types of contracts for customers. We provide quarterly visits by a service technician to inspect, perform preventive maintenance, and make minor repairs. We also provide monthly visits by a service technician to inspect, perform preventive maintenance, and make minor or major repairs. Another contract includes full-time maintenance where Clyde Industries has service technicians onsite handling all the sootblower needs for preventive maintenance, repairs, and upgrades. We also have a fixed-price maintenance contract where based on an initial detailed review of the boiler cleaning equipment, desired parameters are defined jointly with the customer. These may / guarantee, spare parts storage plans, an on-call response service, or staff training. A custom fixed-price offer addressing this specific scope is then developed by our service team. Contracts can be tied to soot blower availability. Contracts can also include parts.
PM: Do you make your own manufacture and assemble your machines in-house? Please tell us about your manufacturing capacities with regard to the pulp and paper industry.
SP: Our machinery is built in-house at Atlanta, USA workshop. Our state-of-the-art workshop has been producing 500+ soot blowers per year.
PM: What are your USPs that keep you abreast of your competitors? What is your technological and business roadmap?
SP: We offer a comprehensive range of solutions for boiler cleaning and efficiency. Our expertise includes high-power, low-pressure soot blowing technology, advanced boiler monitoring, and diagnostics, as well as effective port cleaning technologies. Additionally, we specialize in process optimization through our SMART Clean™ Intelligent Sootblowing System tailored for the pulp and paper industry. We are committed to delivering a high-quality Fitness-to-Operate (FTO) program to help our customers properly maintain their soot blowers in the most cost-effective way. The program focuses on three levels of maintenance to guarantee a safe and reliable plant operation.
Clyde Industries is the world's leading boiler cleaning operations expert. Our equipment, technology, field service, and knowledge are unmatched in the industry, creating significant value over the entire lifecycle of your soot blower. Clyde Industries plays a vital role in shaping boiler-cleaning technology. We can meet the specific requirements within a boiler by applying various cleaning methods, nozzles, and nozzle arrangements to our technology. As industry pioneers, we were the first to successfully apply water for furnace cleaning and were quick to adapt a demand-driven boiler cleaning system that responds to actual deposit buildup, rather than operating under a fixed cleaning schedule.
PM: Can you tell us in detail about your market footprint and major clientele? What is your USP?
SP: We have installed soot blowers (SB) all across the globe. Clyde Industry began its journey with the installation of 80 soot blowers at the Varo pulp mill in Sweden, and there has been no turning back since then. To date from 2000 to 2023, we have installed over 3,500 soot blowers approximately worldwide. We have a presence in over 15 countries including pulp mills from Sweden, Canada, Brazil, India, Germany, China, Finland, and many other countries. Some of our esteemed clientele in our books are Zellstoff Pöls, Metsä Fibre äänekoski, Mondi Steti Poland, Zellstoff Nettingsdorf, ITC India, MAPA Chile, Bracell, Ust-Illimsk, Tamil Nadu Newsprint & Papers TNPL-Unit 2, Orient Paper, JK Paper Rayagada, Century Pulp & Paper, ITC Pulp and Paper, ITC HPRB & ALP, APPM, and West Coast Paper Mills Unit -1.
PM: Do you undertake R&D at Clyde Industries? How do you maintain the quality of your offerings?
SP: We, at Clyde Industry, establish robust quality control processes at various stages of manufacturing and service delivery to ensure that products and services meet specified standards and performance criteria. We work closely with suppliers to ensure that the materials and components used in their offerings meet quality standards. Rigorous testing and validation procedures are conducted to confirm that the products and systems function as intended and meet performance specifications. The company often adheres to industry-specific certifications and regulatory compliance to ensure its offerings meet the required standards and regulations. Feedback from customers and performance data are used to identify areas for improvement, leading to ongoing refinements of products and services. Staff involved in the manufacturing, installation, and maintenance of equipment are trained and certified to ensure they are capable of maintaining the quality of the offerings.
Also Read: PAPER-ME 2023 Ends on a Positive Note in Cairo, Egypt
PM: What are your vision and plans for Clyde Industries' future in India?
SP: Clyde Industries' strategy for the Indian market includes expanding its presence by targeting new customers and industries, potentially increasing sales and services. They may localize products to meet specific Indian needs, explore partnerships for market insights, invest in R&D for tailored solutions, incorporate sustainability initiatives, prioritize strong customer relationships, ensure compliance with local regulations, conduct market analysis, and aim for financial growth. We have the vision to become the pre-eminent equipment experts in applying the full potential of remote monitoring and Industrial Internet of Things (IIOT) on all auxiliary equipment in and around the recovery and power boilers used in the pulp-making processes to drive equipment reliability up and process costs down.