DS Smith has invested in 10 Automated Guided Vehicles (AGVs) to operate at its Kemsley Paper Mill, bringing major benefits for its people, customers and the environment.
August 12, 2021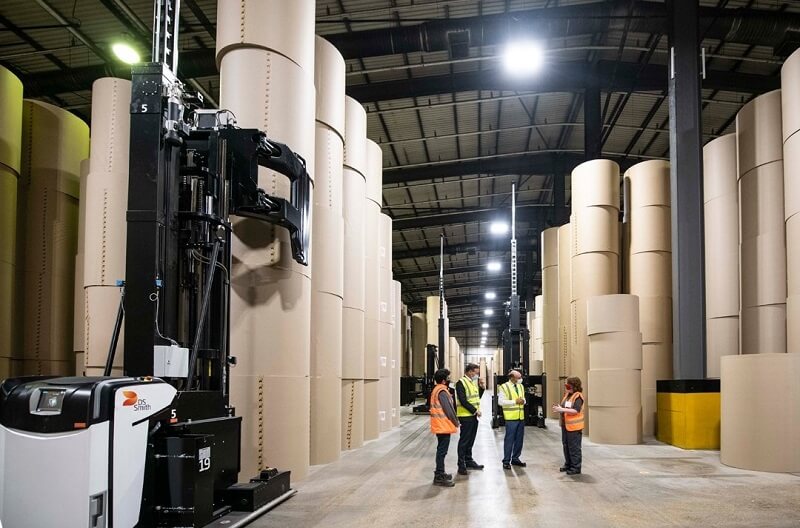 With the aim of increasing sustainability and efficiency, DS Smith has replaced forklifts at its Kemsley plant in the UK with automated guided vehicles (AGVs).
Watch: PAPER MART NEWS ROUNDUP
Kemsley has a long history of adopting the latest technology. When it was originally built in 1924 its four paper machines were the largest in the world. Today the mill is the UK's biggest recovered fiber-based paper operation and the 2nd largest in Europe with an annual production capacity of over 840,000 tonnes.
The all-electric Rocla vehicles, supplied by Mitsubishi Logisnext Europe Oy, operate 24/7 and perform a variety of tasks around the warehouse, including collecting reels from the production conveyor, storing them, and picking them for orders.
When the AGVs aren't tasked with work, they automatically switch to 'housekeeping' mode, rotating stocks in order of age to maximize warehouse capacity.
The robots, which have an average lifespan of 12 years, can reportedly transport paper reels safely around the warehouse at speeds of up to 8mph. They operate with zero local emissions and when their battery level drops to 30 percent, they complete their current task before going to the 'automated battery exchange station' where they choose the optimum charged battery as they get ready for another 10-hour shift.
The recent boom in e-commerce has increased the demand for papers and packaging. Every day, around 2,200-2,400 tonnes of paper leaves the Kemsley mill and so it's critical that the team has the latest innovations to benefit people, customers, and the environment.
Also Read: Progroup to Build Four New Corrugated Board Plants Across Europe.
In July of this year, DS Smith announced it had partnered with global industrial technology company Trimble to advance digitalization at its paper mills across Europe, following a successful trial at Kemsley of its data mining platform, Wedge.