Started in 1976, one of Bangladesh's largest industrial conglomerates, Meghna Group houses more than 50,000 employees, 6,300 distributors and 15,000 suppliers under its umbrella, with an annual turnover of approximately USD 3 billion. The group boasts of a production capacity of 1200 TPD, with 100TPD tissue production, 800 TPD industrial grade production and 300 TPD writing and printing paper production. The group holds a broad array of industries including FMCG, building materials, pulp and paper, LPG, feeds, fiber, power plants, shipping, seeds crushing, chemicals, ship building, dockyard, securities, insurance, media, Foil packaging, ceramics and aviation. In a recent interview with Paper Mart, Md. Yearul Islam, General Manager (Sales and Marketing), shared about the company's paper mills, production capacities, expansion plans and current challenges for Bangladesh's paper industry.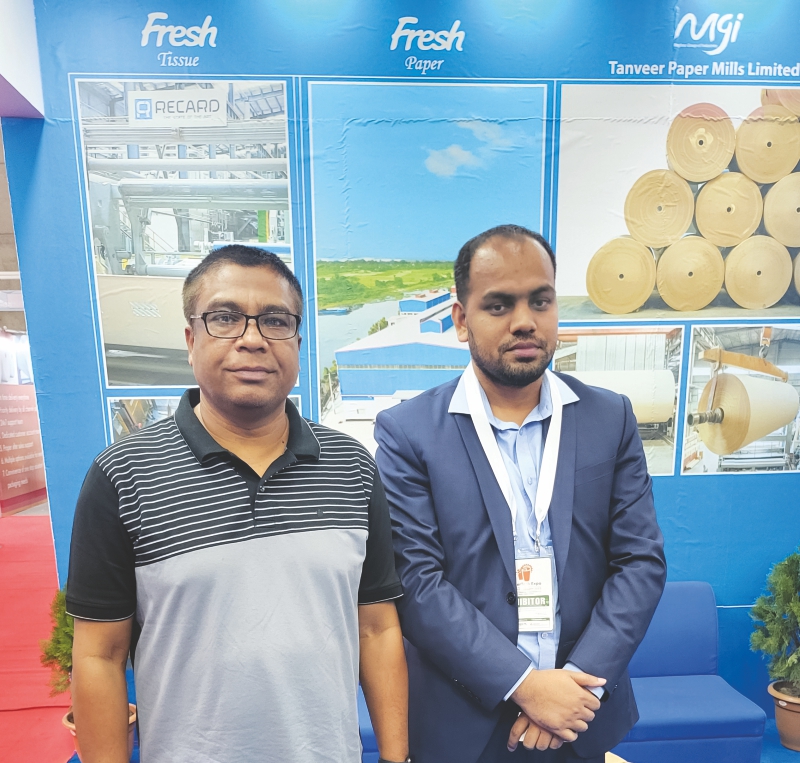 Paper Mart: Please give us a brief overview of your company.
Md. Yearul Islam: Meghna Group is the leading conglomerate in Bangladesh, with more than 40 sister concerns present under the group. Currently, our yearly turnover is approximately USD 3 billion. We are the leaders of industrial grade paper in Bangladesh, and the pioneer for the export market of the industrial grade. We already supply our papers to China, Sri Lanka, India and many other countries contact us for paper requirements because they like the quality of our products.
PM: Kindly shed some light on your paper mills, outlining the grades manufactured and their capacity.
MYI: We have 5 paper mills. Two mills are for tissue production, with a per day production capacity of 100 metric tonnes. In these mills, we produce all types of tissues, like napkins, scented tissues, toilet paper, facial tissues and others. Our company has a very good market for tissue paper. We already export to different regions like Africa, Middle East, Nepal and India. Other than this, we have mills for industrial grade paper, with 800 metric tonnes per day production. In these mills we produce fluting paper, liner paper, kraft liner paper, white liner paper, NCR paper and art paper. We also produce all types of writing and printing paper from 40gsm to 170gsm with 300 metric tonnes per day production. We plan to expand our business to duplex boards, swedish boards and simplex boards.
Watch: JMC Paper Tech Launches New Subsidiary JMC Papers
PM: Please tell us about the raw material being used for tissue paper and industrial grade paper production. What are the challenges faced in obtaining raw material?
MYI: All the raw material we use for tissue paper and writing and printing paper is 100% imported. Writing and printing paper as well as tissues are produced using 100 percent virgin pulp. Industrial grade production uses 100 percent waste paper. Depending on the type of industrial paper we produce, we use various categories of raw materials like, NDLKC, OCC and NCC.
With regard to challenges, Bangladesh is currently suffering from a double crisis, with the value of the dollar being very high and the value of taka decreasing day by day. So it is difficult for the owner of the paper mills to import raw materials. If we collect raw materials locally, we will not face such problems. Every paper mill faces the same problem which hampers their production. Since more than 100 paper mills perform their operations in Bangladesh, raw materials are priced very high in Bangladesh. Therefore, we are facing a crisis of raw materials.
PM: How do you feed power requirements for your paper mills?
MYI: In order to meet the power requirements of our mills, we have our own power plant supplying electricity. Our power plant generates almost 35 megawatts of electricity.
Also Read: Sakthi Group Sri Lanka: Targeting Production of 100-150 TPD
PM: Please give us your insights on the paper industry.
MYI: The tissue paper market is expanding every day and bringing more opportunities. Currently, we have approximately 25 percent share in our local market. For the writing and printing paper market, we have approximately 10 percent share and for industrial grade paper, we occupy 30 percent market share. For industrial grade, we have a big opportunity to grow since many packaging companies import paper from Bangladesh due to our good quality. In the next 2 to 3 years, the company will focus on creating high quality paper and increasing our market presence.
PM: What are your company's future plans for the paper business?
MYI: The group will expand 3 to 4 more concerns in industries like steel, glass and paper. The management will also try to invest more in the paper sector like duplex boards, writing and printing, and tissue machines. We will try to increase the volume of the paper manufactured in future depending on the market conditions at that time. Therefore, we aim to expand our presence in the paper market, not just in Bangladesh but also to export to South Asia, Middle East, and Africa and European countries.