The AHEAD 2.2 tissue line supplied by Toscotec to Cartiera Confalone on a turnkey basis has come online at their new mill in Montoro, Italy, and started producing sellable tissue from day one.
September 29, 2021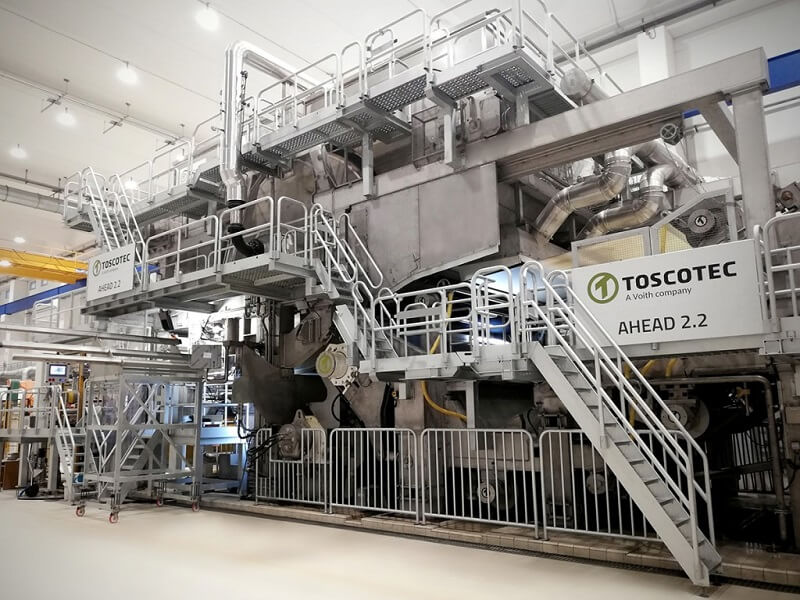 The new AHEAD 2.2 tissue line is equipped with TT NextPress, TT SYD Steel Yankee Dryer, and gas-fired TT Hood designed with multiple stages of energy recovery. It has a sheet trim width of 2,850 mm, a design speed of 2,200 m/min, and a production capacity of over 35,000 TPY. The tissue line will produce toilet tissue, napkins and towels using 100% pre-dried virgin pulp and converting broke.
The turnkey supply included the complete stock preparation, Toscotec's patented TT SAF® (Short Approach Flow) for superior energy efficiency, the complete electrical and control systems, including the DCS and the QCS, as well as the dust and mist removal systems. The scope also included the vacuum plant, an automatic vibration monitoring system installed on the AHEAD 2.2 line and the machine hall ventilation system.
Read Paper Mart's June-July 2021 Issue.
Toscotec also supplied two OPTIMA 2200 slitter rewinders, equipped with tension, nip control systems, and dust removal systems. The service package included detailed mill engineering, plant and tissue machine erection, commissioning, training, and start-up assistance.
Cartiera Confalone's new Montoro mill constitutes the biggest tissue investment in the south of Italy in over twenty years and it is equipped with leading-edge tissue technology.
Also Read: Volga Pulp and Paper Mill Orders New OCC Line From ANDRITZ to Convert PM 6.
The project represents a repeat order by Cartiera Confalone, who chose Toscotec in 1999 for its first tissue line, a MODULO-PLUS machine, at its Maiori mill, and then replaced its cast-iron Yankee with Toscotec's leading-edge TT SYD Steel Yankee Dryer in 2013.