Apart from bringing in new paper for the packaging industry, Trident is planning to go for capacity expansion.
Mukul Dixit, Chief Manufacturing Officer, Trident Group India, talks about his Company's plans for the next couple of years in an exclusive interview give to Paper Mart.

Paper Mart: Could you tell us a little bit about Trident and the new developments being undertaken?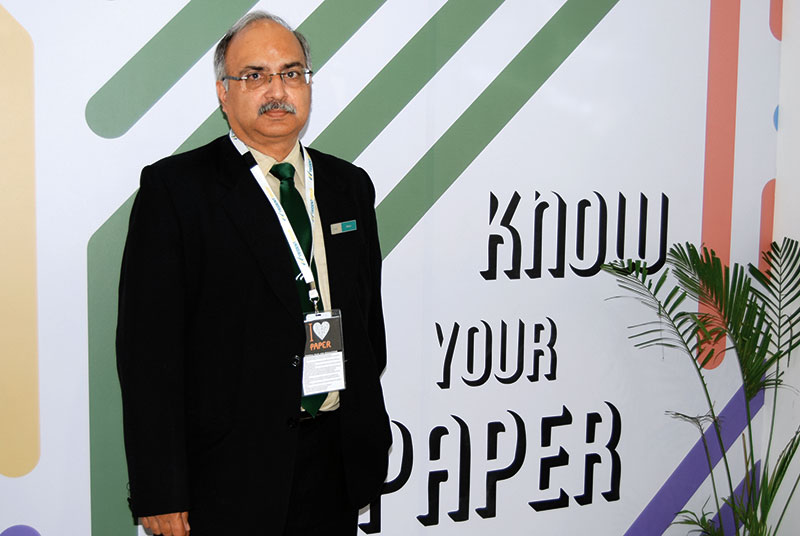 Mukul Dixit: The journey of Trident Group started more than two decades back. It was in the early 1990s that we set up our manufacturing facilities in Punjab. Later, we diversified into being a full-fledged home textiles manufacturer with the commissioning of a new integrated bed sheeting project in Budhni, Madhya Pradesh. Today, our company operates in five segments- home textiles, yarn, paper, chemicals and energy.

Talking about Trident paper, we started off in 1993 and since then there has been no stopping. By using wheat-straw as the primary raw material for paper manufacturing, we save as many as 5,000 trees a day. Not just quality, we also offer variety. Trident has recently launched a new segment of paper that caters to the needs of the packaging industry. It will be used for making bags and other paper products.

In the home textiles segment, we offer organic products made from the finest yarns and fabrics. Our patented Air Rich technology is widely applauded for the premium products it delivers. We have done a lot of creative work on towels and bed sheets. We have also gone for producing theme-based towels and bathrobes for beaches.

PM: Could you tell us about the recently launched paper that would be used in manufacturing paper bags?

MD: The newly launched paper grades for making bags available in 130 GSM, 150 GSM and 170 GSM. Initially, 130 GSM paper will be marketed. We also have plans to make higher grades of paper more elaborate so that they can penetrate through the market easily. We are in touch with our customers for the implementation of this plan.

PM: Could you elaborate on the marketing strategy for the newly launched paper?

MD: Our marketing strategies for the newly launched product have a lot to do with our existing partners. We would invest and work more in our current markets. But if there is an opportunity of gaining more partners, we would consider that as well. This is how we create a network. We have been quite successful in establishing a stronger network over the years through our internal initiatives and reward programmes. We have touched almost 20-plus states and 500-plus cities. With our dealer network, we have been able to leave a mark on the paper market.

PM: Do you think your newly launched paper has a bright future?

MD: There are certain factors that would help push the market for our new paper. One of them is the organic growth of this segment, which is around 10 to 12 percent. There is also a big shift from normal commercial copier paper to specialty paper. I do see the market for our paper taking shape in the next couple of years.

PM: Abhishek Industries was started based on the idea of producing green paper or paper made from residual waste. What kind of response have you been getting from the market for the work you are doing?

MD: Serving the community has always been the vision of Trident Group founder, Chairman, Padma Shri Rajinder Gupta Ji. For us at Trident, sustainability has always been a core business vertical and with everything we do, we aim towards contributing towards a healthier and safer environment. Be it working towards making Punjab green or saving water with persistent conservation initiatives, we are committed towards conserving the nature.

PM: Could you tell us about your future plans?

MD: We are considering capacity expansion. We are also planning to diversify into new areas of specialty products and bring in innovative products that can serve the community in a big way. For example, today there is a lot of talk about elimination of plastic. So, we are planning to deliver paper substitutes for plastic products.

PM: Do you have any specific plans for improving the existing capacity? Are you planning to buy new machines?

MD: If you see, GSM is getting finer in the paper segment. This is one area that would require augmentation of existing assets. And for this, we have been working with a couple of European vendors. As far as producing new products is concerned, we are ready to offer more. The platform for getting started on this is almost ready. Allowing lead time for delivery of the equipment, which could be around 8 to 12 months, we are all set to get started.

PM: Is there anything else you would like to add?

MD: Given the financial dimensions of what is happening across the globe, we are cautious about what we pledge and commit to. We are hopeful for a bright future ahead and somewhere we know that there will be no dearth of opportunities in the coming days.