UPM's Paso de los Toros, Uruguay, pulp mill has reached technical readiness to start operations. The new pulp mill is a part of the company's USD 3.47 billion investment project in Uruguay, and has a production capacity of 2.1 million TPA.
March 31, 2023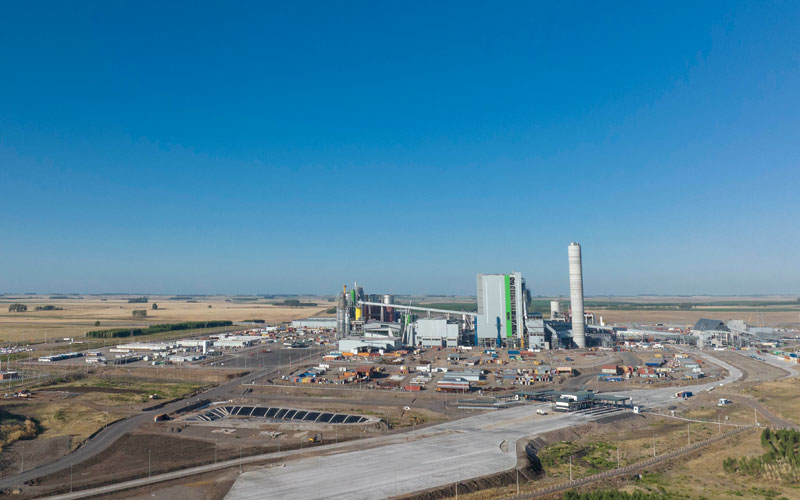 UPM's new Uruguay pulp mill, which is a part of USD 3.47 billion investment project, has received the environmental authorities' acceptance of all the procedures, systems, and technologies and has reached the technical readiness to start operations.
Watch: JMC Paper Tech Launches New Subsidiary JMC Papers
The new Paso de los Toros mill will produce 2.1 million TPA of eucalyptus pulp, and is expected to have a cash cost level of approximately USD 280 per delivered tonne of pulp. puts us among the leading pulp suppliers in the world. The environmental approval precedes the final operating authorization, which is expected to be received in a few weeks and the mill will start its first customer deliveries within the first month following the start-up.
The overall investment of USD 3.47 billion includes a deep sea-port terminal in Montevideo, a new eucalyptus tree nursery, and local investments in infrastructure and facilities. All of these are already completed and in operation.
Mr. Jussi Pesonen, CEO and President, commented on the start-up, "The finalization of UPM Paso de los Toros completes our transformative growth investment in Uruguay. Over the years, UPM has created a highly competitive industrial platform with sustainable, secure wood-supply and efficient logistics in Uruguay. This offers a competitive and secure pulp supply to new and existing customers and helps meet the growing need for renewable materials. With an over 50 percent increase in UPM's current pulp capacity, this investment creates a step change in the scale of our pulp business and UPM's future earnings. It also has a significant impact on Uruguay's economy and creates significant opportunities for the people and communities."
Also Read: French Gascogne Papier Places Order with ANDRITZ for 1,25,00 TPA PrimeLine MG Paper Production Line
Post the set-up, UPM will have two pulp mills in Uruguay and three pulp mills in Finland, which helps the company offer sustainable hardwood and softwood pulp to its customers, globally. The mill will also contribute to socio-economic upgrade of Uruguay, inducing an approximate 2 percent increase in national GDP.