Standing at a mammoth 18-19 million tonnes per annum of production, a comprehensive global footprint, and a portfolio bereft of nothing related to paper, APP is sure to stir the Indian market with its presence.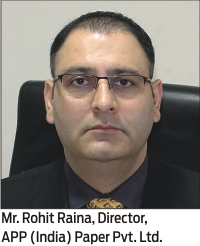 The Asian Paper giant, Asia Pulp & Paper, recently started its first tissue converting unit at Bawal, Haryana along with others in Mumbai and Chennai slated to commence operations in near future. Asia Pulp & Paper, also known in the paper industry as APP, based in Jakarta, Indonesia, is one of the largest pulp and paper companies in the world. With 14 major companies in Indonesia and China, APP has a current annual combined pulp, paper, and packaging-grade capacity of more than 18-19 million tonnes per year, and markets its products to more than 120 countries across six continents.
Apart from that APP has also planned selling pulp to the Indian paper industry, as one of the largest Pulp Mills in the world is being commissioned (OKI Pulp & Paper) with the installed capacity of 2.8 Million tonnes/ annum.
Paper Mart, recently, had a pithy conversation with Mr. Rohit Raina, Director, APP (India) Paper Private Limited, where in he delineated upon emerging tissue market in the subcontinent and the challenges to surmount. "We have already started the converting unit at Bawal with 700 tonnes per month capacity. The converting facility has started with facial tissue. Toilet and handkerchief will follow soon," declares Mr. Raina.
Mr. Raina considers Indian tissue market big enough to hold more than few players. "We see 25 percent growth in the tissue market. Today, we are looking at 100,000 tonnes which will be 250,000 tonnes of tissue in next 2-3 years," he says.
APP is quite confident about up-surging Indian market. "The market remained a bit sluggish in Q2/3 2015. I feel starting Q4 of 2015, things should improve and start getting back to normalcy by Feb-March 2016. Market looks good and bullish. We are growing," avers Mr. Raina.
APP is going the whole hog in terms of converted products marketing and brand promotion in India commencing with PPC and Stationery Products. "Currently we have offices in mumbai and Chennai and shortly would be opening offices at Hyderabad, Kolkata, and Bangalore laced with a host of sales representatives. Our collective strength of sales team for paper pulp and tissue is 110 people wherein the ratio between paper and tissue respectively is 30:70," says Mr. Raina.
APP will be using totally new trade channels to promote its converted products. Mr. Raina remarks, "It's totally different channel, has got nothing to do with that of paper. It's a separate entity and separate profit centre altogether."
Mr. Raina underlines the significance of brand awareness in the scheme of things. "We have plans as far as branding is concerned. But, that would be visible in coming 6 months time. People are already on job. May be we would start promoting our converted products in magazines, through ads on TV, through hoardings, banners and road shows, etc. We will do whatever it takes."
APP's Diverse Portfolio
Asia Pulp and Paper Group is responsible for delivering quality products to meet the growing global demand for tissue, packaging and paper. APP produces superior quality packaging products to meet growing needs of various industries. APP's onsite converting plant can produce cartons, tubes and reel cores. Besides, the company's paper produce include W&P, Photocopy paper. The company is all set to explore Indian market vis-à-vis all its products.
On product development, Mr. Raina said, "One of the cornerstones of APP's Sales and Marketing operations is its product development and customer service. The ability to specialize also includes the ability to produce high quality products. The focus on product development and customer service is giving APP a strong competitive edge in the market. With demand expanding as market conditions improve, the company is well placed to deliver customer needs.
"In a free market economy, consumers including both trade as well as end user-the printer have a wider choice, as APP has to offer more in terms of quality, price and more so technical support, which has lead to a fierce competition and demanding market conditions.
"In regard to coated paper, we are growing at 8-10 percent in India. Packaging is growing at 20-25 percent. The idea is to move, down the line, to half a million tons by 2016-17," says Mr. Raina. "We plan to have converting operations for packaging in major metros over a period of time. Later, we are considering converting units for our coated paper. The stocking of PPC (Photocopy Paper) and wood-free paper would follow in time.
"We also have new products developments as far as PE Boards & cup stock is concerned. We also have grease proof high-end packaging paper & board. Then, there is the new one side coded paper, meant for Value added industry, but eventually coming to whole wrapping, printing and labeling industry. Besides, there are high-end embossed boards, colored boards, color wood-free paper, etc. These are some of the products which we would be developing in time with some value addition."
APP is unleashing huge expansion plan for its packaging segment with overall 8000 MT/Day capacity underway. "I think you are aware that we have already started the mill called Guangxi which is making 4000 tonnes of industrial packaging board. Simultaneously, we have started PM4 at Ningbo which, again, is making 4000 tonnes per day. In all, we are having 8000 tonnes per day of packaging board which has commenced from Q2-2014," stated Mr. Raina.
"Packaging during 2013-14 has grown with 20-25 percent in India. In 2015, we have targeted another 25-30 percent. There are lot of value added products to offer in packaging with us. We have low and high-end packaging from Ningbo , Gaunxgxi (China) and Serang (Indonesia)."
Moreover, APP is building a pulp mill, called OKI Pulp & Paper Mills, in South Sumatra, Indonesia. The mill will have a capacity between 2.5 million tonnes per year of bleached hardwood kraft (BHK) pulp, and about 0.5-1.0 million tonnes per year of tissue paper, which would make it the largest single pulp line in the world. Startup for the mill is being targeted for 2016-17. "Everything is on line and we are moving with great optimism," quips Mr. Raina.
"Raw material is the basic source of paper making. We have started selling pulp to India Paper manufacturers. The target for pulp, with the new mill OKI coming up, is around 15,000 tonnes per month after import starts in 2016."
Challenges in Indian Market
Raw material is one persistent challenge in Indian paper industry. "I think there are two things viz. plantation and import as regards to sourcing of raw material," remarks Mr. Raina. "I don't think the Government is looking at plantation issue in right way. Unless it does, you can't do plantation. So, we have to capitalize on import to make paper here."
"As long as we are generating employment and contributing to economy by either importing the raw material or sourcing it indigenously, nothing matters."
Payment is also cited as one of the lingering challenges in Indian paper industry. "The challenge in the form of payment is consistent. That has to move," says Mr. Raina.
Mr. Raina also signifies the need of up-gradation of printers to high-end plants. He says that printer base is too big which should be streamlined and consolidated. "Once that is done, I think things will help," he remarks.
'Make in India' Impact
Mr. Raina finds 'Make in India' a good initiative and says, "We also follow the same line. May be tomorrow we come up with a plant in Gujarat if everything goes well.
"There are some important installations going on in Indonesia and China. Once that is through, we would be surely looking forward to commencing some plant here in India. The plan is to export also. If we have a base in Gujarat, then we will be exporting to the Middle East with an advantage of freight. The Middle East is growing and becoming bigger as market. So are Bangladesh and Sri Lanka."
He concludes the discussion saying that things will look brighter with the start of new financial. He affirms with the positive shift the industry is noticing due to the new government's initiatives and asserts that industry and the Government need to work as a team to build the future for Indian paper industry.