Amcor has announced diversification of the AmFiber™ Performance Paper packaging range and has invested to integrate a state-of-the-art production line at its Alzira plant in Spain to aid the market demand for the product range.
Jun 13, 2023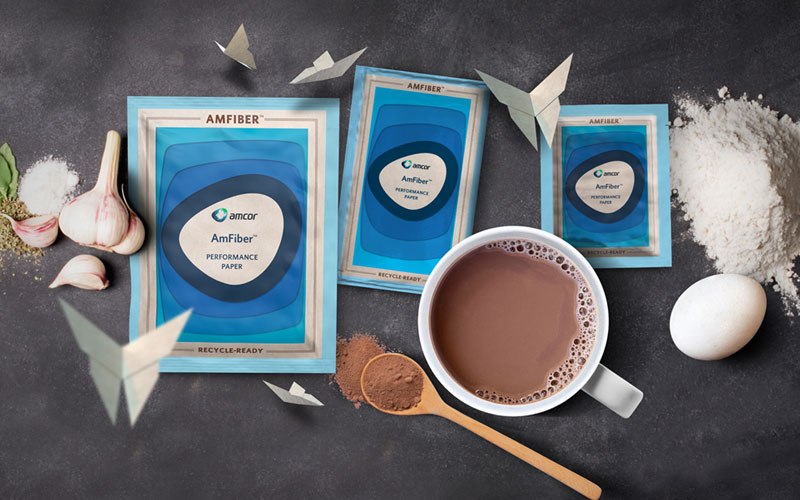 Amcor has announced the expansion of its AmFiber™ Performance Paper packaging range in Europe and has invested in manufacturing capacity to meet the growing demand for this kind of paper packaging. The company has integrated a state-of-the-art production line in its Amcor Flexibles Alzira plant in Spain, which is equipped to provide both cold- and heat-seal AmFiber™ packaging, delivering airtight seals to guarantee the proper product protection through the supply chain and along the full shelf life. 
Watch: JMC Paper Tech Launches New Subsidiary JMC Papers
AmFiber™ Performance Paper is a recyclable, high-barrier, paper-based packaging that was initially introduced in 2022 for snacks and confectionery. Appearing on store shelves today for prominent snacks and confectionery brands, it offers high-barrier protection against oxygen and moisture, with excellent performance on brand owners' packing machines. The product range shall be diversified to include heat seal sachets for dry culinary and beverage applications, such as instant coffee, drink powders, spices, seasonings, and dried soups.
The advanced equipment at the Alzira plant – along with the team's extensive experience in barrier technology, printing, and sealing processes – make it one of Amcor's Centers of Excellence for flexible paper-based packaging.
Also Read: Valmet Residual Measurement 6th Gen Launched – Enables Better Optimization of Bleaching Process
Mr. Ilya Syshchikov, Vice President, of Global Product Management AmFiber™, said, "AmFiber™ Performance Paper offers brands the best of both worlds. From a technical point of view, it delivers a high barrier and excellent machinability. From an environmental point of view, it's PVDC-free, available in FSC®-certified paper, and recyclable in most European countries. In fact, independent recycling tests conducted by organizations such as Aticelca® and PTS, have demonstrated an impressive material recovery rate during the recycling process."
He further added, "We have many exciting projects in our R&D pipeline for paper, and this expansion into culinary and beverage packaging is another important milestone toward developing recyclable paper packaging for all the segments we serve."