Young leaders lending their fresh outlooks to many conventional industries helping these to bask in novel success are not rare anymore. Indian paper industry is all set to change its functional dynamics by infusing youthful vigor to its fold and Khanna Paper seems to lead the pack.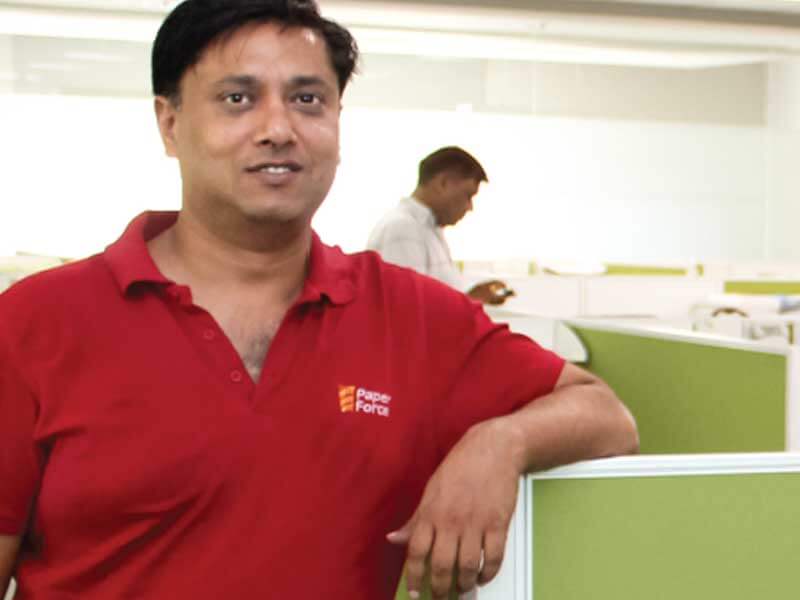 For over four decades, Khanna Paper Limited is manufacturing quality paper and board by recycling of waste paper as the feedstock for domestic consumption. The company today produces around 3,60,000 tonnes of board and W&P paper and is the first mill in India pioneering the production of W&P paper from 100 percent deinked recovered paper. Khanna Paper, through its comprehensive dealer network, has a wide market outreach spanning not only India, but SAARC countries, Africa and the Middle East also.

Most motivated individuals tend to stick with one discipline and focus on excelling at that. With a career spanning almost two decades, he has helped shape the face of many companies through optimization of operations resulting in higher and quality production. Paper Mart recently had a thorough tête-à-tête with Mr. Varun Jain, CEO, Khanna Paper Limited on wide ranging issues pertaining to the Indian paper industry, of course, keeping Khanna Paper at the focus.

Mr. Jain, being an IIT graduate and serving the paper industry since inception of his career, is one of the youngest CEOs in the country spearheading a prominent enterprise as Khanna Paper at the mere age of 40. This is a manifest shift from the established practice of the industry where leadership is increasingly handed over to younger generation of professional to infuse perspectives of novelty, vigor and passion into business. Let's hear what he has to say:
Paper Mart: Tell us briefly about your background.
Varun Jain: After my graduation from IIT Roorkee in 1995, I have been working for the paper industry in various capacities. It's been 19 years now – initial 8 years in India, then 10 years in China and for last one and a half years in India again. In the initial part of my career, I handled operations as production head in Bhigwan Unit, BILT. Afterward, I went to China as the production head for one of the world's largest carton board machines. As natural progression of my work, I handled global sales and marketing portfolio for almost six years. After my return to India, I have been working for Khanna Paper, now in the capacity of CEO.
PM: As a CEO, one of the crucial parts of your role is to identify areas where different processes could achieve breakthroughs. Share with us your experiences in the key role.
VJ: I have worked globally in various capacities in operations, finance and marketing resulting into composite experiences indicating what works for a company. What I believe from cumulative experiences of my work so far is that synergy among all the functions is essential to have breakthroughs. Isolated breakthroughs might have a slight impact, but it does not take the organization forward. The need today is not to have the isolated breakthroughs or pockets of excellence, but to have an overall excellence in delivering the value to customers and to have a valuable interaction with suppliers culminating into lasting relationships.
The value is derived through how the people within company feel integrated to its overall objective and strategy. Our profitability has gone up by almost 40 percent from last year. It's not because we have been inefficient or there has been lack of focus on key areas. It's because the synergy, which we are discussing, has been brought right from raw material and technology to selling the product to right customer base. These together have given us the value.
An important aspect of this synergy was the successful implementation of SAP to integrate all the departments to work in most effective way. Unique strategies on both sides of value chain helped Khanna Paper Mill achieve 30 percent EBITDA increase in just 8 months. Other noticeable improvements may be seen in the manufacturing process where focus has been put more on utilizing machines to their optimum capacity without compromising with quality.
PM: Today, in globalised market scenario, market is no longer about just products and applications. Market creation, value-chain creation, and getting involved with technology are equally significant dimensions of effective business management. How does Khanna Papers take these aspects into account?
VJ: Things like market creation, getting involved with technology and, above all, the value-chain creation are keys to KPM's entire strategy. These create the focus around which we orient all our processes. However, in my opinion, India is not as globalised as other economies are; it's rather in the process of becoming globalised. Despite having the largest consumer base, neither the local production is expanding, nor is the foreign investment seen in the capacity expansions. We have seen some mergers, acquisitions & JVs, but the success of these ventures is yet to be established.
I strongly believe that we need to establish our quality standards right first as this is the only criterion which brings people, organizations, and countries together. We talk about US standards, European standards, and Japanese standards. But, what about Indian standards? At KPM, we are doing our bit to make this happen and the results are overwhelming internally and externally.

We are all geared up to take KPM towards those levels by investing in technology and processes which would give us the quality advantage for next 10-15 years. Our benchmark would be rather to have the same cost of production as China has. Government support can be expected in areas of easing out taxation policies like GST, capital cost, benchmarking with other continents.
With regards to value chain creation, KPM team now works to provide solutions to the customers and even helping them choose the right products for their applications. KPM is bringing a new pulp mill to cater to paper customers' requirements for quality; the mill further would provide us with a new source of raw material to bring varieties of new products. We are also in the process of increasing capacities by upgrading current machines with latest technologies.

Indian mills are working today with adequate profit margins and will continue to do so if they stick to fundamentals of value-chain creation as this will matter the most when India will truly become globalised.

India also differs from other countries in the manner the business is conducted here. There is a set of companies which fulfils all the ethical business parameters and there is another set which flouts all. Both kinds are selling their products in the same market with different prices (having different cost structures too). Now going forward, I believe that is one thing which must change and that would be the first step of becoming globalised.

More importantly, the pulp and paper industry must be counted within priority sector as mature economies do. Had it been a priority industry, India would have achieved 10 times more than what it has, given the same consumer base. That is the potential it has also, going forward.
On the service side, I would add, customers don't pay premium for quality services to the suppliers. But, in coming times, this would also change and customers would recognize the value of every service from special sizes and customized products to quick delivery.
PM: The raw material is the most prized commodity from where your profit margins start to accrue. Is the non availability of the raw material hampering your operations? How do you tackle this and what would be your future strategy?
VJ: In future, the mills having secure raw material supply are going to survive and do well. Mills who are dependent upon other suppliers may face problems in terms of getting right profitability. KPM is largely a waste paper based mill in terms of raw material and, as you know, the availability of waste paper is fluctuating world over because of fluctuation in the consumption of finished goods itself.
As strategy, we have moved backward in our chain by opening 13 collection centers spread across north India in states like Punjab, Haryana, Delhi, and Uttar Pradesh. We are also in the process of opening four more such centers. The mechanism will give us a secured supply making us not much dependent upon traders and godownists. We will have entirely our own collection mechanism.
Another facet of our strategy is to spread education and awareness of recycling practices among students, public, homes and other institutions by ourselves or by tying up with various NGOs. We are also approaching various governments to promote recycling and waste management concepts in India.

Another part of our raw material strategy, going forward, is reduced dependency on anyone particular type of grade in order to achieve the best cost synergies. We are building adequate production flexibilities to make this happen along with support from our suppliers.
PM: Collection centers are quite pro-active move on part of Khanna papers. How are they doing and to what extent are they fulfilling your raw material requirement? In nutshell, what about their collection rate?
VJ: The collection centre mechanism was started in 2014 and has grown very well in fact. Today, it's giving us almost 70 percent of our raw material need. With another four coming up, we should be at 90 percent level. Balance 10 percent will either be imported or sourced from pan-India buying. This gap may also remain there because of quality factor. The volume we are getting through these collection centers is quite appreciable close to 20,000 tonnes/ month.
The collection mechanism is like another arm of KPM where roughly 250 people are entrusted with continuous collection of waste paper. Additionally, we have our own office in USA which takes care of sourcing from there, keeps contacts with packers to give us consistent supply in quality and volume
PM: Technology is crucial in big size mills. Where does technology and innovation stand among your priorities?
VJ: The first thing in our priority list, like I said earlier, is to have synergy among all our functions to provide value to customers. After that, the most crucial is technology and innovation. It's not just a buzzword for us. I have seen people always talking about BRIC nations, but China is the only country among them which has moved far ahead and much faster.
Today, not only have they become a global supplier, but they have also upgraded the printing side of the market. Chinese market, as of now, is more quality oriented as compared to other members of BRIC. Their case proves the criticality of technology and innovations for industrial upgradation and should always be in focus.
At KPM, I myself take a lot of interest in technological learning by sending people abroad for training, visiting other mills, looking into trials, benchmarking, etc. and these people bring back lots of expertise and knowledge to enrich the company further.
It is important to mention that technology does not mean that we should copy exactly what is being built latest by Chinese for their 1 million tonnes machines. I have seen many European and American mills with old machines producing best product sold at best price. Therefore, technology needs to be understood as the basic process set-up, right from pulp making to packing and delivery of finished goods, which provides desired quality to the customer with minimum variations.
PM: Indian paper industry for a long time has been concerned about maintaining a quality human resource pool. What's your perspective on this ever lingering matter?
VJ: I must say that problem exists on both the sides- on mill side and young professional's side. Students from institutions like IITs and other don't want to join the process industry because there is a perception about inadequate salary level and poor work culture in the paper industry. On the other hand, leaders in the paper industry don't care to change this perception by taking care of young recruits joining the industry. So, there is huge communication gap existing between prospective employee and employer here. We need to mitigate this communication gap and change the negative perception to positive one by making the industry's work culture the most rewarding and enriching.
In my previous experiences, I have always been hiring 3-4 young guys every year because the fresh blood has to flow in. It's a necessity as they bring fresh perspectives to thought process because of a generational shift in their learning. If a company does not do it for years, then it must collapse someday due to the dearth of novel and fresh dimensions to its activities. If you have glance over my team at KPM, you would be surprised to find that I am the youngest CEO at 40, my second-in-line has the average age of about 38, and the bottom line is at average age of 25.
We have so many programs running for these people – not only for the sake of having HR thing for namesake, but to really create a credible human capital benefitting both the industry and individuals in the long run. The moment the company starts blaming the HR department for not maintaining a suitable pool of professionals, wrong process starts and the company would never be able to locate the root of problems.
In my opinion, it's the duty of functional heads to get fresh people in, train them, and nurture them for future. That's what is being done at KPM, where each of my functional heads is training two people every year as part of their KPIs and they have been seen taking it earnestly. I believe in 'leading by example' and have four people with me to groom. I myself got trained like that. I worked, in my initial days, with people like Mr. R. R. Vederah and Mr Anil Kaul who trained and groomed us.
PM: What major improvisations/installations have been done at Khanna papers recently?
VJ: We have built a pulp mill – not proper pulping, but it is basically a plant for processing wood pulp. KPM has recently upgraded its board machine to the latest wire section; the upgrade is giving us better formation and quality.
On the instrumentation side, we have put automation on all our stock lines to have consistent feed to the machines.
On the environment and sustainability side, KPM has done investments to the tune of USD 5 million in order to save on water, energy and emission side. We have installed an energy conservation turbine where we use our back pressure steam to generate power. This itself costs USD 1 million, but is giving us extra 1-1/2 MW power. At KPM much importance is given to Waste Management, there is also a plastic handling system which is getting installed now. On the water conservation front, we are going to put reverse osmosis system and our ETP has been recently upgraded.
PM: Sustainable operations are the crucial part of any business today. What is your idea of sustainability? To what extent is it a part of your business?
VJ: My idea of sustainability is to do the business in right way. The problem starts when people start finding short cuts to succeed. I have worked in such companies where there were no short cuts. I never found them non-compliant to anything that is ethical and sustainable.
If people, in my opinion, don't cut on the necessary technological and sustain-ability related investments, which is hardly 5-10 percent of total investment, every organization would be sustainable both business wise and environmentally.
Around the world, we see so many companies running with the right fuel, right raw material, right machines and right environmental back-ups. Why can't we do that?
As I said earlier, we are installing and rebuilding various technologies to address the environmental aspect of sustainability. We are investing good amount not only because we have to, but because it's not right to discharge something which can be controlled and corrected within. So, quality-at-source concept is being put everywhere right from raw material stage where we should have least rejects to its final treatment and usages. Optimizing overall consumption of chemicals resulted in better quality of product, machine run ability and cleaner discharge of waste.
The business aspect of sustainability is being taken care of by preparing KPM to meet all challenges which might arise in future due to imports. Moreover, we have also started our retail division (stationery division) last year with the idea of forward integration.
On people or social side, KPM is committed to address despite of associated costs because ultimately social sustainability yields economic sustainability. We are increasingly and effectively associated to talent management, development, training, and motivation of entire work force in our company.
PM: Lastly, the most engrossing question for everyone in the industry, where do you find packaging segment heading? Is it going to bring massive upheaval in yield/produce composition of the paper industry in future? How would the industry meet the surging packaging demands?
VJ: Sure, it will bring far-reaching restructuring in the total output; and, of course, it's heading towards a bright milestone. 30 years back, if you look at the global paper and board consumption, the board to paper consumption ratio was 20:80. That ratio has now become roughly 50:50, with total output remaining the same. In next 10-15 years, as per my knowledge, this ratio would be heading to somewhat 80:20 – 80 percent packaging, 20 percent paper.
Now, India has both advantages and disadvantages, being the late-comer. We have board to paper consumption ratio around 50:50 with significantly low total consumption. With future growth in packaging sector in the premium grades like FBB etc., the advantage exists as the investors can put the money directly into packaging ventures at the right locations i.e. near the port. With this ratio going to 70:30, keeping the present output in mind and just changing the ratio mathematically, 6 million tonnes which is going to come would be for packaging only. It has not happened in India's case, but we are sure for it to happen in near future seeing the kind of push it's receiving from e-Commerce and organized retail.

Further, the consumer behavior is fast and drastically changing. Online shopping, mushrooming of fast food chains, buoyant pharma industry (fastest growing segment), and upgradation in general packaging are noticeable driving factors to packaging segment. Today, it's happening in 1st-tier cities, 2nd- and 3rd-tier cities will soon follow the suit. Then, the boom in the packaging will be quite visible.
Industry is geared to take up the challenge. ITC is a great company, futuristic and always ahead of the curve by doing backward-forward integration. Good players like Emami, TNPL, and others are already well receiving the signs. Top five packaging players including KPM are sure to tap the incoming opportunities in packaging segment. Packaging can be sustained by only the companies with deep pockets as these companies are not going to compromise with the quality which is the foremost requirement of packaging.