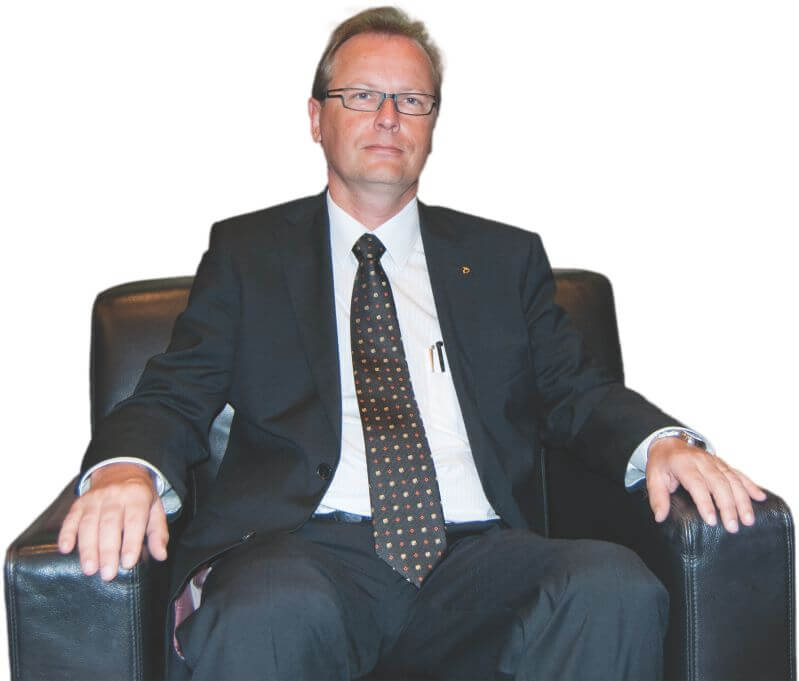 On the sideline of Asian Paper, Bangkok exhibition we interacted with
Mr. Hannu T Pietila, Metso's newly appointed Area President of the Pulp, Paper and Power businesses in Asia Pacific,

we asked him about Metso's new Pulp, Paper & Power segment (PPP) and its vision to which he said "earlier we used to work as per the business lines but now our new way to operate is market driven. The business line, duty is to develop the suitable technology based on the feedback that we collect from the market and this is of course a big change in our way of working. We have plenty of opportunities with this new vision, to be number one wherein we are working with all people inside this segment together, sharing information, knowledge and giving possibilities to those people who are in the frontline to have a full support of our know-how about business, culture and everything." Further during the conversation he highlighted presence of Metso in Asia Pacific, focus on India, Metso's strength, and elaborated on Metso's new products, e.g. OptiConcept M modular paper and board machine.

.
Paper Mart: How does PPP segment evolved?


Hannu T Pietila: Originally, power was part of our EET division (Energy & Environment Technologies) with automation. The idea for this division came with the reason to serve the big integrated mills globally in a better way. These big integrated mills are either already executed or have been planned. So to Work as One to be Number One, which is the vision of our division we thought to induct under the same umbrella Pulp, Paper & Power. We do lot of power generation business in Europe, North America and we can also see a huge potential here in Asia Pacific for this power generation too. And now we already have our pulp, paper and power people present here and with the operation possibility of power generation here we will tap the potential in the market.


PM: Highlight the journey of Metso in Asia Pacific Area?


HTP: At Metso, we begin our Asia Pacific journey in early 90's and the first market in the pulp and paper side was Korea where we sold more than 10 machines. With the gradual process we developed further and then came South East Asia where we supplied big pulp mills and integrated mills for fine papers. Later, China started to grow in the beginning of 2000, which provided the huge boost. Then, sometime in the middle of 2000 suddenly Japan decided to make many investments at the same time. Metso followed as to what is going on in each of these regions. And, now we are looking for the next growth region i.e. India which will be the booming market in the near future. The establishment of Metso Park shows our level of commitment to India. We have established our local presence in India close to customers to be able to win their trust and support them in their businesses.


PM: How does Metso help its customers to attain sustainability?


HTP: Customers today are facing the biggest issue that is how to minimize the operational cost, which is mainly effected by the raw material and energy cost. And we use most of our R&D to make sure that our customers can use different kind of raw materials focusing more on the usage of renewable raw materials like waste paper. And for energy we introduced many different ways to the customers how they can better control the energy consumption, make some changes and improve the quality. Our target is to increase our customers' revenue with better efficiency and also look out the ways to reduce the capital investment for our customers. On the environmental side energy is one of the issues along with water usage, raw material availability etc there we think together with our customers as how we can handle these issues and accordingly develop solutions.


PM: Explain the customer oriented approach at Metso?


HTP: We always seek to have a lot of discussion with the customers about what is their target, what they are looking for and especially what our customer's customer are looking for. So, we like to see the whole scene first, plus the value addition and how it affects our customer's profitability. Typically we raise these kinds of questions because our concern is to increase the revenue for our customers, shorten deliveries time and increase their efficiency in order to have more production and right quality. Our main aim is to reduce the total lifetime investment vis-à-vis supporting them in different areas like maintenance agreement and others.


To cite an example of our R&D efforts, 15 years back to manufacture fine paper of 70 GSM 30% long fiber was necessary to use along with 70% of short fiber but today we have developed a technology that we no longer need long fiber and the customer can use 100% of short fiber.


We undertake seminars and try to learn more and more about our customer's processes, because we are the only suppliers who have the fiber line, power plant, paper machine, automation, services etc. This helps us to develop solutions and technology that are suitable for each of the market area. We have got 14 pilot plants in PPP segment. If there are any new challenges we discuss openly with our customers and try to solve by working together. For example we did trials with the customers on printability of paper in our pilot plant and now after it is printed we can see the results are promising, so we not only concentrate on our customer's but on our customer's customer too.


PM: What strategy does Metso has for its new OptiConcept M modular paper and board machine?


HTP: Metso has developed a new type of paper and board machine i.e. OptiConcept M with the focus on economy of initial investment and daily operations. The benefits of savings in investment phase through proven technology and know-how, range of machine designs to match various requirements, shortened lead-time, and efficient project execution. It delivers better usability and easy maintenance providing the flexibility in the grade changes. Ultimately the entrepreneur can have the profitability in daily operations through energy, material and chemical efficiency by achieving overall operation efficiency. With the focus on sustainability, the environmental aspect is an integrated part of the concept to reduce emission and carbon footprint. Papermaker can reduce 40% on building size. We have developed totally new design and modular base which enables flexible production, possibilities to widen product scale by producing several grades with one production line through up-grades and high raw material efficiency. We have introduced our OptiConcept M paper and board machine concept to our Indian customers already. Our first machine will get commissioned in this year in China, which will act as a full line reference running and then it is easier for us to take customers and make them see above benefits with our new standard design and modularized concept.


PM: What advice would you like to give to your fellow business partners and particularly in India that how the investment should be done wisely to reap the benefit in long term?


HTP: To be successful you need a partner who can supply you competitiveness, not just the equipment. The customer should not see the initial investment rather they should focus on how they can achieve efficiency and minimize the operational cost in the long run. This will provide them the idea to make the right size of investment for example if you have installed a paper machine you always have a scope to upgrade later but you cannot increase the width of the machine. This is where you need a partner to support in your strategic decision. The partner will provide you an added perspective on the market along with yours. Investment is one issue but after that you have to make most of that investment by having good maintenance, process knowledge, automation knowledge etc. You should have people close to you who can help you in your day-to-day business so that efficiency can be achieved.

OptiConcept M modular paper and board machine