Ms. Nirja Patel, Director, Shree Rudra Lamkraft Pvt. Ltd. talks about the company, the paper industry being male-dominated, and the message to young women looking forward to making their careers in the paper industry.
I would ask every woman to follow their instincts. Anything is possible with hard work. You will fail only if you give up on yourself.
Paper Mart: Could you present a brief overview of Shree Rudra Lamkraft and its product portfolio along with your day-to-day life in the organisation?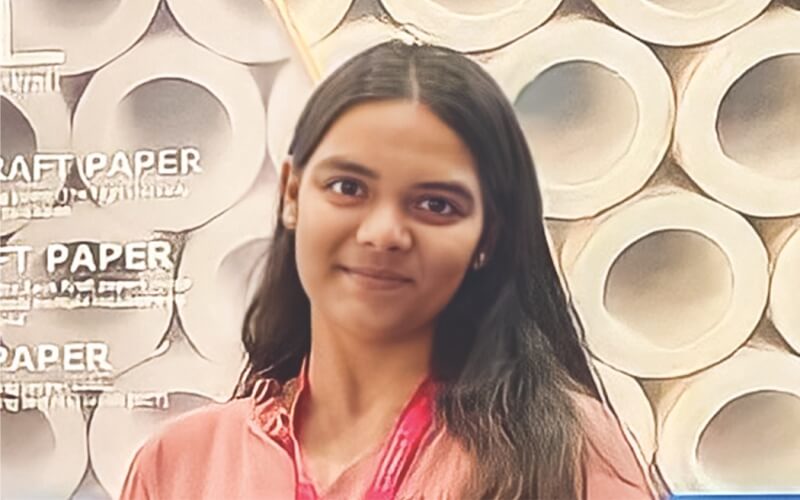 Nirja Patel: Shree Rudra Lamkraft is a newly established paper mill. Our installed capacity of 60000 TPA, along with modern machinery, world-class technology, automation, and energy-efficient systems is one of a kind. We produce absorbent paper for now and will further go with sack kraft paper as well. The collection of Shree Rudra Lamkraft is fabricated using high-quality waste paper which is sourced from our trusted merchandisers.
With the help of our highly qualified team of professionals and our well-equipped production facility, we've also been able to provide custom-made specifications to fit a wide range of requirements for our customers. We're entirely committed to environmental kindness, and we go to great lengths to ensure that there is no risk to the environment. Our originality, innovation, competitive pricing, and on-time deliveries have been largely appreciated.
PM: Paper is a predominantly male-centric industry. What are the challenges you strive to overcome every day?
NP: The paper industry is a growing industry with a huge scope. There are many opportunities, and on the same hand, there are many challenges too. I overcome them with my out-of-the-box ideas. It is a male-dominated industry where the ratio of males is more as compared to females. Respecting each other's opinions and mutually working together is the breakthrough.
Watch: IVAX Paper Chemicals Interview
PM: Paper mills are generally located in remote areas and considered less lucrative than other sectors. What are your thoughts?
NP: The paper industry in India is agro-based and it requires more land and hence, the mills are located in remote areas. This is one of the reasons why women cannot contribute much to the industry.
PM: Could you shed some light on the future potential for the pulp & paper industry along with the key trends that are catalysing the growth of the market?
NP: With the single-use plastic ban by the government, the focus is now more on paper. The paper industry has a bright future. However, the government and businesses need to work hand in hand for that.
PM: In brief, tell us about your journey that led you to the paper industry along with your experience at Shree Rudra Lamkraft.
NP: My family has been in the paper industry for years. My father is my inspiration. Being a millennial, it is a great experience to learn new things and gain the best knowledge.
Also Read: Pioneering Women in the Paper Industry
PM: What would be your message to young women, who would want to follow in similar footsteps?
NP: I would ask every woman to follow their instincts. Anything is possible with hard work. The main mantra is to never give up. You will fail only if you give up on yourself.