Unilever is set to launch what it says is the first-ever paper-based laundry detergent bottle.
June 10, 2021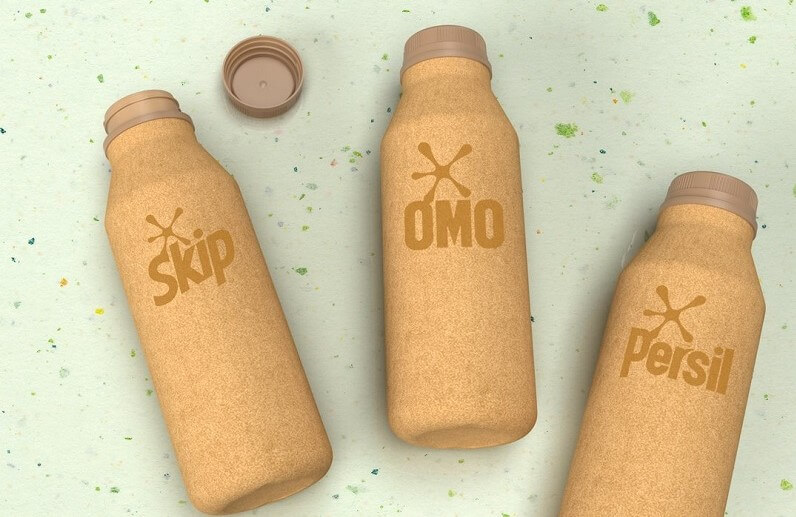 A prototype for the paper bottle has been developed for leading laundry brand OMO (also known as Persil, Skip & Breeze) and is set to debut in Brazil by early 2022, with an ambition for roll-out in Europe and other countries soon after. Unilever is also piloting the same technology to create paper-based haircare bottles.
Watch: Paper Mart Fortnightly News Roundup.
This technology has been developed in partnership with the Pulpex consortium, a collaboration between Unilever, Diageo, Pilot Lite, and other industry members. Unilever has been able to use the technology to package liquid products in first-of-its-kind paper-based bottles, which are reportedly made of sustainably sourced pulp and designed to be recycled in the paper waste stream.
The bottles are sprayed inside with a proprietary coating that repels water, enabling the paper-based packaging material to hold liquid products like laundry detergent, shampoo, and conditioners, which contain surfactants, fragrances, and other active ingredients.
Richard Slater, Unilever's chief R&D officer, said: "To tackle plastic waste, we need to completely rethink how we design and package products. This requires a drastic change that can only be achieved through industry-wide collaboration. Pulpex paper-based bottle technology is an exciting step in the right direction, and we are delighted to be working together to trial this innovation for our products.
Also Read: Parason and Zume Unite to Launch Advanced Molded-Fiber Manufacturing Facility.
"Innovating with alternative materials is a key part of our sustainable packaging strategy and will play an important role in our commitment to halve our use of virgin plastic materials by 2025."