This write-up presents the constant efforts made by Krofta Engineering Limited, India, to reduce fresh water consumption in paper machine showers with a machine called Sedicell and a spray filter that gives clarified water of clarity less than 50 microns, replacing fresh water consumption in paper machine showers and pulp mill operation in all types of paper manufactured by Indian paper mills. These pieces of equipment, which have been installed in 30 paper mills, practically have no effect on clothing and runnability of paper machine.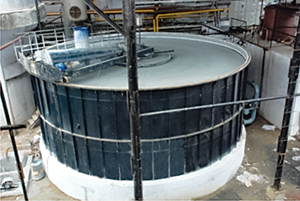 Why Sedicell and spray filter?

Mills manufacturing writing/printing and newsprint paper have installed Sedicell to recover fibre from 3,000 to 4,000 PPM to less than 100 PPM. The clarified machine back water of less than 100 PPM is passed through a spray filter having 400 mesh cloths, and clarified back water of less than 50 microns is used in machine showers replacing fresh water. The balance clarified back water is used in the pulping section of the mill making it a closed loop where no fresh water is required in the plant except for chemical preparation and the boiler section of the mill. Besides, mills manufacturing kraft paper can install a combination of Sedicell and spray filter for the final effluent coming from the plant. There is no requirement of primary clarifier in the final effluent treatment plant (ETP). Mills manufacturing duplex paper need a combination of Sedicell and spray filter in two sections of the mill separately, namely top layer and protective layer and middle layer and bottom layer. This combination can save expensive fibre and back water in showers. By implementing this combination, we can avoid the large size of ETP, which is power-intensive. This saves power, water and fibre. The industry can plan out the small size of ETP for either draining effluent as per pollution norms or for further giving tertiary treatment to reuse effluent in the process or through RO plant for treated effluent to get fresh water.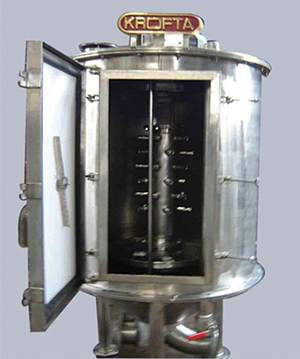 How Krofta spray filter works

The Krofta spray filter is specifically designed to filter effluents containing 20 PPM to 5000 PPM of solids. A fine mesh cloth with an opening from 75 to 500 microns is used as the filter media either to separate long fibers from clay and filler or as a safety filter for showers using clarified water. The Krofta SPRF meets the need for high throughput units that can handle wise variations of solids content. It is equipped with a cleaning shower that greatly reduces the need for removing the cloth for cleaning.

Application

• De-inking plants: Separation of good fibres from fines and ink for a higher yield, less clay content in the stock and reduced disposal requirements.
• Board mills: Fractionation of longer fibres from the effluent for use in the liner stock, while the fine fraction is used in the filler stock.
• Fine paper and tissue mills: Recovery of fibre through the fractionation of the effluent thus reducing total sludge volume.
• Microstraining of the effluent for showers: Used to prevent the plugging of shower nozzles when clarified or unclarified water is used.

Performance

The degree of fractionation and/or microstraining depends on many factors: inlet consistency, spray pressure, inlet filler content, micron opening size and particularly fine content of the fibre fraction.

The following results can be expected:
• Coarse impurities are separated out. All the water is microstrained.
• The fibre fraction is retained by the cloth and can be recovered.
• Changes in fibre content by the Krofta spray filter are minimised so that subsequent clarifiers operate under a uniform load. The Krofta spray filter improves the operation of clarifiers especially the floatation ones, as it aerates the effluent, making it more adaptable to flotation.

Advantages

• Simple operation: few moving parts and very low RPM, low power consumption.
• Self-cleaning: built-in cleaning shower saves down-time.
• No fresh water required: cleaning shower nozzles are an open non-clogging type. Filtered water can be used in the shower.
• Easy maintenance: wide access door allows easy changing of the cloth and access to the interior
• Inexpensive filter screens
• Window wiper – operated manually – is located on the inner side of the door.

FLOW DIAGRAM