During the meeting, AIWPDA requested its members not to hold stocks which would only make the existing situation worse.
April 13, 2021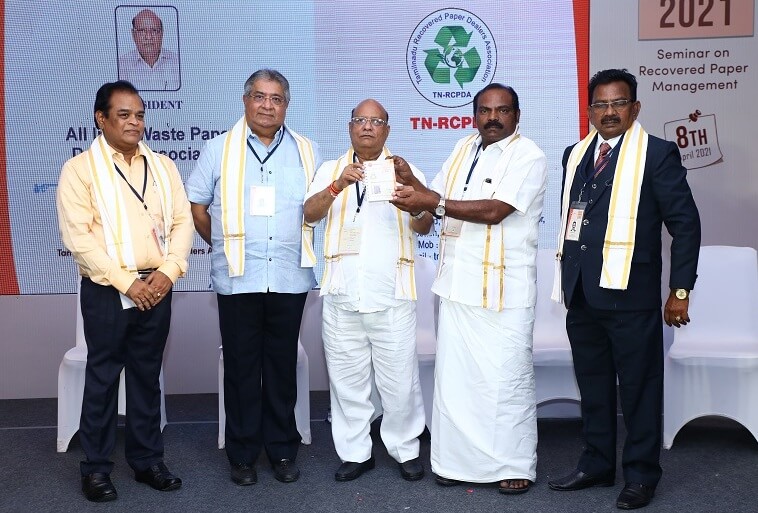 All India Waste Paper Dealers Association (AIWPDA) held the first meeting for the year 2021 on April 8 at Hyatt Regency in Chennai. The meeting was hosted by the Tamil Nadu Recovered Paper Dealers Association (TNRCPDA).
The purpose of the meeting was to strengthen the association by increasing the interaction among the members and address concerns of members & find solution to handle the current volatile market conditions due to pandemic
A Welcome address speech was given by Shri Balakrishnan (Secretary TNRCPDA), Shri Balasundaram (Treasurer TNRCPDA), Shri S. Ravi (Program Convener), Shri Bharath Pujara (President TNRCPDA), and Shri Naresh Singhal (President of AIWPDA).
Also Read: Adler Paper – Turning Waste into Meaningful Resources.
A Directory of the registered members was launched at the event. A copy of the Directory was given by the Program Convener and Treasurer TNRCPDA to Shri Naresh Kumar Singhal, President AIWPDA.
An open forum was organized with expert panel and moderators selected from different parts of India which included Shri Naresh Singhal, Shri Bharat Pujara, Shri Kishan Singh, Shri Pankaj Vidhani, Shri Deepak, Shri Sanjeev Kullar, Shri Jayesh Karia, Shri Nitin Goel and Shri Rajesh Sundrani.
The minutes of the meeting included:
AIWPDA will form RCP associations in every state of India to further reach out to RCP Traders/Dealers
The current demand and all time high prices of domestic RCP was due to the poor generation, lack of availability of Imported RCP, global logistics situation, and the export of Kraft Paper/RCP Pulp.
Uniform grading system for RCP to be formalized and various grades of RCP to be categorized with product code and specifications.
In order to improve the recovery rate of RCP, AIWPDA will request the Government to allocate space in every neighborhood for collection and grading RCP.
The Government needs to recognize the contribution of the RCP organizations and consider RCP collection as part of 'Swatch Bharat Abhiyan' and give necessary concessions for the trade.
The current high prices and demand will continue and this situation would ease only after the global logistics situation improves and ill effects of pandemic reduce.