The company was the first mill to produce photocopier paper with 100 percent Kolhu bagasse; it currently produces 110,000 TPA of writing and printing and photocopier paper.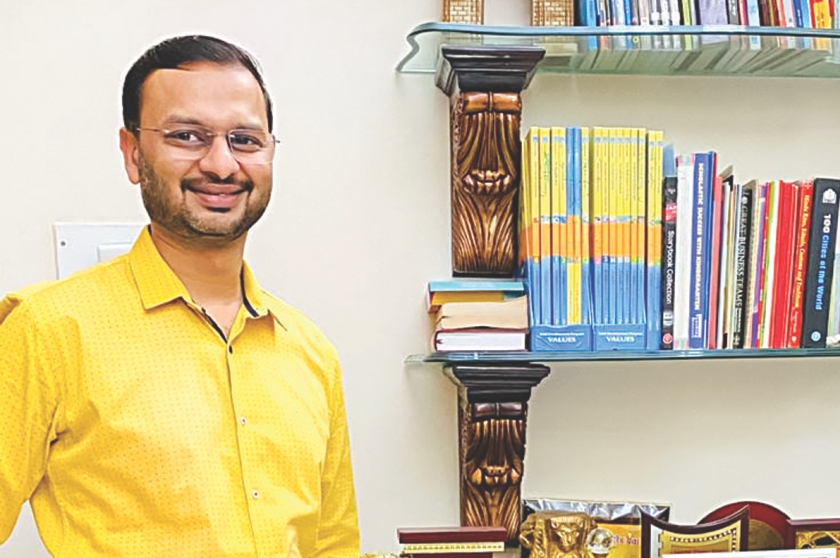 In an exclusive interview given to Paper Mart, Mr. Ankur Bindal, Managing Director, Bindal Papers Mills Limited, talks about his company and the major landmarks it has achieved and technological breakthroughs and expresses his views on paper made from agro fiber as compared to wood pulp.
Excerpts.
Paper Mart: Could you tell us a little bit about your company and business journey?
Ankur Bindal: Bindals Papers Mills was commissioned in May 2009 with the installed capacity of 72,000 TPA. It is in Muzaffarnagar, which is a hub of "jaggery trading business", where more than 40 percent of the human population is engaged in the cultivation of sugarcane. In this region, agricultural residue as the basic raw material is abundantly available. Bindals use Kolhu bagasse, mill bagasse, wheat straw, and farming wood to produce writing and printing paper (surface sized and non-surface sized) and photocopier paper. Bindals Papers Mills is the first mill to produce photocopier paper with 100 percent Kolhu bagasse. It currently produces 110,000 TPA of writing and printing paper and photocopier paper.
"The future is quite promising, as it gives an edge in cost of production over waste paper or wood-based mills."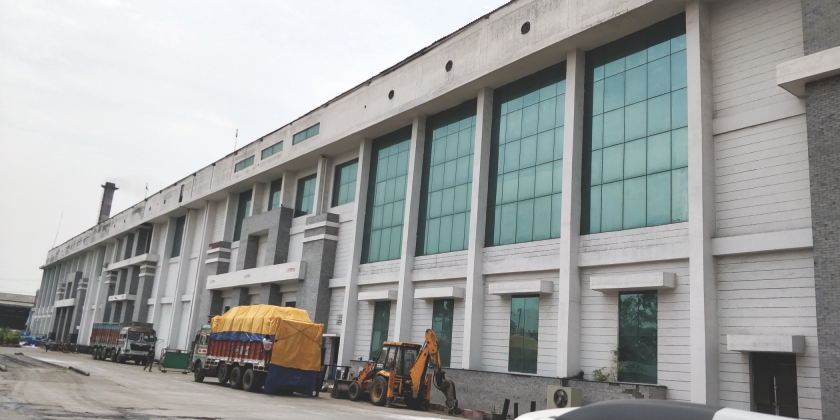 PM: What technological and operational breakthroughs have been achieved by your company with regards to agricultural residue?
AB: They are as follows:
Technologies adopted: In the initial phase, we had a power plant of capacity 100 TPH and TG of 15 MW, a pulp mill with Continuous Digester (Pandya type), Brown stock washing, ECF bleaching (D-E-D), Soda ash recovery (LTI), a paper machine with hydraulic head box, top former, Tri-nip press, controlled crown calendar, etc.
Technological up-gradation: Conventional Recovery Boiler (M/s Enmass): In 2014, we installed a recovery boiler of 400 TPD (WBL firing) and started producing additional steam of 40 TPH; and other sections were balanced like adding new evaporator, etc. With this additional steam, paper machine speed was raised from 650 mpm to 780~800 mpm.
TG of 5 MW: After installing a recovery boiler in 2015, we further installed TG of 5 MW; hence the total power generation was 20 MW. We also started power export.
Technological Modification in Paper Machine: The machine itself has been upgraded on continuous basis and the following have been incorporated to enhance quality and productivity:
Sizing Film Press
Post Dryers
Press Ceramic Roll
Press PU covering for Suction Press Roll
Automatic Tail threading mechanism for Unirun and Unirun to 1st dryer group
Basis Weight and Caliper Profiler modifications to improve paper profile
Cross direction Moisture profiler is under installation
Other Plant Additions: Additionally, we are installing the following to further improve economy and the overall performance of the mills:
Lime Kiln, Second Stage-caustisizers line
High capacity and highly automated A4 sheeter and packing unit
An upgraded Hood and Ventilation system
In 2018, we applied for CII best water practices award and invited the CII team to visit our plant. The CII team visited and verified all our schemes and Bindals achieved the "CII award for adopting best water practices among pulp and paper industries in the year of 2018".
PM: Logistics is one of the key factors for an agro residue-based paper mill. What is the overall outlook on the availability of raw material for your mill? What kind of challenges are you facing in this area?
AB: We are using Kolhu bagasse, which is unique. It is procured directly from farmers/Kolhu operators in the area. As we are in the sugar belt and have a very large mandi for sugarcane products close to the mills, the supply of Kolhu bagasse (and mill Bagasse as well) is excellent in the season. We have installed a special plant unit to process Kolhu with the help of our own homegrown technology. The following are the advantages:
Much higher realization for the farmers, as no middlemen are involved
Lower transportation cost due to locally available material
The paper produced is cleaner as compared to other raw materials
We have also developed the capacity to absorb any raw material mix available in the respective seasons and no variations take place in the final paper quality.
The rising cost of mill bagasse and wheat straw has posed a bigger challenge for paper mills that are dependent on agro waste as input. It is a matter of concern.
"We have installed a special plant at our unit to process Kolhu bagasse with the help of our own homegrown technology."
The local transportation cost for raw material is bearable, but if the local supply dries up for any reason, the longer distance logistics cost is not quite bearable; it is perceived as a threat to agro-based industries.
PM: What are your views on paper made from agro fiber as compared to wood pulp?
AB: We benchmarked papers from various wood-based mills after achieving all the desired properties, including better cleanliness. After a combined effort made by our technical and marketing teams, we have been able to replace wood-based mills at various end users.
PM: Effluent is the key challenge for agro residue-based paper mills. What kind of effluent-treatment infrastructure do you have?
AB: In 2012 and 2015, two nos. of charter were implemented in River Ganga Basin for pulp and paper industries by CPCB with more stringent norms for the final discharge followed by "ZLD" from mill premises.
Bindals adopted the following strategies:
Reduction of pollution load at source itself
Minimum discharge of effluent from individual sections of the mill.
Up-gradation of ETP
Reuse of wet washing water after clarification and treatment which reduced the pollution load in ETP.
Adopted new technology in the bleaching plant by Oxidative chemical bleaching (Ox) in place of Hydrogen Peroxide (H2O2) enriched caustic extraction (Eop) stage to reduce pollution load in bleaching effluent.
Introduced post-bleaching enzyme to reduce bleaching chemicals for the same brightness which helps in reducing pollution load.
Recycling of sealing water of pumps back into the pumps after treating in turbo screen and replaced fresh water.
In order to reduce pollution load from paper machine, the stock coming out from the head box, ideally should retain in the paper sheet and clear water should come out from the wire section. To achieve this, we introduced the four component microparticle-based chemistry.
Further, excess cloudy water is treated in DAF and Micro filters, and clarified water is used in the wire and press section and replaced fresh water. Recovered fiber is used in machine through the Broke handling system.
Installed the Heat and Recovery system from dissolver vent in Chemical Recovery Boiler.
Reuse of all leakages from sealing of pumps, etc., in Chemical Recovery plant back into the cooling tower after treatment and reused as make up water (replaced fresh water).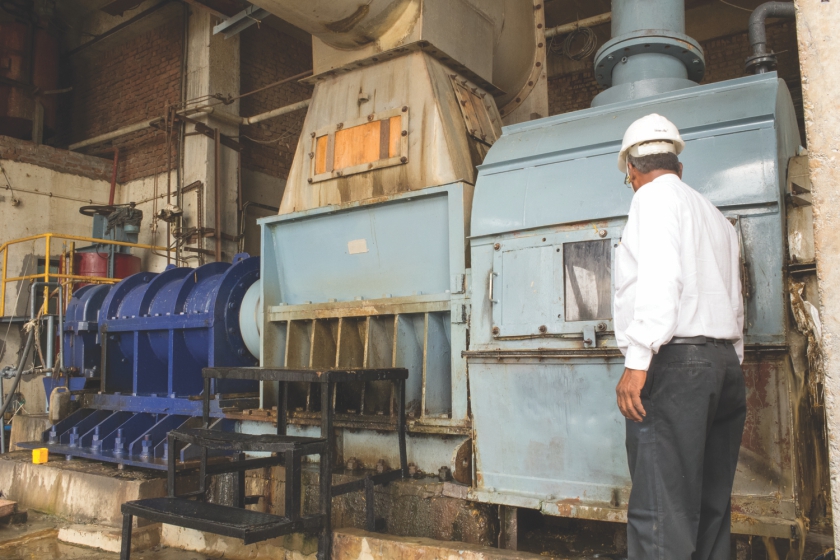 Technological up-gradation in ETP: After implementing all innovative concepts in ETP, our fresh water consumption reduced from 50 m3/T of paper to 20 m3/T of paper, and quantity of effluent from different plants also reduced to 16 m3/T of paper. ETP adequacy was further studied and the following modifications were done in ETP:
Installed the MIST Cooling system and Mist aeration system to maintain ETP in-fluent temp within range and increase of DO in the aeration system.
Installed Jet Aerators in ETP along with Surface Aerators and the Mist Aeration system to maintain desired DO in Aeration tank.
Installed tertiary physio-chemical treatment for removal of COD, BOD and colour, and commissioned DAF.
PM: Are there any areas where you think technological advancements are required for agro-based mills? What kind of technological advancements do think will take place in the future?
AB: Although we have achieved huge reduction in water consumption and our conservation figures are good enough to be benchmarked for agro-based mills, we are looking forward to enhancements in pulping technology which can further reduce the effluent load to achieve and set a higher benchmark. For further improvement in water utilization, an RO plant has been installed and we need to find a viable economic solution for reuse of RO reject water in the process.
"We have achieved huge reduction in water consumption and our conservation figures are good enough to be benchmarked for agro-based mills."
PM: What are the key challenges for agro-based paper mills and what are the best possible ways of facing these challenges?
AB: The key challenges for agro raw material-based mills can be summarized as follows:
Bulky and hence expensive transportation
New variety of sugarcane being used in sugar mills have improved the sugar making yield but at the same time it has reduced the raw material fiber content in bagasse. This has adversely affected the economy of papermaking using bagasse and lesser availability of fiber as a whole. This is a challenge that all agro-based paper mills are facing.
Higher silica content is a process problem for the service life of equipment
We also need to focus on the following areas:
Further improve on the strength properties of end product
Invest in yield improving mechanisms
Control the silica content to enhance the life cycle of equipment
PM: What have you to say for the future of agro-based paper production in India?
AB: The future is quite promising, as it gives an edge in cost of production over waste paper or wood-based mills. As far as availability of raw material is concerned, since it is a byproduct of essential food production processes, it will remain sustainable.