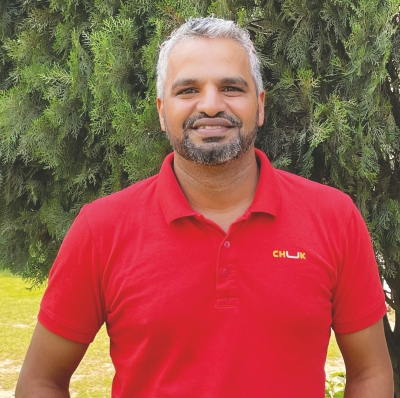 CHUK, the flagship brand of Yash Pakka having a global market, has been manufacturing compostable and biodegradable tableware to tap into the demand from the food delivery sector much before the Covid-19 pandemic. Having a manufacturing capacity of 39,100 tonnes for paper and 42,900 tonnes for pulp, Yash Pakka is the solution provider to any organization that wants to package more sustainably. In an Interview with Paper Mart India, Mr. Satish Chamyvelumani, Business Head, shares interesting details about the company's history, its evolution, recent developments, and future plans.
"When the company was started, the annual production capacity was 1,940 tonnes. In less than 25 years, the capacity grew to 39,100 tonnes for paper as well as 42,900 tonnes for pulp and 8.5 MW of electricity generation."
Company's Overview
Yash Pakka Limited, founded in 1981 by Mr. K. K. Jhunjhunwala as Yash Papers Limited, is one of the pioneers in the Indian sustainable food packaging industry. The company was listed on the BSE in 1992 and has subsequently undergone expansion multiple times. When the company was started, the annual production capacity was 1,940 tonnes. In less than 25 years, the capacity has expanded to 39,100 tonnes for paper; 42,900 tonnes for pulp; and 8.5 MW of electricity generation.
While production was increasing manifold, consecutive plans were being made to expand the scope of offerings as well, which would further the resolve of the company to work towards a cleaner planet. After a successful journey of over 30 years, and having established a strong presence over the low grammage kraft market, Yash Pakka decided that it was time to expand its horizons. This is when the company stepped up to explore manufacturing compostable tableware. The idea was born from the fact that most of the disposable products available in the market make their way to the landfills or the oceans and then take centuries to be wiped completely from the face of the Earth. After a few years of planning, research, and team building, Chuk was launched in 2017. The subsidiary allowed Yash Pakka to effectively transform its identity from a paper manufacturer to a sustainable and regenerative packaging solutions provider.
Watch: JMC Paper Tech Launches New Subsidiary JMC Papers
Manufacturing Operations & Product Line
Bagasse is sourced locally from a radius of 200 km around the factory. It is depithed and then washed in the pulper. The pith which is separated is used as a fuel in the boiler, and the fibre is sent to the pulp mill, where it is converted into bleached and unbleached pulp. The pulp is then sent to the paper machines as well as tableware machines to make the varied line of products. All these products are bio-degradable and compost within 180 days.
There is a constant cycle of using and reusing the waste to ensure that waste output from the factory is minimized. Firstly, the wastewater from pulp mill is treated in ETP, 50 percent of this water is reused in pulp mill for gardening, bagasse washing, spraying, and irrigation. Likewise, the sludge that is removed in ETP is used to make egg trays. Secondly, black liquor generated in the process of making pulp is sent for chemical recovery. It then goes to the recovery boiler where it may be used for steam and power generation. A part of it is also sent to the recausticizer from the recovery boiler, where lime sludge is converted to mineral pellets, and subsequently to mineral bags. The remaining chemical recovered from the recausticizer is again sent to the pulp mill.
Chuk manufactures following bio-degradable tableware in different ranges of types and dimensions:
plates of 6, 7, 9, 10, 12 inch dimensions
compartment plates in 3, 4, 5, 8 inch dimensions
bowls of 120,180, 250 ml capacity
500 ml containers
delivery containers of 350, 500, 750, 1000 ml capacities
All these products are in step with Chuk's USPs, which encompasses various points:
leak proof, so that the food gets delivered without spilling out
safe, it doesn't dissolve and mix with even hot food items. Usually, toxins get infused in hot food in case of plastic tableware
sturdy, so the containers are rigid
100 percent compostable, so the earth remains clean
common lids for multiple SKUs – making inventory management easier
microwavable, freezable & ovenable
natural & bleach free
100 percent food safe
made in india
made up of sugarcane pulp – bagasse
Also Read: Belluga Papers Strive to Secure a Healthy Environment for Future Generations
Trends in Biodegradable Tableware Market
Mr. Chamyvelumani's opinion on the post-pandemic market shift provides a fresh perspective, "It is not entirely true that the landscape has only changed post Covid-19. I would like to state that we have seen an upward graph in the last 6 years, and the demand is only expected to increase exponentially in the years to come. The term 'taken over' is far-fetched as far as bagasse solidifying its presence in the packaging market is concerned. However, it must be said that there is growing acceptance of the material and not only businesses, but customers are also starting to use compostable tableware made of bagasse at their homes."
The company expanded into cutlery and delivery segments. As stated above, the delivery containers are available in 4 different sizes: 350 ml, 500 ml, 750 ml, 1000 ml. Additionally, Chuk recently launched Party Caddy. It is a disposable combo party pack containing 10 pcs each of plates, spoons and tissues. It offers a value-addition for bakeries offering cake. It is also a stylish solution that can be placed on the table and is user-friendly, so anyone can pull out the elements as per requirement. In the near future, the company is exploring more manufacturing opportunities for varied products in the similar range such as tableware by experimenting with different substrates which are compostable in nature.