The recent unveiling of portfolio by ITC PSPD vividly presents the diverse usage if its paperboards, demonstrating at the same time the key components of its paperboard business philosophy, viz. food safety, hygiene and sustainability.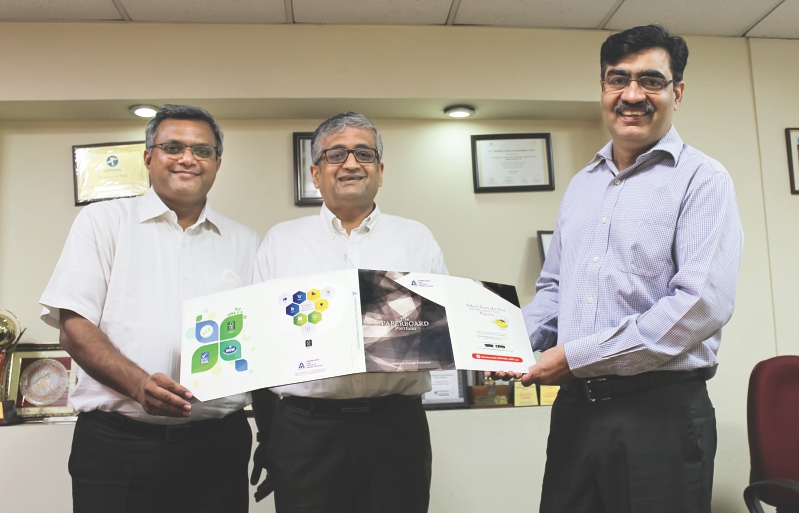 ITC PSPD recently launched a new paperboard portfolio showcasing both its standard and unique products in an exquisite array. The portfolio also attempts to encompass all possible print and post-print effects on the paperboard varieties produced by ITC PSPD. It has a useful feature called the Product Application Matrix which elaborates on specific grades from the portfolio and recommends them for different end-use applications such as FMCG, pharma, F&B, liquor, garments, publishing, etc.

As known, the paperboard range of ITC PSPD is quite extensive – from 100 percent virgin, food-grade boards from renewable and sustainable sources to 100 percent recycled boards. Paper Mart recently had a brief interaction with S. N. Venkataraman, Division Head – Marketing, ITC PSPD to know more about the idea and purpose behind the detailed paperboard portfolio. Mr. Venkataraman also expounded on ITC's extensive market research before launching a product, the thought behind Papyra app, and emerging opportunities in packaging segment. Excerpts:

Brief us about ITC's paperboard portfolio launched recently?

On a periodic basis we come out with new editions of the portfolio comprising all the products developed by us. The last portfolio was released around 3 years ago; since then, significant additions have been made to the portfolio. Our new portfolio showcases both our standard and unique products. The trends in the paperboard packaging space are identified, discussed within our marketing team and agency and the collection in the portfolio is a reflection of these trends

"We have created most of the packaging paperboard categories as they currently exist in India – starting in the early 1980s with high performance recycled boards followed with fluorescent colored boards, which then led to cast coated papers and boards in the early '90s." – Mr. S. N. Venkataraman
On the left (of the portfolio), you can see the products that are part of our regular range and to the right we have those products which are unique in terms of the value we have added. The portfolio therefore underlines the special position that we have, because of our history, wherein we virtually fostered the carton board and packaging industry in India. Nobody else, actually in South-Asia or even globally, has the range that we have, nor cater to so many distinctive segments. Our paperboards add value to the entire spectrum from the smallest agarbathy or hosiery manufacturer to FMCG brands including specialty applications like liquid packaging and cigarette packaging. It demonstrates the way in which the fusion of paperboard, printing and finishing technologies can add value to brand packaging and serves as a reference folder for everyone in the value chain.

How do you assess the demand in the market for a product and decide whether a specific product is useful to customers? Please elaborate the market research you undergo before the launch of a new product.

The idea for a new product can come from our engagement with existing customers, our distributors, other partners and the sales team. We enjoy very high levels of trust and credibility with our customers based on our decades of relationship with them and of continuously adding value to them.

Market assessment is basically done through our sales and distribution teams. At times, a particular category may already be present in some international market, though not in India. In this case, we employ specialist market research firms to assess and define the market. Otherwise, it's more a process of engaging with lead users, finding out how they would view a product, locating a gap which is not fulfilling the current needs, etc. Based on these assessments and our capabilities we take a decision on the launch of the product. Such assessments lead to potential product ideas which may be a variant to an existing product or an entirely new product.

For example, given recent regulatory demands, we are working on paper based packaging which can partly reduce the use of polymers/plastics. The corrugation industry is growing in India; the demand for white goods, fresh fruits and groceries is increasing. They need better packaging with better crush strength and higher bursting strength. Sensing the opportunity in this space, we have developed a high burst liner, a high RCT specific board, thus filling the gap for such packaging requirements.

How has the market responded to the products offered to them by you over the years?

Overall, we have created most of the packaging paperboard categories as they currently exist in India – starting in the early 1980s with high performance recycled boards followed with fluorescent colored boards, which then led to cast coated papers and boards in the early '90s. We were ahead of the market in creating the entire range of virgin paperboards (VAP boards). We were also the first to offer high whiteness boards like Safire Graphik and Carte Lumina.

We therefore are responsible for creating many categories, on which the Indian market later evolved. We have found numerous users for our various products which have won very high acceptance with both Indian and international customers and have revolutionized the folding carton packaging business in India.

Tell us about some of the emerging opportunities in the packaging segment and some trends in packaging boards that may be ongoing.

In terms of packaging, developments on improving bulk and stiffness of the board will continue because that's a major aspect on which customers want to buy their boards. Maintaining shade consistency is another important property in packaging boards. In this space, we are continuously raising the quality-performance bar while maintaining the price-value equation.

We remain ahead of the curve by investing in a bleached chemi-thermo mechanical pulp (BCTMP) plant. This will help us to upgrade our existing products and reduce dependence on imports.

Beyond the functional properties and performance of our products, it is about our overall philosophy and about the aspects which lead to long term value creation for our customers. Two important aspects of this philosophy are food safety & hygiene and sustainability.

With regards to food safety & hygiene, we are the only paper company with production lines at our units in Bhadrachalam and Bollaram that are BRC certified – a globally recognized certification for direct/indirect food contact. With the introduction of the FSSAI and other regulations, such certifications will gain significance.

Sustainability has become part of our DNA, starting with our plantations through ECF to FSC and now to a platinum rating in the CII GreenCo certification system. These are all direct values which any buyer in the Indian market, whether a brand owner or printer, actually gets in dealing with us. That's the bedrock of our competitiveness.

ITC is also known for developing innovative marketing strategies and you have developed Papyra App of late as part of that strategy. Please elaborate.

What differentiates ITC from the rest of the paper industry is that we have always thought ahead. We have always brought the benefits of the latest technology to our customers and created products that are comparable to global benchmarks. These two have been the key drivers that have made us the market leaders.

The Indian folding carton industry has entered a high growth period with many new entrants since the beginning of the millennium. There is a great thirst for knowledge on how to select and use the right paper and board and get the best value. While we reach out through our traditional channels, there are limitations in addressing a growing audience. So, the idea behind Papyra was to leverage the digital medium to reach our customers, rather than moaning about the loss of paper volumes due to internet, social media and all new communication media. People want to know the type of products, how to use them, how to compare them, and finally of course they want to know how to buy them; the first three we have addressed so far. When there's a network and when time is right, we may address the fourth one too. So, that was the genesis of Papyra.

Tell us something about your Quick Service Centers and how they are facilitating your customer relations?

Our QSCs are part of the newer thinking that we have in terms of being closer to the customers. We started 7 or 8 years ago and we felt that it is advantageous to make paper in a location where you have energy, raw material and water. However, our customers are present across the country and are also investing in new locations like Uttarakhand, Himachal and Sri City. So, that is when we changed our business model slightly and decided to come out with conversion sheet centers – we call them quick service centers (QSC).

Anything more that you would like to add to this conversation?

A successful business is one which builds and continuously leverages its capabilities apart from making great products. We constantly look at opportunities in the market place and assess our relevance to our customers. The approach is holistic and we ensure that we walk the talk in all aspects like sustainability, food contact & hygiene, sales training and a solution based approach.