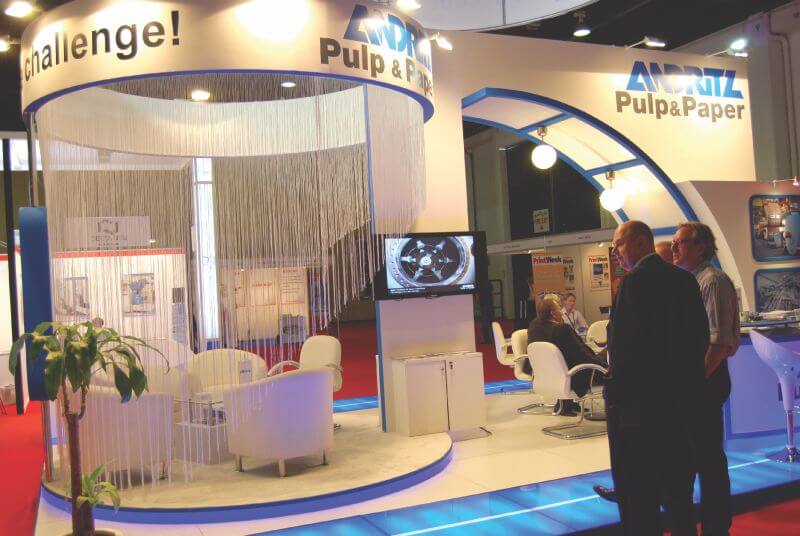 Paper Arabia 2010 successfully concluded with over 6,000 trade visitors, which an increase of 16.6 per cent over the last year. Exhibitors from across the globe chose it as a platform to showcase their offering ranging from paper, paper board & tissue to pulp, chemicals, paper making machinery and converting machinery.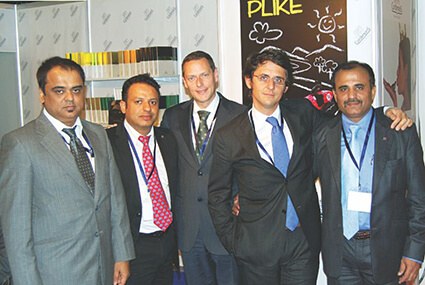 Satish Khanna, General Manager, Al Fajer Information and Services, organizer of the show, said: "Paper Arabia was being held every two years and now we are holding it every year. We are upbeat about the industry which we think has great potential for further growth. Among the participants were companies that have Dubai as their main headquarters for Africa and Asia. This reflects the leading role Dubai is playing in the paper industry."

Khanna added: "Dubai used to be heavily dependent on European suppliers, however the Dollar-Euro fluctuation has changed the trade equation, making Asia and India better alternatives. These two regions are widening their capacities and enhancing their services to emerge as preferred suppliers."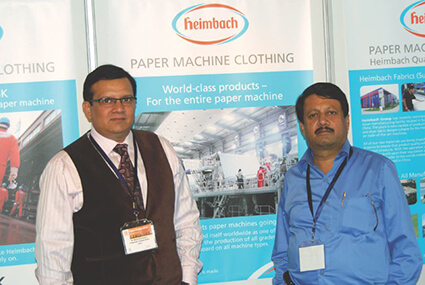 The UAE has certainly emerged as a leader in the distribution of quality paper and it is making great strides in producing paper, noted Khanna.

The highlights of this year's show was the participation of Chinese companies that booked multi-million dollar orders for many high tech, heavy duty machines. Each Chinese company reported to have gained six to seven potential customers from the region. There was strong presence of Indian exhibitors at the show and we took feedback of few exhibitors.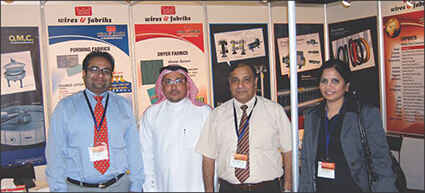 WIRES & FABRIKS (SA) LTD, JAIPUR

Idea of participation : We have a strong presence in Middle Eastern region and are catering to all leading mills in UAE/Saudi Arabia and Iran. We enjoy a tremendous goodwill with the industry in this region due to our long experience in dealing with them. The exhibition thus gives us an opportunity to meet them at one place and also showcase our latest value added products.

Product launch : We have launched the latest 4 generation fabric – STL (Shute-Support Triple Layer), which belongs to the SSB group of fabrics designed specially for quality and energy conscious high speed modern machines. We manufacture these STL fabrics in Jaipur in collaboration with M/s Albany International who are the world's leaders in the field of paper machine clothings. Hitherto these STL fabrics were imported into India by paper mills. We are thus now the first and the only manufacturer in India to manufacture these SSB range of fabrics.

New developments : As compared to earlier fair, there were much more visitors from Iran and smaller countries in the Middle East region. Indian participation from paper mills was low.

Visitor turnaround : We are happy with the footfall from our existing customers. Almost all of them from leading mills in the region visited but we expected more from Egypt, Turkey and Africa which was a disappointment.

Potential & Confirmed orders : Our products are consumables and we have a strong on-going business in this area, so quantum during the fair doesn't matter much. However we are happy with the response to our STL fabric range which is a new product line.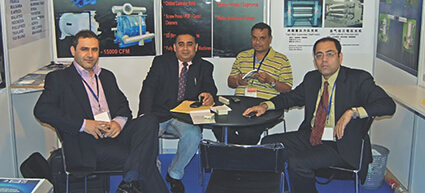 ALLIANCE INTERNATIONAL

Idea of participation : To service customers in Middle East an Africa

Product launch : No

New developments : NIL

Visitor turnaround : Customers from Iran, Egypt, Dubai and some African countries visited.

Potential & Confirmed orders : Good potential but no contract signed during exhibition

AMBICA PAPER MACHINERIES

Idea of participation : Looking for business in that region

Product launch : Yes, we have launched new product in India and we had got good response

New developments : We have got a consultant and we hope to turn it in a positive way

Visitor turnaround : Compare to last year, the ratio of the visitor was very less, may be because Paper Middle East exhibition prior to Paper Arabia

Potential & Confirmed orders : They are under discussion and we will get it.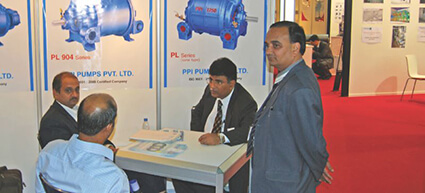 PARASON MACHINERY (INDIA ) PVT LTD

Idea of participation : Our idea was to get the access to the middle east market and promote our products in European market as we were expecting European customers there.

Product launch : We have displayed the refiner fillings manufactured with advance technologies like milled plate, welded plate, curved plate etc.

New developments : We were able to get access to the Iranian customers as well as important customers from Saudi, UAE, Syria and had business discussions with European suppliers.

Visitor turnaround : Visitor turnout was good. We had customers from Iran, Syria, UAE, Saudi, Austria, India, South Africa.

Potential & Confirmed orders : Potential orders confirmed was from Iranian customer like Humayun Duplex Board along with potential enquiries from Pakistan for plates and refiners from Saudi customers.

PPI PUMPS PVT LTD

Idea of participation : To expand our market operations

Product launch : NIL

New developments : We are working to get agent for UAE & Saudi Arabia

Visitor turnaround : Mostly all were genuine

Potential & Confirmed orders : USD 25000 or more in future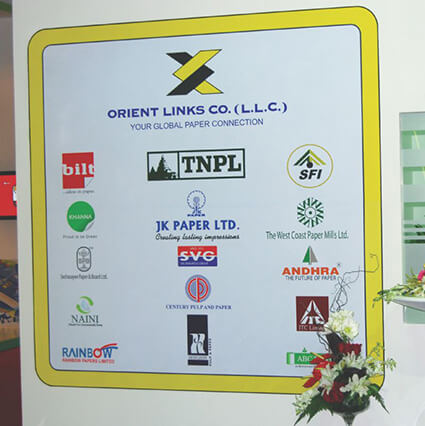 ORIENT LINKS CO LLC

Idea of participation : As we are one of the largest and most established paper trading houses promoting Indian paper in Middle East and Africa it makes sense for us to be a participant in Paper Arabia. It certainly helps us in creating more awareness about development in Indian paper industry and also to make our presence felt strongly in this market. Of course finding new customers and business development is always a driving force for this participation.

Product launch : BILT Matrix digital paper and JK Copier in new wrapper with ColorLok technology for better color printouts

New developments : Paper Arabia is now going to be an annual event and we expect more and more customers from various markets to visit the show in coming years.

Visitor turnaround : Turnaround has been good and we have higher footfall than the last year show.

Potential & Confirmed orders : We booked considerable orders and event was quite successful for us.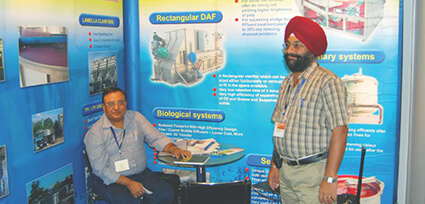 KROFTA ENGINEERING LIMITED

Idea of participation : To explore potential for marketing Krofta equipments in Middle East and surrounding countries.

Product launch : We have offered our new products like Sedicell, Spray Filter, K.S. Filter, Belt Filter Press to the customers.

New developments : Nothing encouraging it was more paper trading exhibition.

Visitor turnaround : Dull

Potential & Confirmed orders : Nil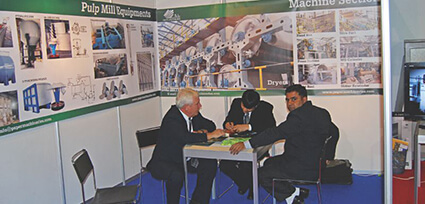 S.L. INDUSTRIES

Idea of participation : As we manufacture paper machine and pulp mill equipments, our main idea is to develop our quality product market in Arabian countries too.

Product launch : Our technical team is always engaged for new products we are offering our technical service whenever and where ever required.

New developments : We are interested to develop our business

Visitor turnaround : More then 35 visitors attend our stall

Potential & Confirmed orders : Nil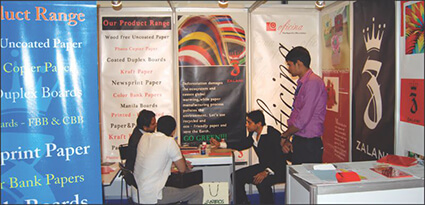 ZALANI PAPER MART

Idea of participation : To promote our company products to worldwide buyers who visit the show

Product launch : Nothing new

New developments : Yes a few of them, working on them yet

Potential & Confirmed orders : Potential is very good, and yes we are about to confirm some orders now

Abhishek Industries Ltd (AIL) was the only Indian paper manufacturer to mark their presence as an exhibitor at Paper Arabia in a big way. We interacted with Mr. Rajeev Gupta, Business Head – Paper at AIL, here are the excerpts of the interaction.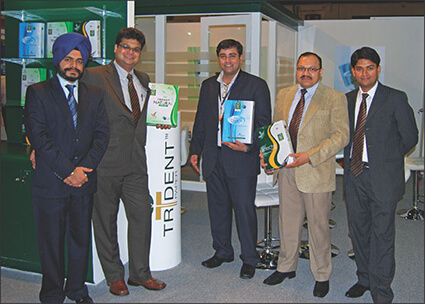 What AIL has to offer to the Middle East market at this show?

Middle East paper market is growing very fast and it offers many advantages to India in terms of distance, trade component and more opportunities to expand market. If we focus the market the way it wants there are great opportunities available here. There are only few copier brands popular in the Middle East market and no Indian copier brand is accepted here till date apart from BILT & JK Papers. So still there is lot of gap which we can fill.

Here the customers are very sensitive about the brand once they use it and didn't like it they will not give the second chance. Moreover, this market is very fussy about the presentation & packaging. So we will ensure that we build our strength based on these factors by providing a quality branded product.

What kind of strategy does AIL implies for Middle East market?

AIL manufactures towel & yarn and export them to various countries and most of the revenue comes from exports. Paper is the only business where we are more on the domestic side as the Indian paper production was not self-sufficient to serve the domestic demand. But with the additional capacities coming in, everyone in Indian paper industry is looking for exports. AIL being an export oriented company, so this was a logical choice,and we are better equipped for exports as compared to all our competitors.

Middle East is a big market where you have good demand of copier along with big size notebook manufacturers, publishers & printers. So, we will equally focus on copier and both surface sized & non-surface sized woodfree maplitho grades. Our intention is to understand the customer, his need in terms of service, quality product, behavior etc which we understand perfectly.

What is the USP of AIL?

AIL's USP is twofold. First, we are an export oriented company and we know the art of exports, the importance of transparency and how to be sustainable. Second USP is our product. We offer a good quality eco friendly product, which is not made from recycle waste rather it's a virgin pulp made from wheat straw. We are not cutting trees at all for our raw material. We have invested in the technology which is capable of producing high quality paper even from agro residue.

What kind of inquires and business you were able to generate during the show?

As we are the manufacturers representing ourselves, so for customers it acted as a source of genuine supplier, so it was a win – win situation. Over the 3 days of the show 350 customers & guest visited us. From our overall capacity we are already exporting around 30%. With the kind of inquires and the network we are looking out here we are sure that in couple of months we will go up to 45%. In terms of tonnages, the market will stabilize somewhere at 2000 to 2500 tonnes per month which includes 1000 tonnes copier.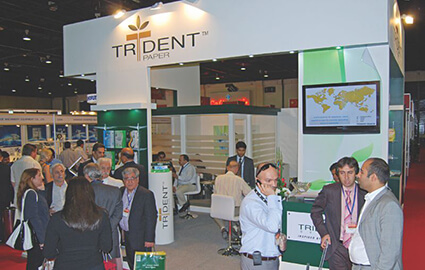 Packaging, commitment & consistent supply are few major challenges faced by the Indian mills in exports market, what steps AIL will take to tackle these problems?

We have got automatic ream & shrink wrapping machines, Bielomatik cutters that will enable us to do a good packaging. For commitment we are taking all the possible precautions to deliver what we have committed. For consistent quality we have made the in-house check points on various levels of production and the product is properly checked & certified before dispatching.