As per the statistics revealed by DGCI&S, IPMA shares that the exports of paper, paperboard, and newsprint were 2856.7 thousand tonnes, and their imports stood at 1751.5 thousand tonnes.
June 15, 2022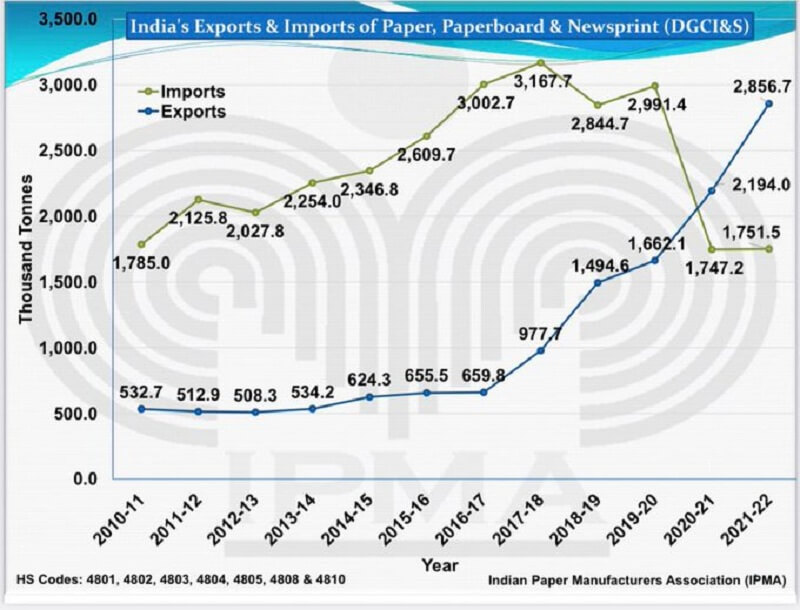 India's exports of paper, paperboard and newsprint grades in the FY 2021-22 have surpassed the exports achieved in the FY 2020-21, according to the recent information shared by IPMA, citing the data released by the Directorate General of Commercial Intelligence & Statistics (DGCI&S).
In the year ended March 31, 2022, the entire exports of the paper and paper products stood at 2856.7 thousand tonnes, while the imports of these products were 1751.5 thousand tonnes.
Watch: Evolution of Paper Based Packaging
In the previous years, the imports of paper and paperboard products used to be significantly greater than their exports in the domestic paper industry. However, for the previous fiscal – FY 20-21, and FY 21-22, the trend has reversed – with the exports taking the upper hand as against the imports of the paper, paperboard, and newsprint grades of paper. Overall, the exports have been sharply increasing over the years.
As informed by the Indian Paper Manufacturers Association (IPMA), "For the second year in a row, India's exports of paper, paperboard & newsprint have outstripped imports, in volume terms, in 2021-22."
Also Read: IPMA – Indian Pulp & Paper Industry Seeks Priority Allocation of Coal
The paper and paperboard products that are included in the data of exports were – newsprint (in rolls or sheets); uncoated paper and paperboard; toilet or facial tissue stock, towel or napkin stock and similar paper; uncoated kraft paper and paperboard; other paper and paperboard; corrugated paper and paperboard; and paper and paperboard – coated on one or both sides with kaolin.