Voith's SealView system enhances the company's technological offerings through Mechanical Roll Service (MRS) Centers. The system provides real-time information on the wear status of sealing strips inside suction rolls.
May 25, 2023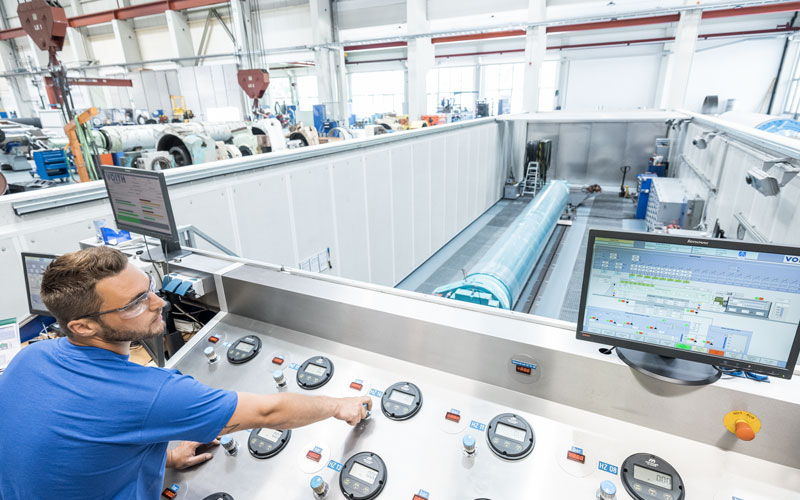 Voith's SealView enables papermakers with accurate, reliable, and real-time information on the wear status of sealing strips inside suction rolls. The sophisticated sensor system can be installed on any type or brand of suction roll at Voith Mechanical Roll Service (MRS) Centers. The SealView system provides insight into the condition of the seal strips in suction rolls and predicts the remaining seal lifetime. It is based on a pneumatic system, with this innovative solution there is less risk of malfunction during use under wet conditions and can be used along with Voith's HydroSeal.
The system can be accessed by machine operators at the customer site as well as remotely by dedicated Voith Service Centers. The precise information supports data-driven decision-making, increases safe roll run times, and allows the stress-free and timely scheduling of roll change and service with the Voith MRS Centers.
Voith has a worldwide network of 22 MRS Centers, unrivaled domain expertise, and sophisticated digital solutions, and is uniquely positioned as a full-line supplier to provide best-in-class customized roll maintenance to papermakers around the globe. Voith's individualized and transparent service solutions ensure maximum machine availability as well as highly reliable and sustainable production lines. The benefits of Voith's approach to MRS extend beyond efficiency and sustainability gains.
Watch: JMC Paper Tech Launches New Subsidiary JMC Papers
Mr. Joerg Schauberger, Global Product Manager MRS & Digital Products at Voith Paper, states, "Expertly maintained rolls in paper machines are fundamental to efficient and sustainable papermaking. With the support of our experienced application specialists and state-of-the-art service tools, we are able to recommend if and when optimization or maintenance measures are required. And our global network of dedicated service centers ensures that timely roll maintenance is performed to schedule and to the highest of industry standards."
HydroSeal works with an innovative integrated lubrication system to ensure constant, even, and uniform lubrication over the complete width of the suction roll. SealView combined with HydroSeal can result in further cost and resource savings.
Mr. Halim Takhedmit, Digital Product Manager of Fabric & Roll Systems at Voith Paper, comments, "Our sophisticated sensor technology and advanced cloud-based analytics ensure decision-making around roll maintenance is fact-based, data-driven, and impactful. This digital upgrade is what customers need to turn their paper plants into ultra-efficient and sustainable operations."
Also Read: Voith, Visy & Appita: 2-Day Decarbonization Workshop in Melbourne, Australia
Voith's OnCare.pmPortal has proven a powerful asset management tool for fabrics, rolls, roll covers, and doctor blades. With the OnCare.pmPortal module "ID Tagging" critical products are tagged to support better tracking and inventory management. Depending on the product and machine environment, either a barcode, QR code, or RFID/NFC technology is used.
Mr. Joerg Schauberger, Global Product Manager MRS & Digital Products at Voith Paper, states, "By combining best-in-class roll maintenance service with future-oriented inventory management support, we are driving best practices in efficient and sustainable papermaking."